ALDO ROSSI, Design 1960-1997
The Museo del Novecento presents Aldo Rossi. Design 1960-1997 curated by Chiara Spangaro in partnership with Fondazione Aldo Rossi and Silvana Editoriale from 29th April to 2nd October. This exhibition is part of Museo del Novecento's ongoing project of interdisciplinary dialogue between the arts that is such as distinctive feature of modern-day life. The exhibition takes a close look at an architect, designer, theorist and critic, who is one of the leading figures of 20th century visual culture. For the first time ever, more than 350 pieces of furniture and ordinary objects, prototypes and models, paintings, drawings and studies designed and manufactured by Aldo Rossi from 1960 to 1997 are on display in a spectacular exhibition, a visual testimony to his work as a architectural designer and theorist.
Right throughout his entire career from the very first pieces of furniture made in 1960 with the architect Leonardo Ferrari, Rossi investigated the relationship between architecture and the cityscape, monumental constructs and objects. In 1979 he started to embrace the realm of industrial production and high craftsmanship, creating furniture and consumer products first with Alessi and then with Artemide, DesignTex, Bruno Longoni Atelier d'arredamento, Molteni&C|UniFor, Richard-Ginori, Rosenthal and Up&Up (now UpGroup).
Over almost twenty years' work, he created more than 70 pieces of furniture and objects, many of which are still in production today, experimenting with forms and colours in the realms of metal and wood, marble and stone, ceramics and porcelain, craft and industrial textiles and even plastic materials.
The exhibition, whose layout was designed by Morris Adjmi - MA Architects, an assistant and later an associate of Rossi's in New York, narrates Aldo Rossi's universe in nine rooms: each room represents a realm in which a certain relationship between graphic designs and craft/industrial products emerges with references to Rossi's architecture and private space.
The extraordinary ensemble of works on show is brought together for the first time thanks to dialogue and cooperation with: museums and company archives (Museo Alessi; Molteni Museum; Bruno Longoni Atelier d'arredamento and Up Group archives); Italian and international museum collections (Bonnefanten Museum, Maastricht; Georges Pompidou Centre, Paris; Fondazione Museo Archivio Richard-Ginori della Manifattura di Doccia, Florence; MAXXI – Museum of XXI century arts, Rome; Università Iuav university in Venice; Triennale in Milan) and various private collections.
During the opening period, the exhibition will be supported by a programme of side events.
A catalogue raisonné entitled Aldo Rossi. Design 1960-1997, published by Silvana Editoriale, edited by Chiara Spangaro and with a critical essay by Domitilla Dardi, will be brought out in conjunction with the exhibition. This is the first publication to bring together all of Rossi's designs: prototypes, finished objects, previously unseen works and out-of-print works by the Milanese architect-designer who won the Pritzker Prize in 1990.
Aldo Rossi. Design 1960-1997 is a project organised by Museo del Novecento, Fondazione Aldo Rossi and Silvana Editoriale, supported by the Main Sponsors Molteni&C|UniFor, Alessi and Bruno Longoni Atelier d'Arredamento, the sponsor G.T.DESIGN, and the technical sponsorship of Pollice Illuminazione and Up Group.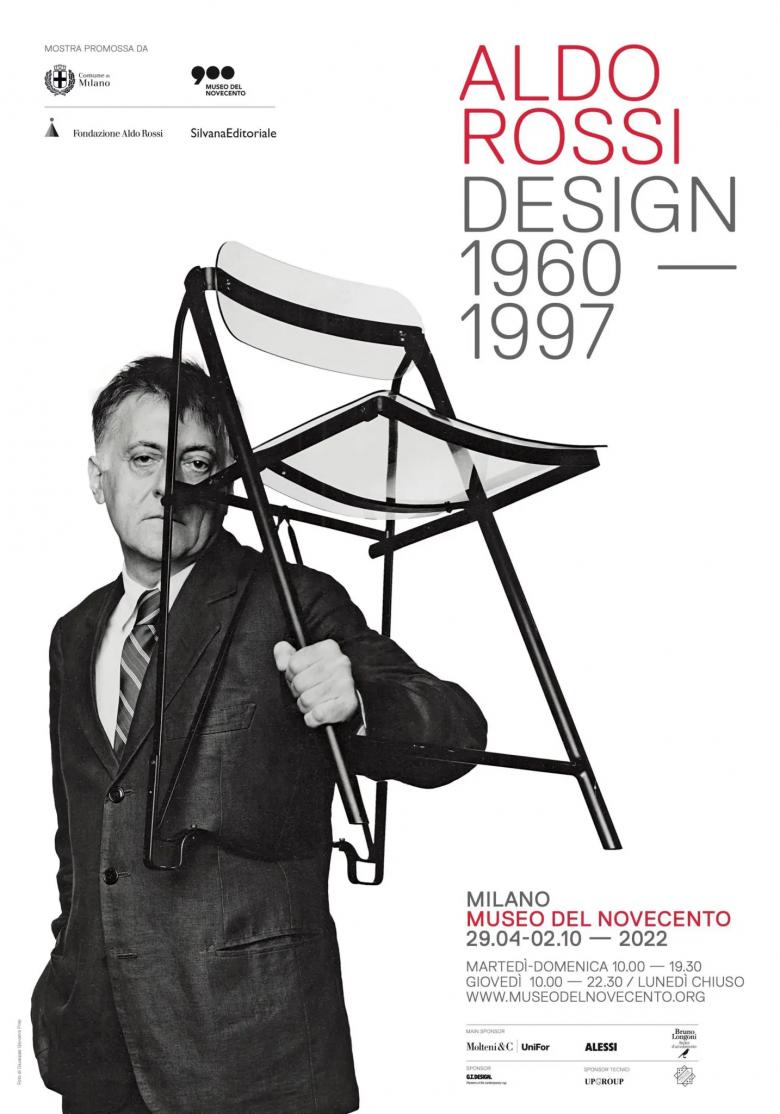 When

29 April to 2 October 2022

Where

Museo del Novecento
P.za del Duomo, 8
20122 Milano, Italy

Organizer

Museo del Novecento, Fondazione Aldo Rossi e Silvana Editoriale

Link
Magazine