A focus on contract textiles
Martina Metzner
8. July 2019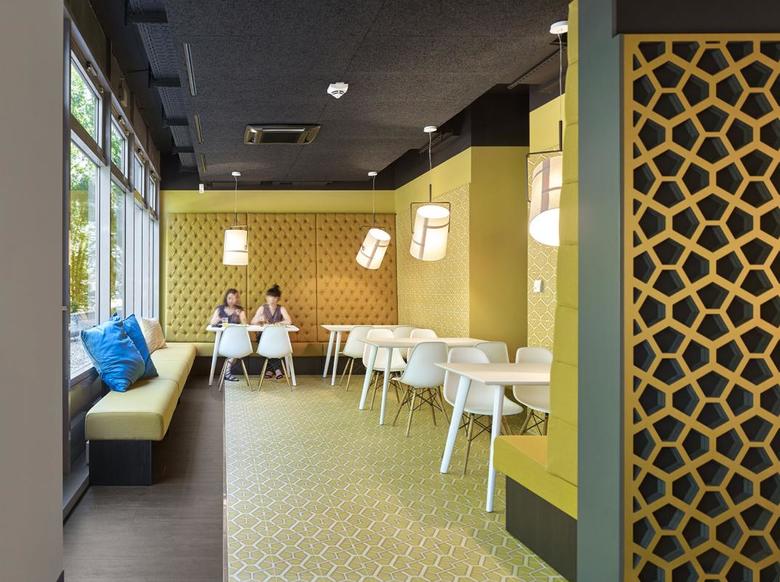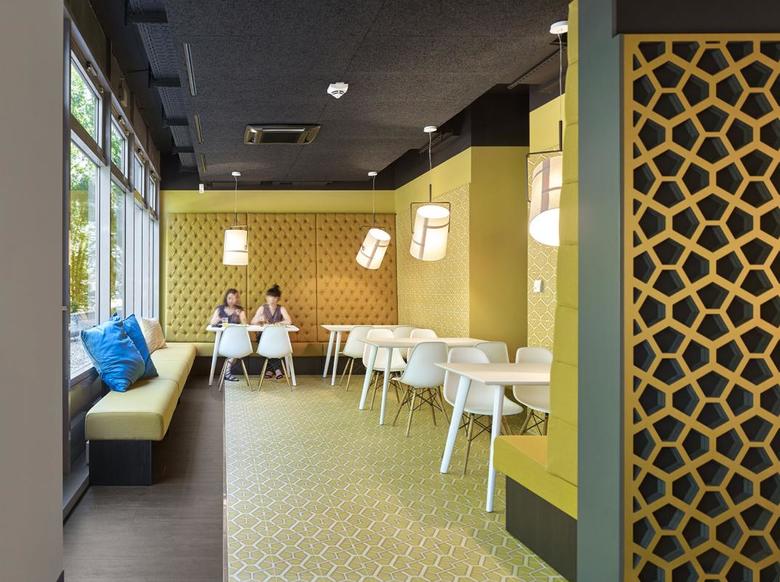 Lepel & Lepel used decorative textiles and wall coverings for the conversion of the offices of UFA Film & TV Produktion GmbH in Babelsberg (photo: Stefan Müller).
At the upcoming Intertextile Shanghai Home Textiles, Christina Biasi-von Berg, Monika Lepel and Peter Ippolito will be offering guided tours of the trade fair as part of the "Talk & Tours" by World-Architects, giving insights into their projects.
International products and interior styles are very popular in the Land of the Rising Sun – especially high-quality home textiles from international brands, which are in particular demand by the middle and upper classes. Intertextile Shanghai Home Textiles is the right place for those who want to gather information about home textiles for the Asian market. From 28 to 31 August 2019, the National Exhibition and Convention Center in Shanghai will be the venue for getting to know the most important home textile trends and product innovations from around 1,000 manufacturers and suppliers on the Chinese market. In addition to the sourcing focus, the spotlight will increasingly be on contract textiles and finished home textile products. Apart from that, sun protection solutions and outdoor textiles are also on display. Digital printing technologies and the offerings of textile designers represent a further spectrum; special services for architects, interior designers and hoteliers round off the program.
Expanded services for architects
Wendy Wen, Senior General Manager of Messe Frankfurt (HK) Ltd., explains these changed consumer habits of the new middle and upper classes in China, which are oriented towards Western lifestyles: "The increased importance of product quality, brands and a personalized customer experience have fostered strong growth and new products across the home textile industry in China." The Chinese consumer's desire for a consistent style in the entire home is of primary importance – instead of individual items such as sofas, bedding and curtains. According to the Chinese government, the country currently has around 33 million middle- and upper-class households, 10 million of which have particularly strong purchasing power for the home textiles sector, as they each have total assets of around 450,000 US dollars or more.
In order to meet the growing demand for contract fabrics, which are in particular demand by architects, interior designers and hoteliers, the trade fair has expanded the "Contract Business 360°" concept: Now, for better orientation, exhibitors with products and solutions for the contract business are highlighted by signage. There will also be a forum, an exhibition area and a large number of events on the subject of contract textiles.
For the first time there will be a "Talk & Tour" program aimed at architects and interior designers, organized by World-Architects. Two renowned architects with a focus on interior design, Christina Biasi-von Berg from Biquadra, Italy, and Monika Lepel from Lepel & Lepel, as well as well-known architect Peter Ippolito from Ippolito Fleitz Group, Germany, will give insights into their work during their "Talk & Tours" and guide the participants to individually selected manufacturers at the trade fair.
The guides of this year's tours
Lepel & Lepel from Cologne is an important name in Germany when it comes to the design of office space – their projects include the Microsoft Office in Hamburg, the Google Office in Düsseldorf and the HRS Headquarter in Cologne. Teamwork, communication, agility and creativity are their contribution, which they know how to implement to perfectly match the corporate culture. In all the projects, textiles not only ensure functionality but also a positive atmosphere – they are used to separate entire rooms, in the form of acoustically effective absorbers or on the many surfaces that Lepel & Lepel preferably cover with high-quality contract textiles. Monika Lepel will present this approach as part of her #01 Talk & Tour entitled "Enjoy working! – Textiles in office environments".
With her office Biquadra based in Merano, South Tyrol, Christina Biasi-von Berg has become a sought-after interior specialist for homely feel-good hotels in the Alps. Biasi-von Berg gives small, fine and owner-managed guesthouses such as Chalet Mimi, the 1477 Reichhalter Eat & Sleep as well as the recently opened VillaVerde Resort an unmistakable, charming touch, which equally incorporates the local tradition and the international zeitgeist. Under the title of "Hotel design - performing with fabrics", the architect will reveal during her #02 Talk & Tour the important role that high-quality textiles suitable for the contract sector play in hotel projects.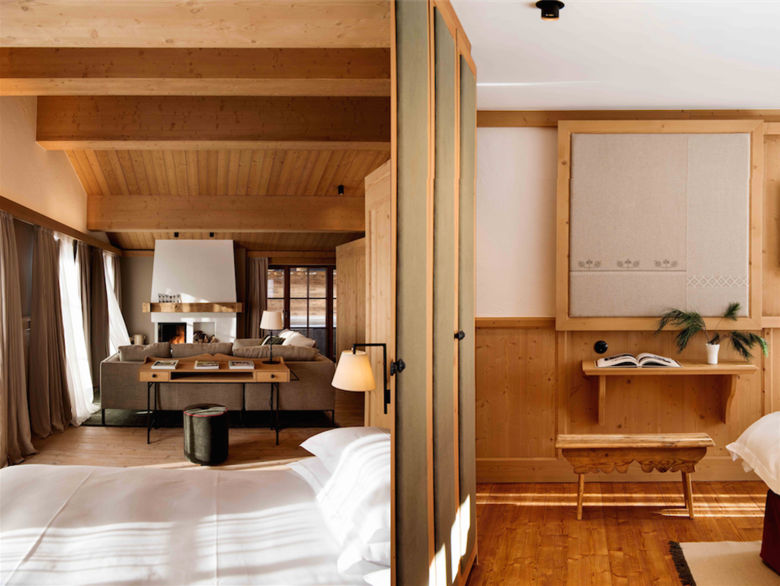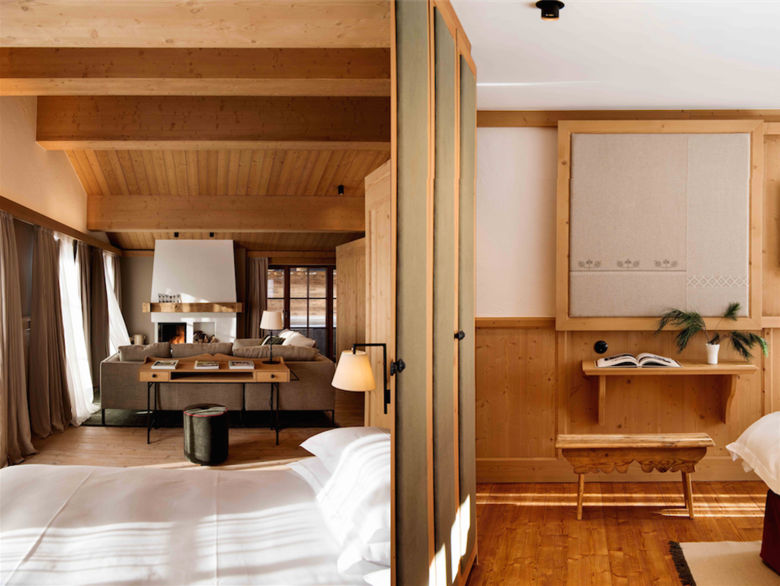 Chalet Mimi in Lech am Vorarlberg, Austria was lovingly furnished by Christina Biasi-von Berg from Biquadra (photo: Stefano Scatà).
Textiles are Peter Ippolito's passion because, in his opinion, in addition to all the functional characteristics, they lend the room a remarkably high decorative and emotional value. In the case of projects by the internationally active architecture firm Ippolito Fleitz Group, with offices in Stuttgart, Berlin and Shanghai, one could almost speak of garments for rooms – as the office uses interior textiles in such an extravagant, lavish and innovative way. Even though the "identity architects" primarily create spaces for brand worlds of large companies such as Walter Knoll, Mövenpick or Adidas, Peter Ippolito will be discussing the use of curtains, drapes, cushions, carpets and upholstery fabrics in private interiors during his #03 Talk & Tour titled "The fabrics of living".

The Chinese projects in the "CEG Schwarzwald" complex in Shanghai's Putuo district, where Ippolito Fleitz Group has furnished two show apartments that have won several international awards, are likely to be of particular interest: "Shades of Grey" uses an exciting mix of materials consisting of carpets laid in several layers, fascinating fabrics and smooth surfaces such as marble and mirror glass. In contrast to this, the second show apartment "Chromatic Spaces" is characterized by an energy-charged atmosphere with vibrating color combinations and clear geometries.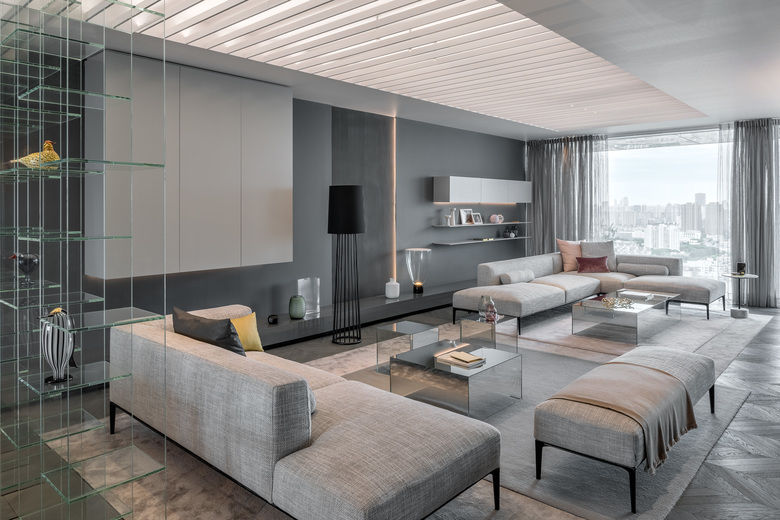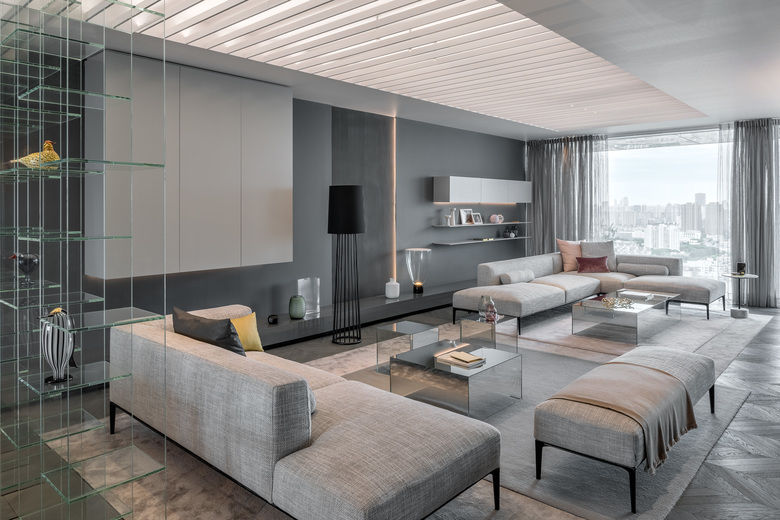 For the "Shades of Grey" apartment in Shanghai, Ippolito Fleitz Group laid several carpets on top of each other (photo: Sui Sicong).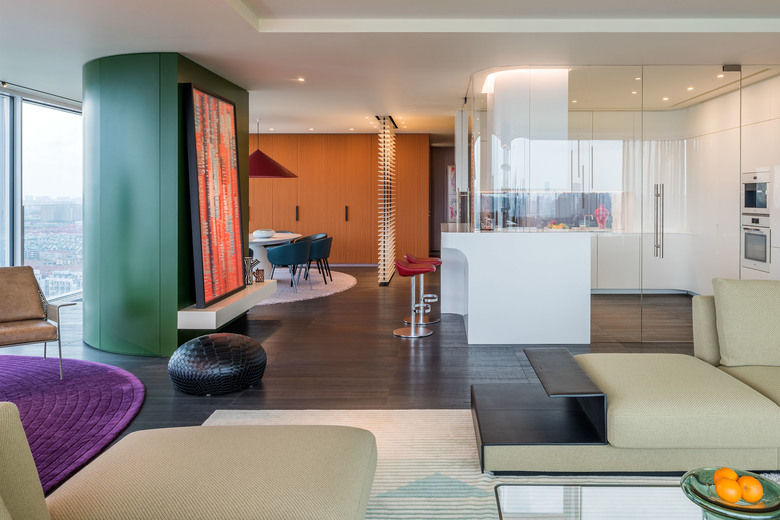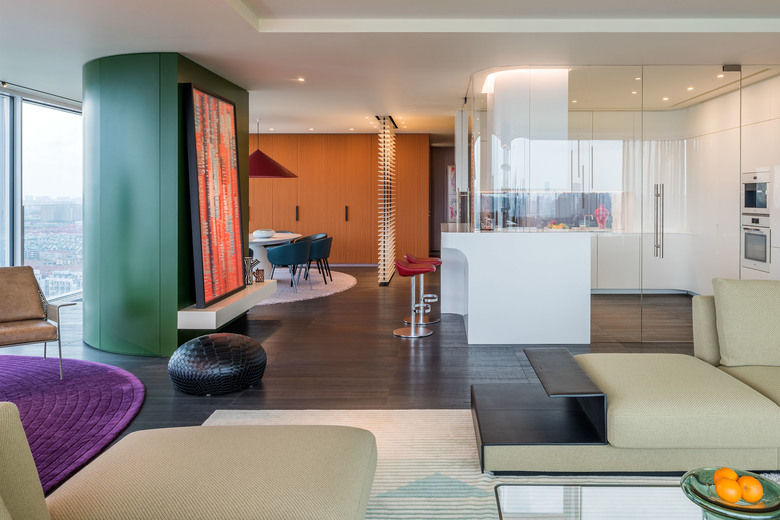 The "Chromatic Spaces" show apartment, designed by the Ippolito Fleitz Group, is characterized by colors (photo: Sui Sicong).
Traditional trade fair in its 25th year
In 2019, the autumn edition of Intertextile Shanghai Home Textiles will take place for the 25th time. The trade fair is organized by Messe Frankfurt (HK) Ltd in partnership with the Sub-Council of Textile Industry (CCPIT) and the China Home Textile Association (CHTA). Exhibitors include importers for European brands such as Beijing Euroart and Mirtos Textiles, Dutch producer Morphrow (De Ploeg), the German brand JAB Anstoetz, Prestigious Textiles from Great Britain, Boyteks Tekstil from Turkey and the linen weavers Libeco from Belgium and Mulei Textile from China. Last year, around 41,000 visitors came to Intertextile Shanghai, which takes place annually in spring and autumn and at the same time as Intertextile Shanghai Apparel Fabrics.


The three Talk & Tour formats with Monika Lepel, Christina Biasi-von Berg and Peter Ippolito at a glance: Intertextile Shanghai Home Textiles – Autumn Edition 2019

#01 Talk & Tour: Christina Biasi-von Berg "Hotel design – performing with fabrics"
Christina Biasi-von Berg | www.biquadra.com
Thursday, August 29, 11:10 - 13:40

#02 Talk & Tour: Mr. Peter Ippolito "The Fabrics of living"
Peter Ippolito, IF Group, Stuttgart, Berlin, Shanghai, Hamburg, Moscow, Zürich | www.ifgroup.org
Thursday, August 29, 14:10 - 16:40

#03 Talk & Tour: Monika Lepel "Enjoy working! – Textiles in office environments"
Monika Lepel | www.lepel-lepel.de
Friday, August 30, 11:10 - 13:40

Meeting Point Talks + Tours: Hall 4.1 A82 (InterDesign Forum Space)
Talks + Tours in english language (Chinese will be provided)


Intertextile Shanghai Home Textiles
Autumn Edition
28 – 31 August 2019

Free admission

Opening hours:
28 – 30 August 2019: 09:00 a.m. – 06:00 p.m.
31 August 2019: 09:00 a.m. – 02:00 p.m.

National Exhibition and Convention Center, Shanghai, China

Further information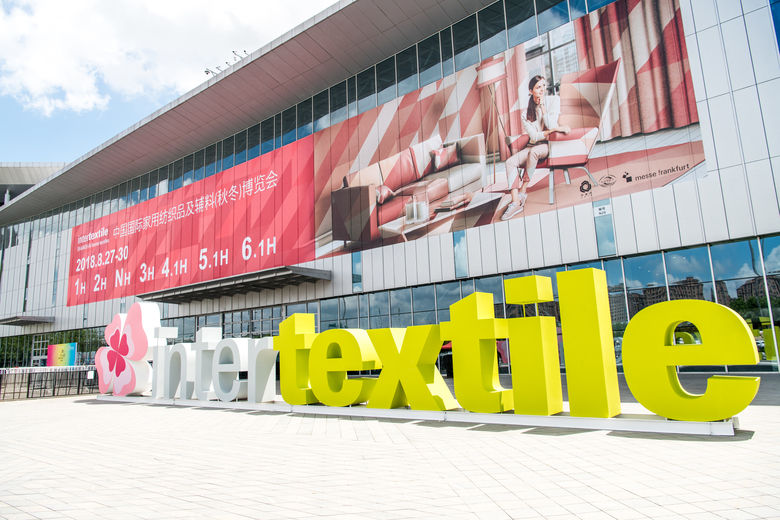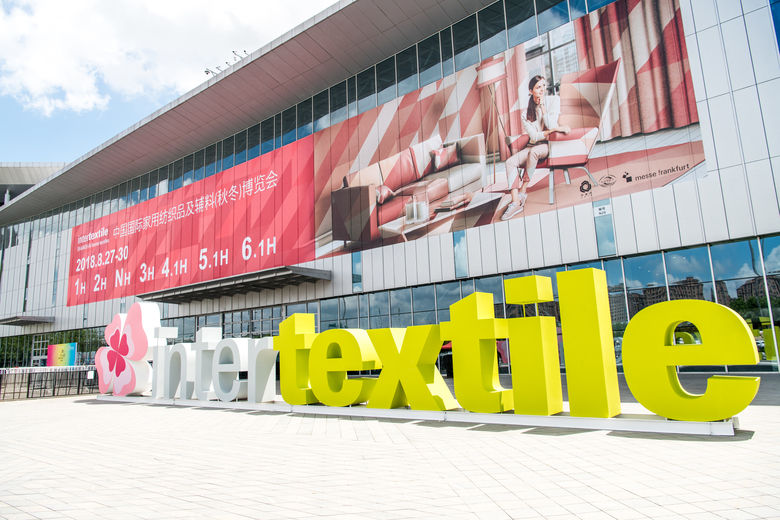 Intertextile Shanghai Home Textiles – Fairground (photo: Messe Frankfurt (HK) Co Ltd).
Other articles in this category