Five Facts from 'Five Seasons'
2. July 2018
Five Seasons: The Gardens of Piet Oudolf brings the lush, naturalistic landscapes of the famed Dutch planting designer to the big screen. World-Architects editor John Hill caught a screening in New York last month when Oudolf and director Thomas Piper were in attendance.
Piet Oudolf is best known for the planting design of the High Line, the elevated park on Manhattan's West Side that is traversed by five million people annually. These ten million eyes get to observe the numerous developments rising alongside the former rail viaduct, but also the changing character of the plants and trees themselves, which Oudolf selected and laid out ("conducted" in his words) so the park has color and interest throughout the year. Little do park goers know that they are learning the ways of Oudolf, whose planting designs are celebrated enough to warrant a 75-minute documentary.

In Five Seasons, we "visit" some of his most notable gardens: the High Line, of course, but also the Lurie Garden in Chicago, his own Hummelo in Holland, and Hauser & Wirth in England, which was being developed during the filming of the documentary. But we also learn about Oudolf, a passionate and humorous man that Thomas Piper follows ("I'm leading him," Oudolf jokes early in the film) through his gardens, to site visits, on vacation, and even t0 the grocery store. Scenes like these are interspersed with Piper's painterly time-lapse photography that beautifully captures Oudolf's gardens in all seasons.

What is learned in Five Seasons? Below are just a handful of things.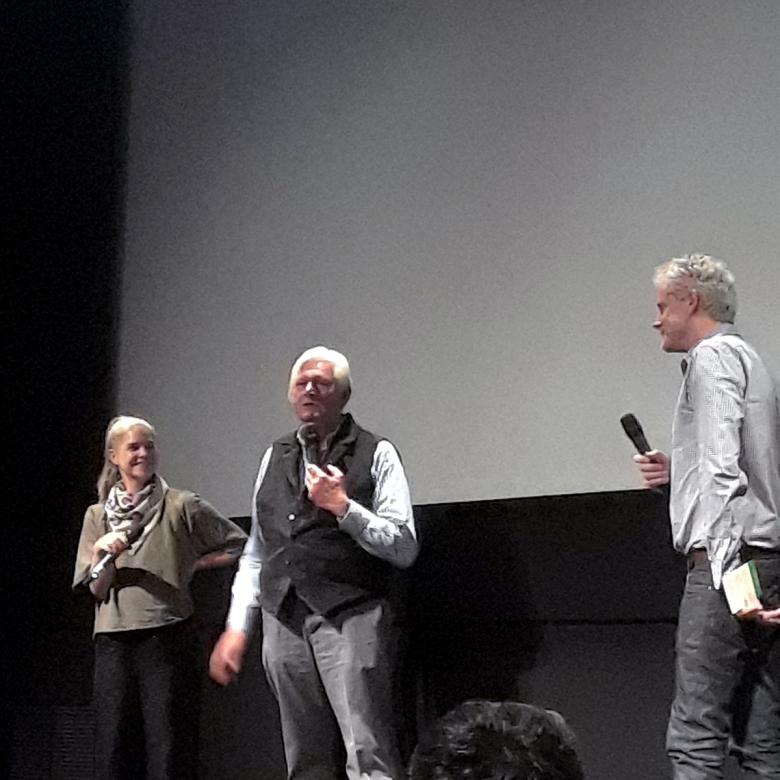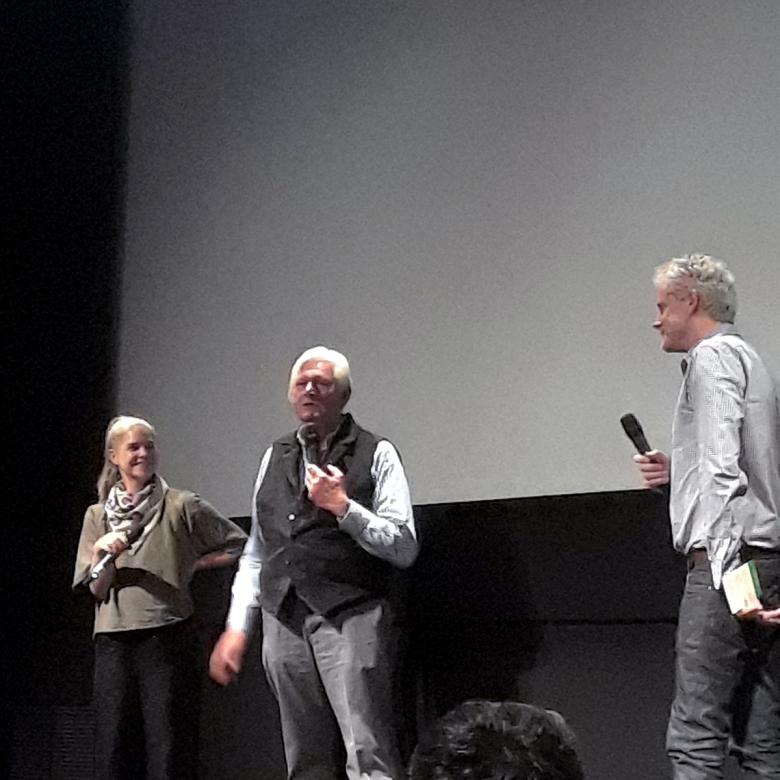 Piet Oudolf (center) and director Thomas Piper (right) at a screening of "Five Seasons" in New York City in June (Photo: John Hill/World-Architects)
1. Oudolf draws at 1:100
The film opens with a scratching noise: the sound of a marker on paper as Oudolf lays out plants for one of his gardens. It is a large drawing that is slowly yet surely loaded with color – blobby outlines, dots, lines, circls, and X's that describe the locations and types of plants. Color is saturated throughout, even on Oudolf's thumb. He starts with a small sketch for each garden but then moves on to a plan at 1:100, a scale he has drawn to so much it's "intuitive" for him – no scale is needed.
Some clients have asked for perspective drawings, but he doesn't do them since the character of the gardens at eye level changes constantly. So he sticks to plans. Eventually a grid will be laid over the plans, but that is to help the contractor place the plants when the gardens makes the leap from 1:100 to full size. How many plants are we talking about? At
Hauser & Wirth's 1.5-acre garden
, for instance, there are approximately 57,000 plants.
2. Oudolf built in NYC before the High Line
In 2005, four years before the first phase of the High Line opened, Oudolf, working with Starr Whitehouse and WXY, finished work on the
Battery Bosque
. They transformed a former asphalt lot at the historic southern tip of Manhattan into a
"natural refuge"
with two acres of garden rooms. Oudolf admits in the film that he thought that would be his only project in New York City. But then he was approached to work on the High Line with
James Corner Field Operations
and Diller Scofidio + Renfro. The rest, as they say, is history.
​Although the High Line is littered with "Keep It Wild" signs so people do not trample the plants, for Oudolf his gardens "may look wild, but they shouldn't be wild." Instead, as he says in
Five Gardens
, they are what he'd like to see in the wild. In turn, gardens like the Battery Bosque and High Line require a good deal of maintenance to keep their "wild" appearance.
3. Oudolf bought 'Hummelo' at auction
The most important garden for Oudolf is
Hummelo
, named for the small Dutch village where it's located. Piet and his wife Anya bought an old farmhouse in Hummelo in 1981, subsequently turning it into a nursery and laboratory for the career Oudolf would make for himself. In the short Q&A following the screening, Oudolf advised the gardeners in the audience (there were many) to "plant and plant and plant." That is just what he did at Hummelo for three decades, learning as much about plants by nurturing them in his garden and applying the lessons he learned to other gardens, be they public or private.
​About the only gardens he won't do are tropical gardens. As much as Oudolf likes them, he admitted he would need to spend another thirty years learning everything he can about tropical plants – creating a tropical Hummelo, in other words – to pull of his own version of tropical gardens; at this point in his career it's too late for that.
4. Oudolf loves Texas wildflowers
One of the most memorable scenes in Five Seasons follows Oudolf driving across the Texas landscape and fawning over the wildflowers blooming alongside the roadways. A camera often around his neck, we see Oudolf get out of his rental care to take pictures of the wildflowers and tell viewers it is "too much for someone like me." The trip has the benefit of loading him up with beauty and recharging his batteries, but we also get to watch Oudolf visit a roadside BBQ, Texas-style, that he calls "completely insane."
5. Oudolf designs with and for grays
People, such as myself, who make year-round visits to the High Line notice how the plants hold interest at any time of the year. Color may not be rampant in the winter months, but the variety of grays, browns, and blondes is clearly taken into consideration by Oudolf, who chooses plants as much for their dormant appearance as for their blooms. He "puts the plants on stage – and lets them perform."

But Oudolf also considers gray skies. He thinks about how a garden will look on overcast days, not just in sunlight. He asserts that it's hard to make a bad garden look good if the light is bad, but a good garden will look good in any light. Seeing the many gardens throughout Piper's film – from fall to winter to spring to summer to fall again – it's hard to argue with that assertion.
---
Related articles
Featured Project
Other articles in this category