Both Great and Disastrous
4. May 2018
Japan in Architecture: Genealogy of Its Transformation is on display at the Mori Art Museum in Tokyo from 25 April to 17 September 2018. The exhibition is curated by the Mori Art Museum with advisor Terunobu Fujimori. Ulf Meyer visited Japan in Architecture on opening day and filed this report.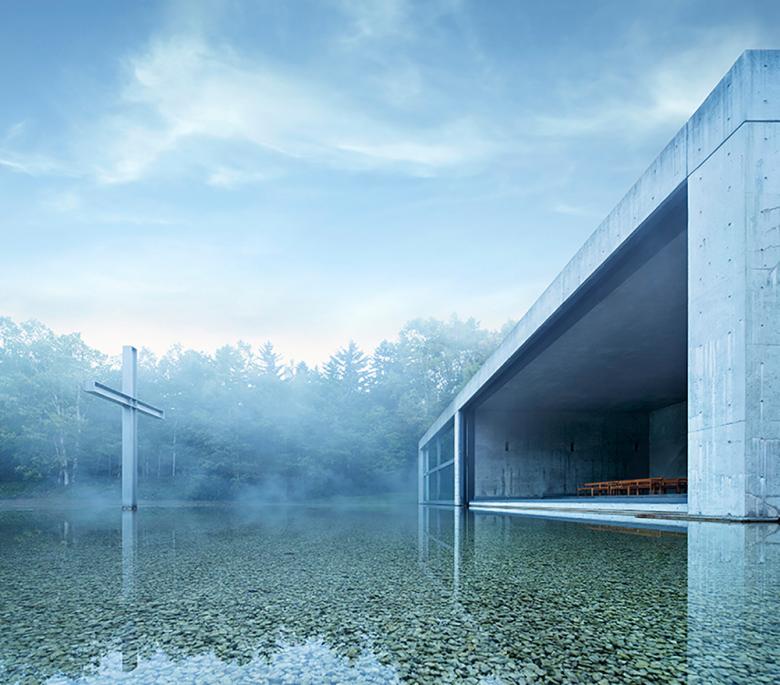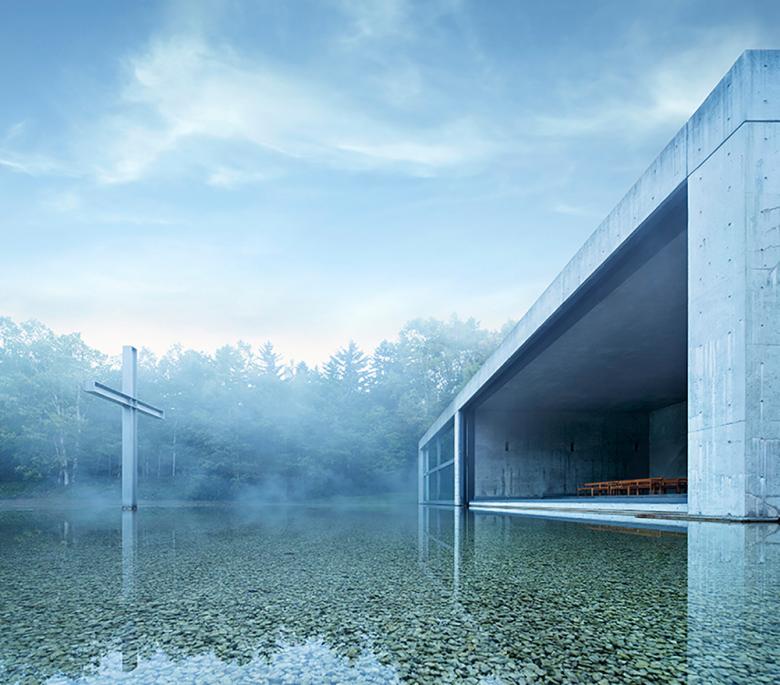 Tadao Ando: Chapel on the Water (Hoshino Resorts Tomamu), Hokkaido, Japan, 1988 (Photo courtesy of Hoshino Resorts Tomamu)
In Japan's architectural world, it is time for some serious soul-searching. While the past decade has produced one architectural star after the other and given the island nation the highest density of Pritzker Prize winners, the scene finds itself at a major crossroads. The decade of the ever-thinner, ever-whiter, ultra-ephemeral architecture of Kazuyo Sejima and others is definitely over, yet such architects as Kengo Kuma have yet to prove they can produce lasting, large-scale buildings in today's trend toward warmer, browner, wooden architecture. There is a general sense of discomfort with current architectural production — and globalization in general. So the Mori Art Museum, arguably the most influential private art institution in Tokyo, decided it was time for some major navel-gazing and put together a giant exhibition that tries to explain … everything! This is as great as it is disastrous: Great, because never before has modern Japanese architecture been displayed in such depth and size, showing over 400 models and objects. But the endeavor also proves to be disastrous: with so much academic communicativeness, it is in danger of losing focus and ultimately becoming a disservice for Japan's architecture.
Japan in Architecture
sets out to study, display and analyze Japan's built environment since the Meiji Restoration of 1868, exactly 150 years ago, when the concept of "architecture" as a profession was introduced to Japan. No small task! The show traces how the great tradition of wooden architecture fell victim to first fires and earthquakes, then modernization and thus Westernization. The main "brain" behind the show is Terunobu Fujimori, who has gained a prominent role in Japan's architectural world in recent years. He advocates for a radical turn in Japanese architecture: away from rational, "cold" architecture and (back?) to a romantic, mysterious, vernacular architecture. He was not too shy to include his own design work in the show. While this holds valuable clues, it also risks romanticizing the past and promoting a construction material — wood — that is almost completely unavailable in Japan (due to strict nature-preservation rules that should not be changed) and on top of that is illegal (code largely bans the use of wood as a structural material). More than 70% of the mountainous surface may be forested, but very little of the wood is actually harvested.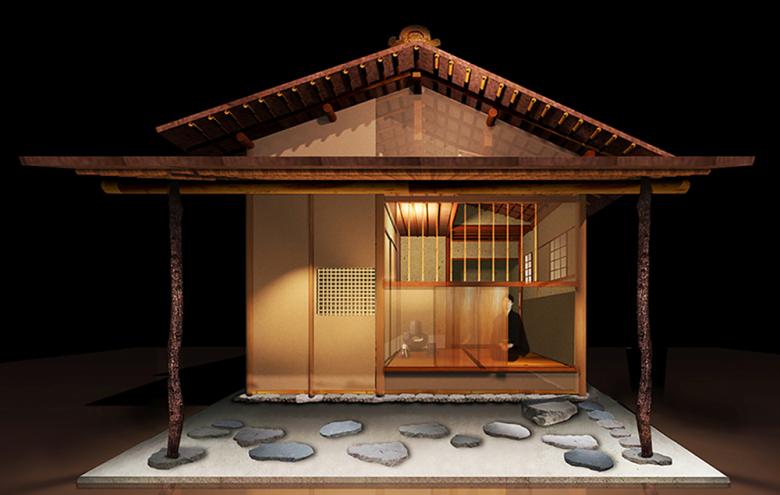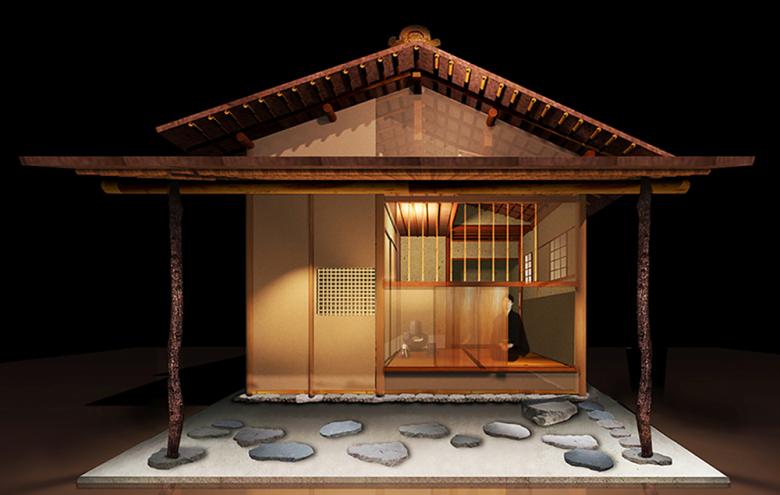 Tai-an, attributed to Sen no Rikyu, Azuchi-Momoyama period (16C.) replicated 2018 by Institute of Technologists (Rendering of replication)
The exhibition has nine sections that trace the lineage of architecture and explore the genealogical elements that are still vital yet "undermined by modernism and concealed beneath." Featuring materials, models, and interactive exhibits, the show has three major highlights. First is a full-scale reproduction of the Tai-an, a Cha-chitsu (tea house) by Sen no Rikyu, a famous tea master from the 16th century. The tea room, only two tatami mats in size, is seen as a prime example of Wabi aesthetics. From the tiny interior of the full-scale replica of the original in Kyoto's Myoki-an temple, visitors can gaze over the skyline of modern Tokyo.
Another spectacular item on display is a 1/3-scale wooden model of Kenzo Tange's own private residence from 1953. It is not the only masterpiece in the exhibition that has been knocked down in the meantime. These include Frank Lloyd Wright's Imperial Hotel but also some of the best works of Yoshio Taniguchi, Kisho Kurokawa, Yoshinobu Ashihara and even Tange himself. The third highlight is "Power of Scale," an installation by Seiichi Saito of Rhizomatics Architecture that uses fiber-laser technology and video features to depict interiors of famous Japanese buildings.
The exhibition's Japan in Architecture title is a play on Arata Isozaki's groundbreaking 2006 book Japan-ness in Architecture. The book's sections deal with topics such as "coexistence with nature" (its bounty and dangers), craft, roofs, and "hybrid architecture." In the section about "transcendent aesthetics," Yoshio Taniguchi's Suzuki Museum is used as a fitting example to illustrate the concepts of mono no aware (sensitivity to ephemera) and mujo (impermanence). The chapter about "linked spaces" explains how Japanese architecture traditionally flourishes without the concept of a "wall" but with movable screens instead.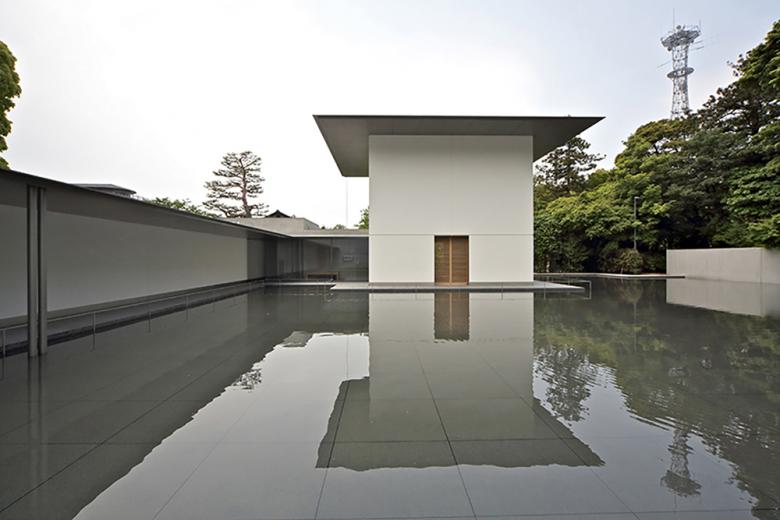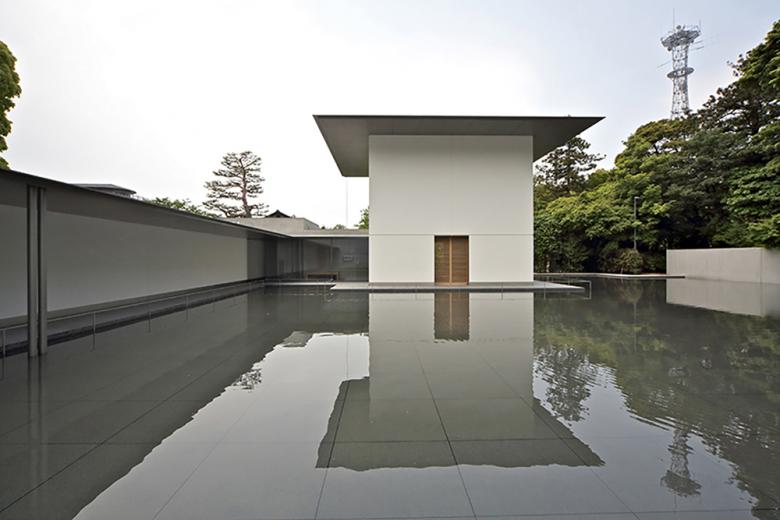 Yoshio Taniguchi: D.T. Suzuki Museum, Kanazawa, Japan, 2011 (Photo: Toshiharu Kitajima. All images courtesy of Mori Art Museum.)
The Mori Art Museum exhibition is a great trip through Japan's history of architecture across time and space, from past to present and from East to West, all supported by unique architectural documents, models, and installations. The main advisor, Terunobu Fujimori, admitted at the press conference for the opening that he "felt so tired after having seen only half the show." In a way, that is a compliment, because it proves what a great and rich "determination of position" is. He also said that if "people only understand half of the show," that that would be good enough for him as well.

​The tall spaces of the Mori Art Museum, 53 floors above the sidewalks of the world's greatest city, are cleverly used in the exhibition design. The upper sections of the 5.5-meter walls contain quotes, headlines and titles, while the central and lower parts go into details; this allows visitors to glance through the halls' tops and stop at points that interest them according to their "level of architectural literacy." Visitors who keep the stub of their entrance ticket receive a discount if they visit a second (or third) time — an appropriate solution for a great, encyclopedic show!
---
"Both Great and Disastrous" rounds up a trio of articles by Ulf Meyer from his recent trip to Japan. See also "Losing Architecture," on on the exhibition
Kengo Kuma: a LAB for materials
, and his review of Hiroshi Sugimoto's Enoura Observatory in Odawara, Japan.
Related articles
Featured Project
Other articles in this category