Reimagining a Postmodern Icon
3. May 2018
Landmarks Illinois has released renderings that reimagine Helmut Jahn's James R. Thompson Center in Chicago's Loop as a mixed-use project with a renewed public plaza, an open atrium, and a tower with hotel and apartments.
The renderings show a proposal by Jahn's office done in partnership with Landmarks Illinois, which listed the building on its 2017 Most Endangered Historic Places in Illinois list. Built as the State of Illinois Center in 1985 (it was renamed the Thompson Center in 1993 after the governor who commissioned the project), the spaceship-like building became threatened when the State of Illinois expressed interest in selling the building. Last year the state "released an image encouraging full demolition and replacement of the Thompson Center with a new super tower," according to Landmarks Illinois. In turn, Landmarks Illinois put the building on its
2018 Most Endangered Historic Places in Illinois
list, making it one of only four repeat appearances on the 24-year-old lists.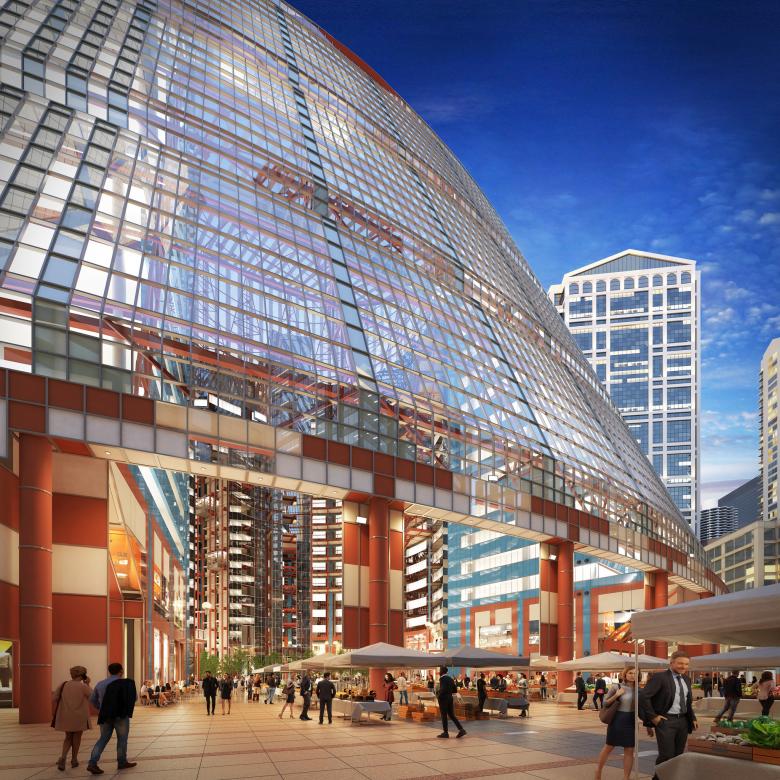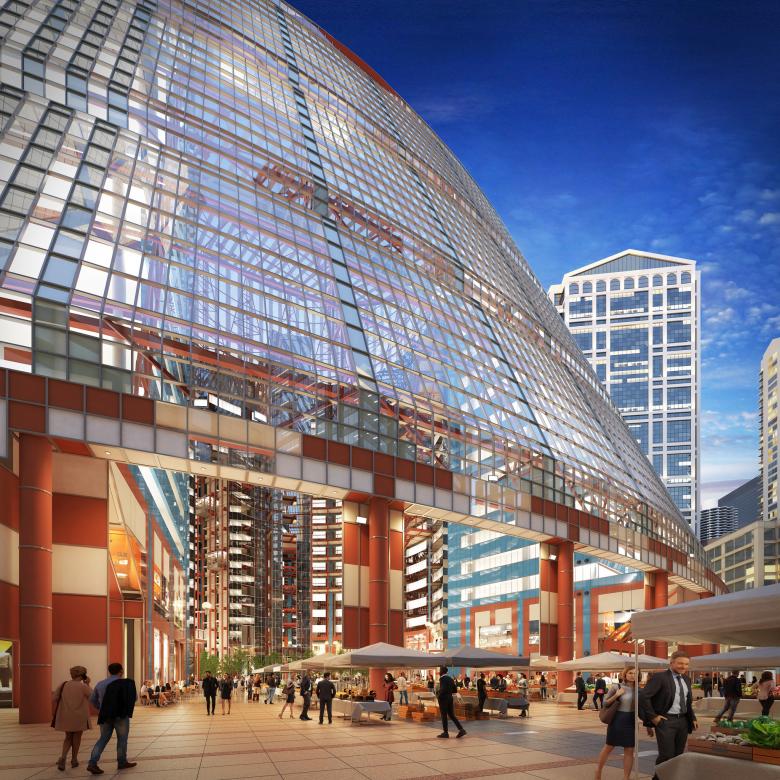 The renewed public plaza: "This design changes removes four, two-story entrance bays at the plaza and similar removals at LaSalle and Lake Streets, creating open connections between the outside and the voluminous atrium." (Image: visualizedconcepts)
Although controversial when completed, Jahn's building has evolved to become an endearing presence in the Loop, particularly in the way it departs from the orthogonal on the exterior and creates a grand public space in its interior. This atrium is one of the building's most controversial aspects, with seventeen stories of south-facing glass overheating the space too much for the air conditioning system in its early days. Offices literally open to the atrium have had to deal with heat from the space as well as the sounds and smells wafting from below. As Blair Kamin put it in 2014, "[The Thompson Center] has never lived down those problems, even though some of them have been corrected and the building's interior, particularly its basement food court, is heavily used by the public."
Problems like these are why the State of Illinois is promoting the building as a tear-down as opposed to an adaptive reuse. But Landmarks Illinois isn't having any of it. The renderings illustrate how the site could accommodate a tower and how the plaza and atrium could be tweaked and adapted for different uses. More details on the reimagining can be found on
Landmark Illinois's website
, where they assert that "repurposing, not demolishing, Thompson Center makes the most sense from an economic, environmental and architectural standpoint."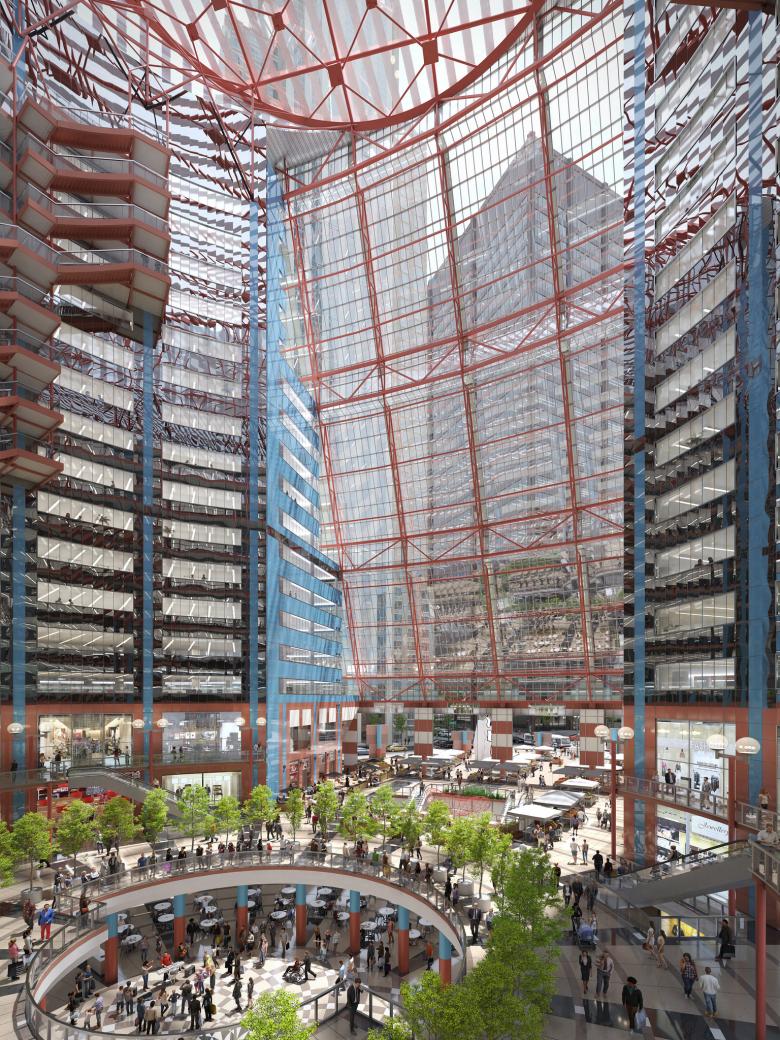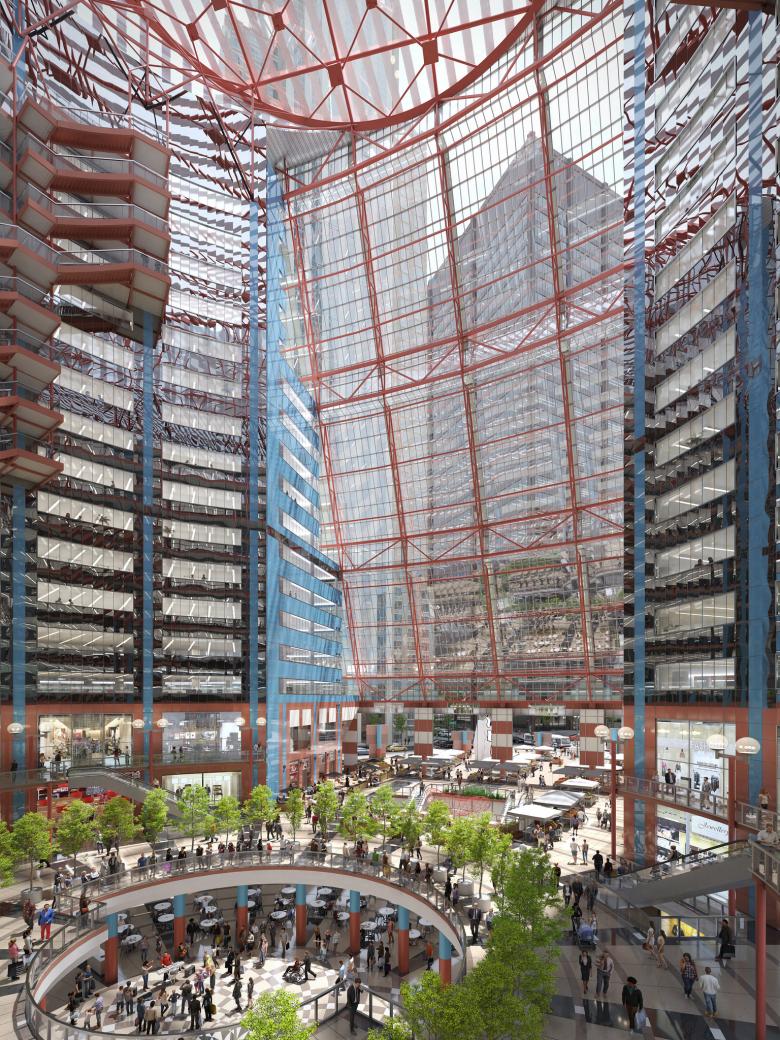 "The renewed plaza and open atrium could feature cafes, seasonal food markets and expanded retail space as well as landscaping and public art." (Image: visualizedconcepts)
Landmarks Illinois is not alone. Last year filmmaker Nathan Eddy released
Starship Chicago
, a short documentary that recently won a Docomomo US
2018 Modernism In America Award
. Watch the film below.
Related articles
Featured Project
Other articles in this category