24. October 2019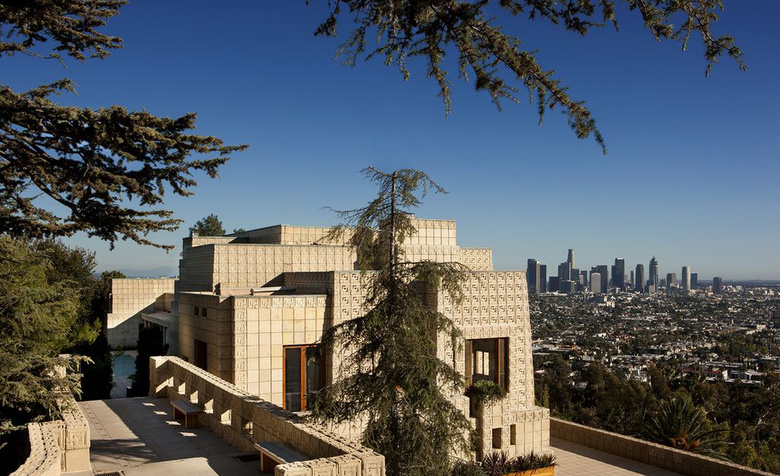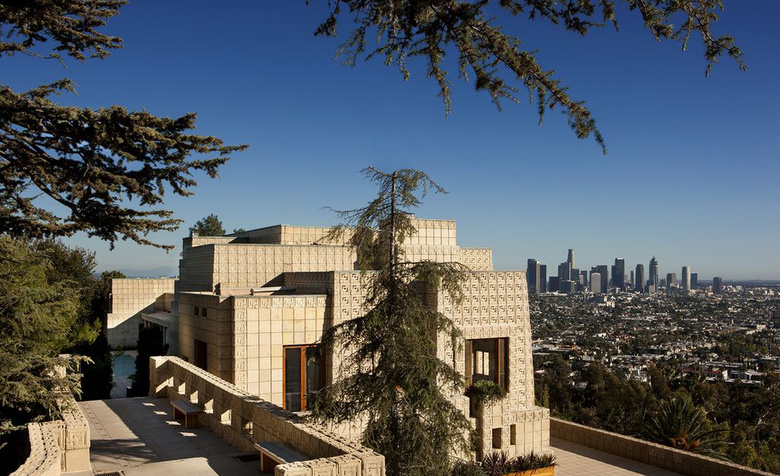 Photo: Mary E. Nichols/Hilton & Hyland
Property records indicate that the recent purchase of Frank Lloyd Wright's iconic Ennis House in Los Angeles for $18 million — the highest sale for any Wright house — was made by a married couple who founded a luxury brand of cannabis-infused beauty supplies.
Billionaire Ronald Burkle bought the Ennis House in 2011 for around $4.5 million (well below its 2009 asking price of $23 million), eventually spending millions on restoration work and selling it a week ago to "an entity easily linked to a seasoned former PR executive named Cindy Capobianco and her environmentalist/philanthropist husband Robert Rosenheck, the founders of marijuana juggernaut Lord Jones," per Variety. While the background of the house's new owners is interesting, it's not as fascinating as the house itself and its evolution since being built in 1924.
Designed by Frank Lloyd Wright for Charles and Mabel Ennis, the 6,000-square-foot house (including chauffeur's quarters) was the last and largest of his four textile-block houses in LA, in this case in the Los Feliz neighborhood. Wright's son, Lloyd Wright, oversaw the construction and then renovated the house in 1940 for its new owners, after Charles Ennis died in 1928 and Mabel sold the house in 1939. Much of the house's fame came in the 1980s, when the house was used as a filming location, most notably in the original Blade Runner.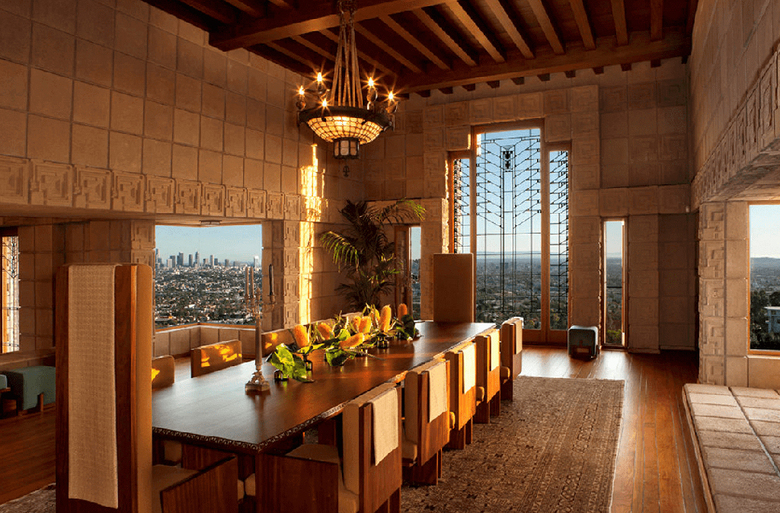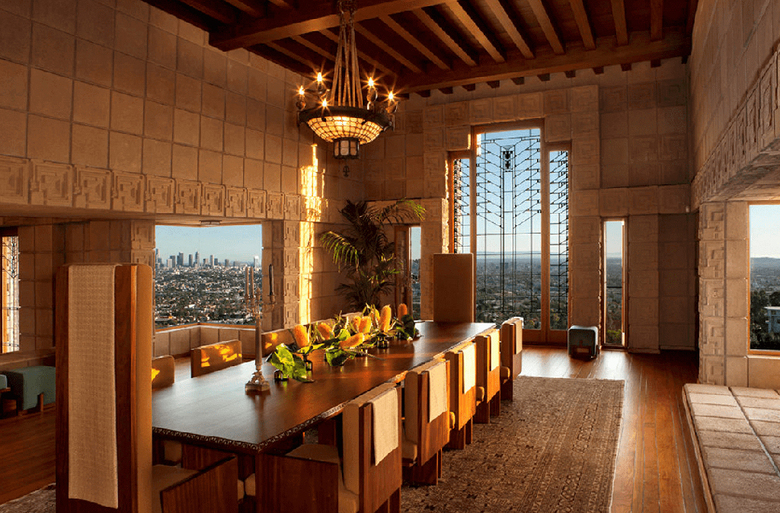 Photo: Mary E. Nichols/Hilton & Hyland
The house's textile blocks and dramatic siting, evident in the realtor photographs above, led to maintenance issues, especially this century. The 27,000 concrete blocks with Mayan-inspired patterns were made with decomposed granite found on the site, making the blocks unstable over time. Then in 2005 record rains washed away sections of the house's retaining wall, leading people to speculate the house would not survive to see its centennial. The Ennis Foundation, set up in 1980 as the Trust for Preservation of Cultural Heritage, restored the house, but, as already mentioned, it required even more work by Burkle.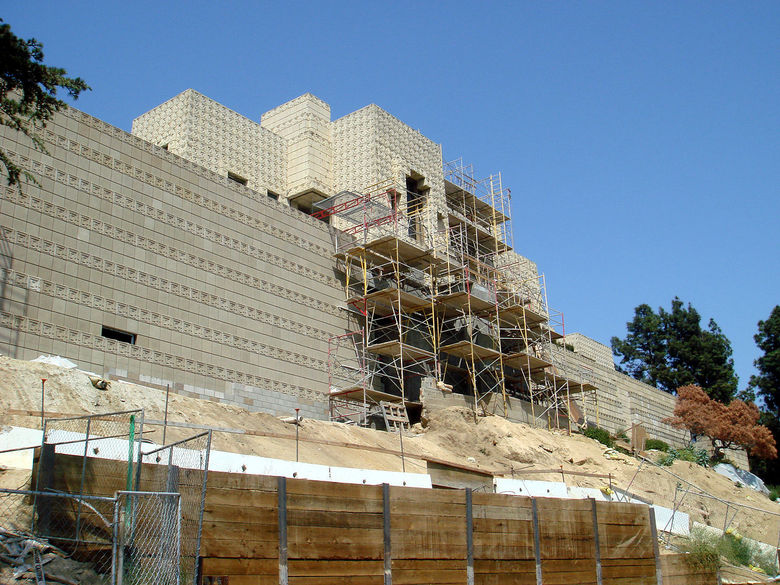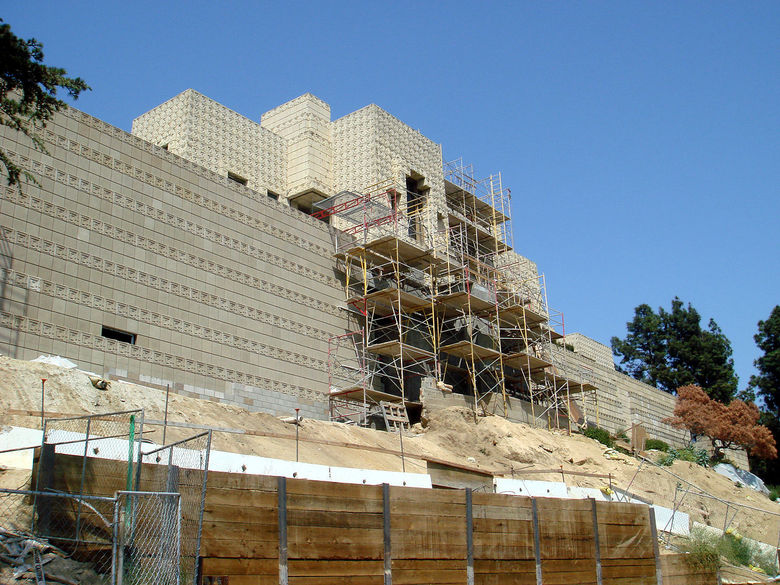 Ennis House undergoing restoration work in 2007 (Photo: Bobak Ha'Eri/Wikimedia Commons)
A conservation easement held by the Los Angeles Conservancy stipulated that Burkle provide some sort of public access to the house for at least 12 days out of the year. Per Curbed, "the easement stipulates this access for future owners of the home as well." This means fans of Wright will still be able to get inside the famous house — though there might be a funny smell in the air when they do.
Other articles in this category