Designing with Marionette
6. november 2017
What is the source of architectural innovation today? Increasingly it is found in the software that architects use to design, document, and coordinate their projects. A key component of this is parametric design, which is responsible for some of the most exciting recent developments in architecture. A project presented at this year's Vectorworks Design Summit hints at what Marionette, Vectorworks' parametric design tool, can accomplish in the right hands.
Although parametric design, now fairly well established in architectural circles, enables architects to design around a number of parameters (climate, code, function, etc.), it is still seen widely as a tool for creating blobs. Projects like Zaha Hadid Architects' flowing
Heydar Aliyev Center
in Baku, Azerbaijan, come to mind when hearing the term. This perception stems in part from the output of such early adopters of parametric software as Greg Lynn,
UNStudio
, and Hadid's office under principal Patrik Schumacher. Yet increasingly the algorithms and scripts behind parametric design are being used for relatively un-sexy tasks, such as coordination between architects and engineers. As Carsten Sauerbrei explored recently in
"Architecture 4.0,"
clash detection in the reinforcing hidden within a complex concrete structure is but one situation aided by parametric design.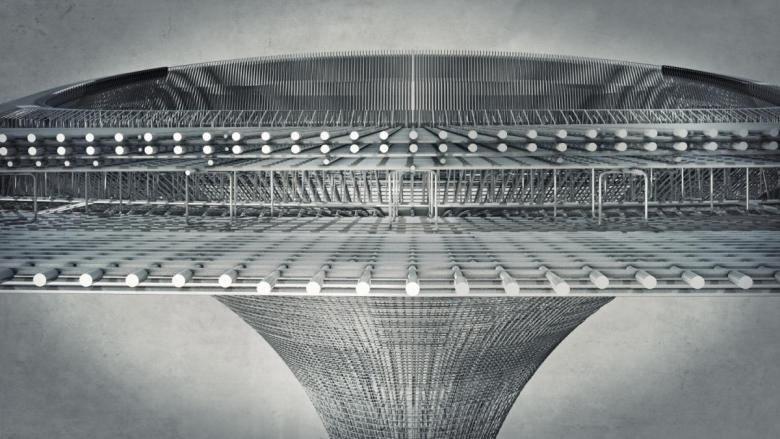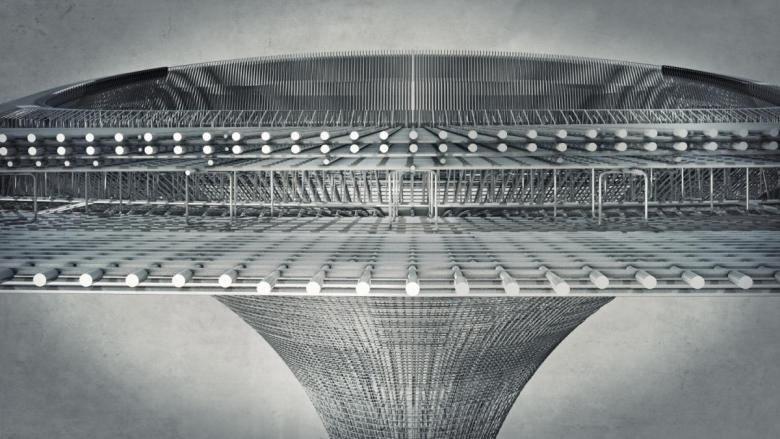 Parametric clash detection in BIM model for structure of the new Stuttgart underground station (Image: Werner Sobek)
Embedded within
Vectorworks
' line of software for architects, landscape architects, and designers in the entertainment industry is its own parametric design tool:
Marionette
. Most softwares have some means of scripting, but the majority are text-based. Marionette, on the other hand, is graphical, meaning that Vectorworks users do not need to know the code behind the script in order to use it; they just need to know the different parts (nodes and connections, primarily) and how they work together — their language. Users can easily grab standard nodes from the Vectorworks library and put them together based on certain parameters of a given project. But advanced users with a knowledge of
Python
can edit the code behind the nodes and share them with other Vectorworks users. Given that Marionette was released in 2016, it's too early to see much work produced with the tool, but one project presented at the
Vectorworks Design Summit 2017
reveals the potential lurking in Marionette.
That project is
A History of Wood in Vancouver
, an exhibition designed by
Principle Architecture
with Chad Manley (
CMPLBA
) and Michael Lis (
Goodweather
). When Principle was hired in 2016 to design an exhibition focused on the history and culture of wood in Vancouver, they were given a tight schedule but also a number of unknowns, the most glaring being a lack of exhibition content. Faced with numerous changing parameters and the need for the exhibition design to be an illustration of the theme, the firm determined (with help from Geoff McBeath at
Resolve
, a Vectorworks Canadian distributor) that the one-room installation would be a great trial run for Marionette. Daniel Irvine, intern architect at Principle, explained it to me during the Summit: "We needed to do schematic design, design development, construction documents, and fabrication, all at the same time – with the program constantly changing. We used Marionette to allow these things to happen simultaneously."
The concept for the exhibition design developed as a series of tree-like forms held up by post-and-beam structures on the inside. Visitors would wander between the "trees," whose insides would be fitted out with whatever exhibition content the museum decided to use. The team was given only six weeks from the start of design to the start of fabrication. Using Marionette, the size, form and structure of the "trees" could be adjusted easily once certain parameters became known during that month and a half, such as the content of each space, the size and placement of existing ducts, and the required width for egress. The last came about when code officials told the architects that the exhibition space actually served as a hallway and therefore needed to meet specific exiting requirements. Put more broadly, Marionette enabled them to set up relationships between objects in order to make coordination much easier when those relationships changed.
Vancouver's Principle Architecture works almost exclusively on institutional and community work, especially schools, camp facilities, and community buildings for small communities up and down the coast of British Columbia. Aside from a predilection for timber structures, their regionally inflected projects do not display a hint of what they have accomplished with A History of Wood in Vancouver. The organic "trees" shaped with NURBS (non-uniform rational basis spline) in Vectorworks are more aligned with the parametric designs of firms like UNStudio. But Irvine and his colleague at Principle, Jean Dières Monplaisir, were quick to point out to me that the exhibition design was informed by, but not a product of, the scripting. The forms arose from the tree concept, itself based on the mandate to relate the design to the exhibition theme, while Marionette was incorporated primarily as a tool for coordination. "Marionette has a lot more potential than just making blobs," Monplaisir told me. "Anything that can be automated and is defined by a set of parameters – stairs, guardrails, window patterns – all of this can be calibrated by a script so you don't have to redraw everything."
The need to not redraw everything was important for Principle because of the many changing parameters described above, but also because of fabrication. In order to determine the structural stability and experiential character of the "trees," and to test the detailing of the fir skin, full-scale mockups were produced with the assistance of the Center for Advanced Wood Processing at the University of British Columbia. With a click of the Marionette script and outputting the Vectorworks model to CNC (computer numerical control) machines, the mockups could be fabricated at any time during the process, important given the tight schedule and the client's funding. Alas, the exhibition was put on hold last year for various reasons outside of their control, but Irvine and Monplaisir are confident it will happen someday. When it does, A History of Wood in Vancouver should draw attention to an important resource in Canada – and the tools that made Principle's exhibition design possible.
---
World-Architects is an Exclusive Media Partner for the third annual Vectorworks Design Summit, which took place in Baltimore 18-20 September 2017.
Gerelateerde artikelen
Uitgelicht project
Andere artikelen in deze categorie