Time-Space-Existence in Venice
It may only be February, but at World-Architects we are already looking forward to traveling to Venice in June for the 2014 Architecture Biennale, curated by Rem Koolhaas under the theme "Fundamentals." Architects will flock to the city to take in the exhibition at the Arsenale and in the national pavilions, but Venice will also host a number of other architecture-related events during the Biennale. One such event is the "Time-Space-Existence" exhibition at Palazzo Bembo and Palazzo Mora, curated by Rene Rietmeyer and his Global Art Affairs Foundation. World-Architects spoke with Rietmeyer to see what he has in the works in these hectic months leading up to the opening.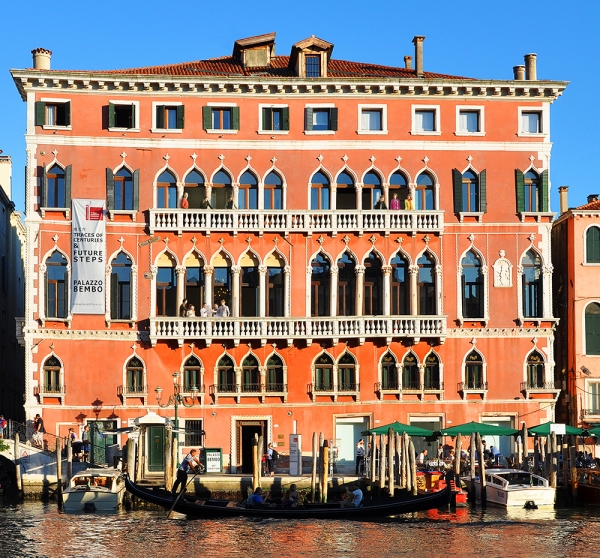 World-Architects: What is the theme for the 2014 architecture exhibition you are curating?
Rene Rietmeyer: The theme for our 2014 architecture exhibition is "TIME-SPACE-EXISTENCE," which will also be the title of our exhibition.
Does "Time-Space-Existence" extend the themes of the 2012 architecture exhibition as well as those of your "Personal Structures" art exhibitions?
Yes, it does. I initiated the
Global Art Affairs Foundation
and the international art project "Personal Structures" in 2002. These highlight the concepts of Time, Space and Existence through exhibitions, symposia and publications. Being an artist myself, I have considered including architects in my project since the beginning. I was tempted to include architects in our symposium about SPACE at New York's New Museum in 2009, but for different reasons at that time we decided not to. The main reason was that working in contemporary art is already very complex – although at times the line between art and architecture is not very clear – so adding the field of architecture to our project was too challenging. Therefore, when the Venice Biennale directors approached us about the possibility of organizing our first architecture exhibition during the 2012 Venice Biennale, we still did not know anything about architecture. Fortunately we found that many architects were also concerned about Time-Space-Existence, and that many architects were even more sincere than artists about these and other intellectual philosophical issues.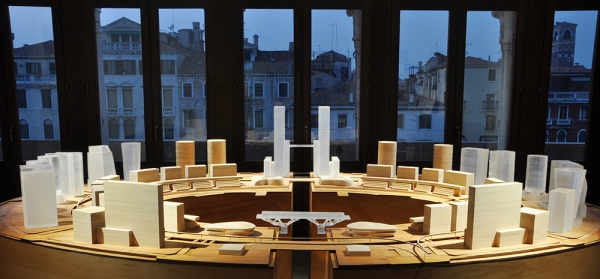 How does the theme relate, if at all, to the larger Biennale theme of "Fundamentals"?
In the late 1990s I formulated that expressing the subjects Time-Space-Existence would be the basis for all art works created by me. I considered these concepts to be the most fundamental concepts for mankind, regardless of one's field of professional interest. So, after Rem Koolhaas defined "
Fundamentals
" as the overall 2014 Venice Biennale title, we decided on "Time-Space-Existence" as the subtitle of our exhibition. Architects' structures have an enormous impact on the way we experience our surroundings, on the way we experience Time-Space. They influence our daily existence and leave a mark on the earth from the moment of construction, and often this "mark" outlives the architects themselves. Architects have to continuously deal with space, time and existence, so these topics
should be
the real fundamentals behind the decisions about how the structure, the ceilings, the doors, the walls, the floors and so forth, should function or look like. Architects should be very conscious about the impact their activities and decisions have on people and other living beings as well as on the total environment.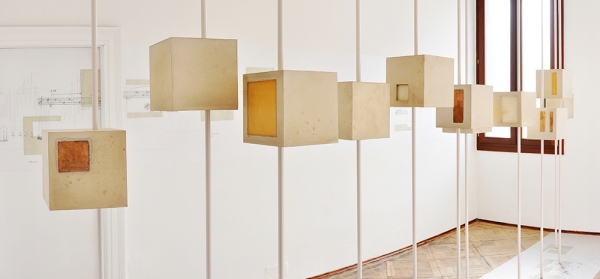 How did you select the architects for the 2014 exhibition? What kind of projects were you looking for?
Since some years ago we did not have knowledge of architecture, we had to start at the beginning. The Venice Biennale directors gave us all the catalogues from previous Biennales to study. Besides some regular architecture books, we searched the Internet for architecture offices worldwide. In our exhibitions we do not see ourselves as curators per se, but more as organizers who like to document what is happening in art and architecture today. We believe that this can be best achieved when we give each architect total freedom in the what and the how of their presentation in our exhibition. In our exhibitions we like to show developments, thoughts and ideas in architecture, and therefore we bring together an international group of architects with different cultural backgrounds and who are in different stages of their career – established architects next to architects whose projects might be less known. In 2014 we will present, for example, Eduardo Souto de Moura from Portugal,
White arkitekter
from Sweden,
Allford Hall Monaghan Morris
from England,
gmp · Architekten
from Germany, Ricardo Bofill from Spain,
C. F. Møller Architects
from Denmark, Pekka Salminen from Finland, Noel Robinson from Australia, and the schools of architecture from the University of Houston, T.U.Delft and the University of Buenos Aires.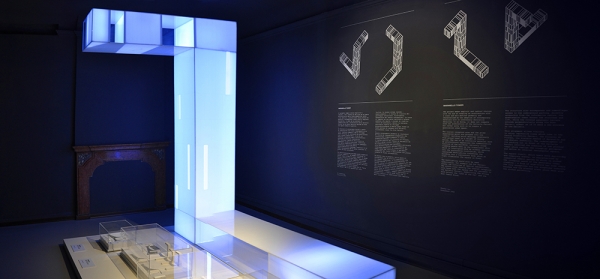 We do not look for particular projects, but for people, for architects with thoughts and ideas. For us, it is important that an architect shows a certain consistency in their work and thoughts, and in the case of young, upcoming architects, we look for innovation. The most important quality for us is that the architects we work with are sincere; then it does not matter so much what project, dream, thought or philosophy they will present. During the Venice Biennale the participating architects will make sure that their presentations are the most interesting they are capable of.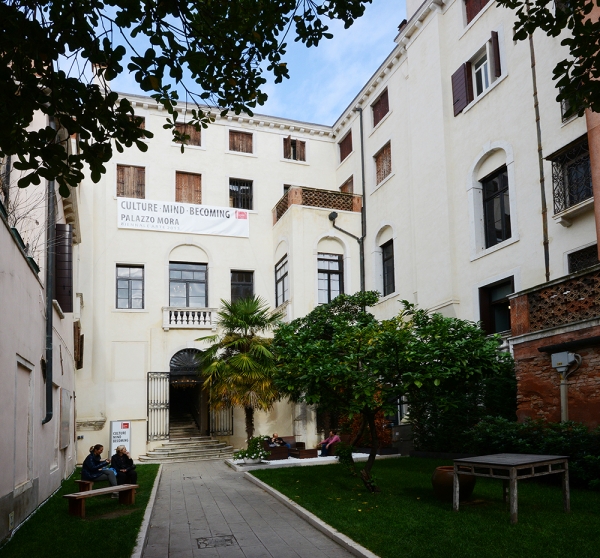 How will the display of the exhibition work? Will it be in Palazzo Bembo or also in other venues? Will it be combined with an art display as in the 2012 exhibition?

Our exhibition will take place in two locations: Palazzo Bembo and Palazzo Mora. The two spaces have each their own very specific character and atmosphere. Palazzo Mora is exactly what you may expect from a Venetian palace: chandeliers, beautiful large rooms and walls, and high, richly decorated ceilings. It is the perfect surrounding for a presentation about architecture. Palazzo Bembo does not have many of the old, Venetian decorations left, so therefore the spaces are more flexible in their use. Palazzo Bembo is perfect for solo presentations of architects within the relatively smaller spaces. It depends on the architects to determine which space fits best to their planned presentation.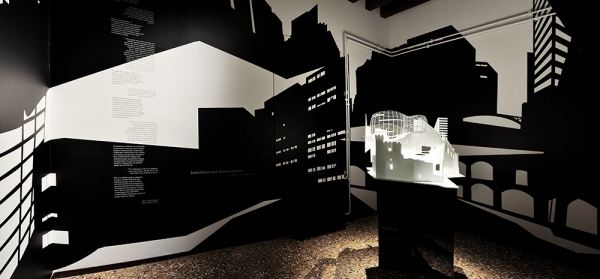 We try to stimulate a dialogue and therefore our exhibition will show a large diversity of presentations that are all related to architecture. Some presentations will be quite classical – photos and models – but there will be also interactive presentations; as always, it will be mainly those presentations that will express the philosophical thoughts of architects and give our exhibition its surprising artistic elements.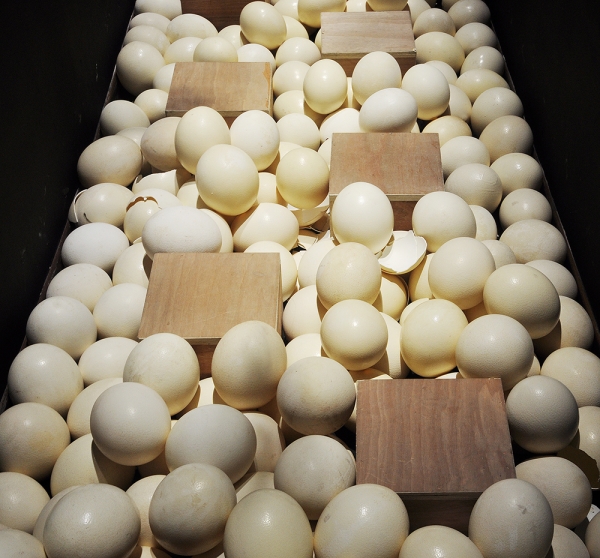 Having attended the 2012 exhibition at Palazzo Bembo, I greatly appreciated the artistic displays of some of the architects, such as the broken eggshells of Johann Slee and the sandy mound of Sweet Sparkman. Are such displays something you encourage? Do architects get inspired to do such displays working with art curators? Will there be similar sorts of things to expect this summer?

Yes, we encourage this and hopefully we will be able to present some architectural statements in a more artistic way. All activities of Global Art Affairs are executed on the basis of a direct contact with the participating artists and architects. In general, we give the architects total freedom in determining what they would like to present and how their statement will look. We invite certain architects to participate in the exhibition because we believe in them and their work, and then we can only hope that they are able to impress us and everybody with an interesting presentation – presentations that can have a positive influence on other people by making them more aware about their existence as human beings within time and space. Our team is dedicated to this and therefore we always do our best to support the participating architects in presenting their projects, dreams and thoughts in the best way we can.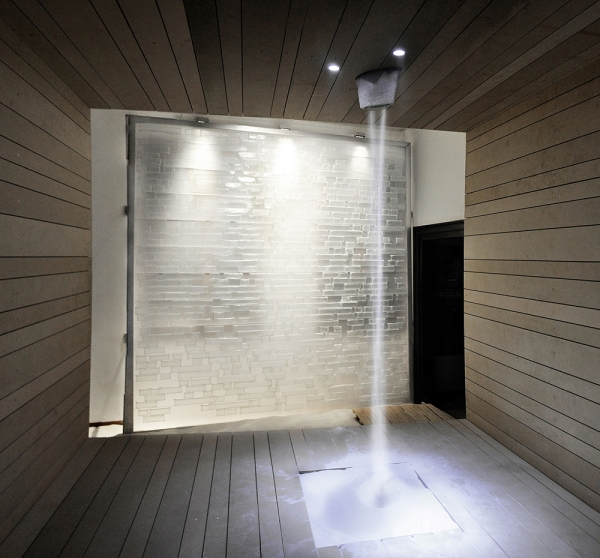 Author

John Hill

Published on

febr. 10, 2014
---