Flashback / Carrilho da Graça
Casa da Arquitectura—Portuguese Centre for Architecture presents Flashback / Carrilho da Graça, an exhibition displayed between April 8, 2022 and January 29, 2023.
Curated by Marta Sequeira, it is a major exhibition that covers more than 40 years of the Portuguese architect João Luís Carrilho da Graça's trajectory.
Like the worktables of Carrilho da Graça's studio, the horizontal surfaces that constitute the scenography of this first retrospective of the architect's work—designed by Inês Lobo and Carrilho da Graça himself—bear various traces that illuminate some of its conceptual foundations.
The architectural projects are represented in the exhibition through drawings, models and photographs belonging to the Carrilho da Graça Collection, as well as through a set of films, which depict the constructed works.
But as Carrilho da Graça believes that all disciplines work on the same kind of concerns, and that from each discipline, and from its tools, it is possible to reach similar conclusions and discoveries, texts, drawings, models, paintings, sculptures and films produced in other contexts by other authors and artists are also presented in this exhibition—from Kazimir Malevich's Architectone: Alpha (1923) to Julião Sarmento's Blue, Red, Yellow (2019).
These references, coming from Carrilho da Graça's private collection as well as from several national and international private collections and museums, are gathered together for the first time, creating a kind of embodiment of the architect's creative process. The synchronous presentation of works and references allows comparative readings and relationships of great intensity, some strategically calculated, others deliberately unforeseen.
The title Flashback naturally relates to the exhibition's anthological character, but summing up Carrilho da Graça's work forms at the same time a suite of instrumental alliances for the future of architecture. In addition to preserving the presence of what has been made, this exhibition contains a promise of all that is yet to be done.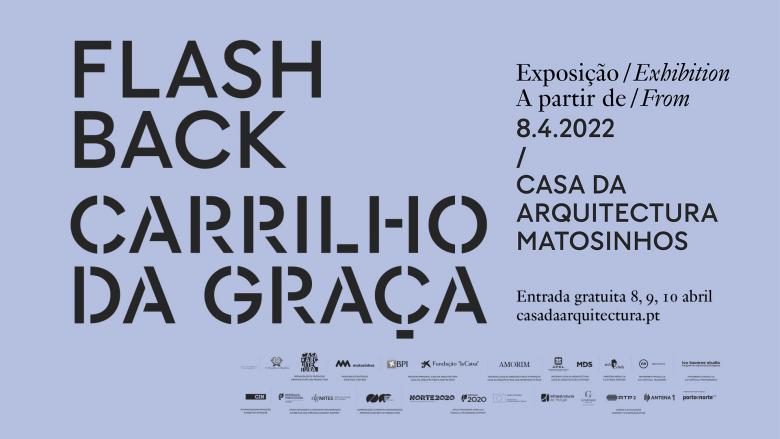 日時

2022.4.08 - 2023.1.29

場所

Casa da Arquitectura
Avenida Menéres, 456
4450-189 Matosinhos, Portugal

主催

Casa da Arquitectura

リンク
Magazine