Formglas in Mumbai's T2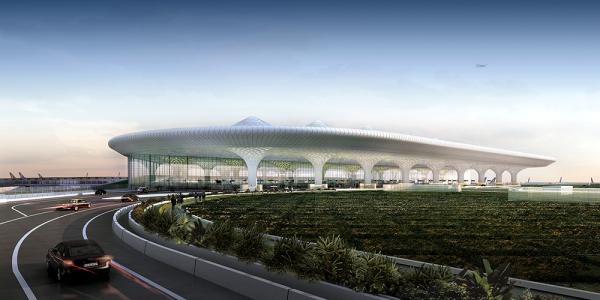 An integral feature of the brand new Terminal 2 at Chhatrapati Shivaji International Airport in Mumbai, designed by Skidmore, Owings & Merrill (SOM), is the ceiling, which is made of 4,000 coffers that seamlessly meld with the complex forms of the columns below. With SOM,
Formglas
developed technical details and 3-D modeling of the modular coffers, which they manufactured from glass fiber reinforced gypsum (GFRG) and consider the largest such installation in the world.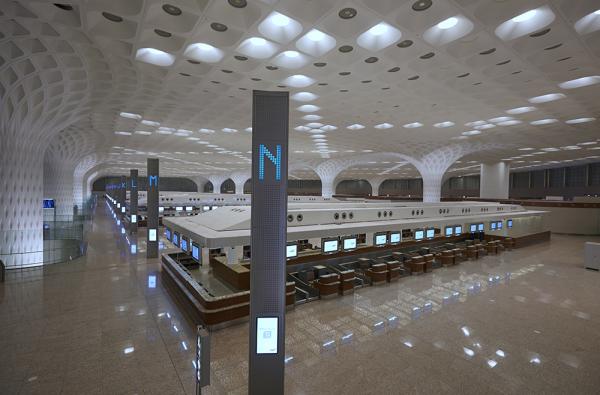 SOM describes the project
as follows: "In keeping with the client's goals, the design aims to reflect the spirit, heritage and traditions of Mumbai while simultaneously embodying the growth of technology in 21st century India. The primary design feature of the terminal is a long span roof covering the departures roadway, check-in hall, security and passport control functions. The roof and ceiling feature a sculptural surface and skylights, allowing natural light to flood into the main hall."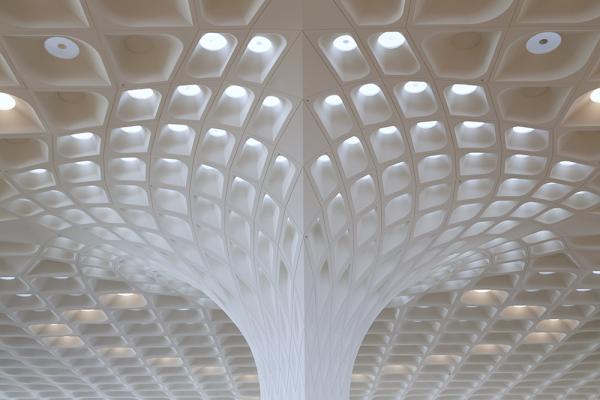 As can be seen in some of the photographs, these skylights occur at the column capitals that swoop up into the 50,000-square-meter (540,000-square-foot) ceiling. The capitals make the transition between the standard coffers that are sized 2.8 x 2.7 meters (9'-2" x 8'-9") and the column shafts that are made up of 8-meter-high (26') pieces; some columns are as tall as 30 meters (100 feet). The capitals are the most complex parts of Formglas's installation (built by India's GVK Power & Infrastructure), making up approximately a third of the 15,000 parts required.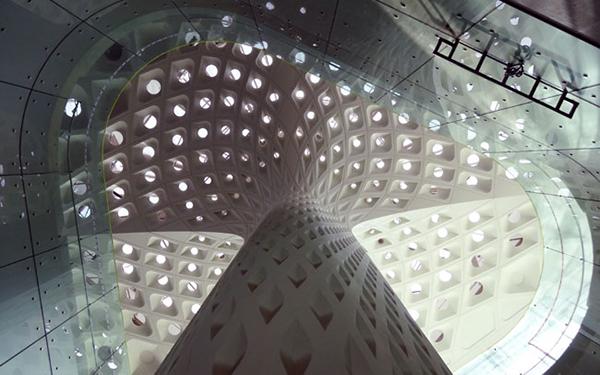 Toronto-based Formglas used 5-axis CNC (Computer Numerical Controlled) machines to fabricate nearly 500 molds for the project, both at a production facility near their home in Canada and one in Mexicali, Mexico. Eventually they shipped all of the materials inside more than 200 40-foot shipping containers to a warehouse near the T2 airport site in India, where parts were received, prepped and stored for delivery to the job site.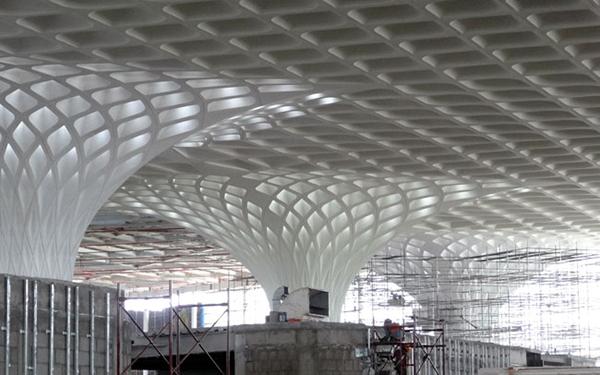 The photographs below show (from left to right, top to bottom): the storage of the standard coffers, transportation of one of the coffers, the framing inside one of the column capitals, the exterior of a capital being erected, smoothing out the GFRD surface, and finishing one of the capitals to give the pieces a uniform appearance.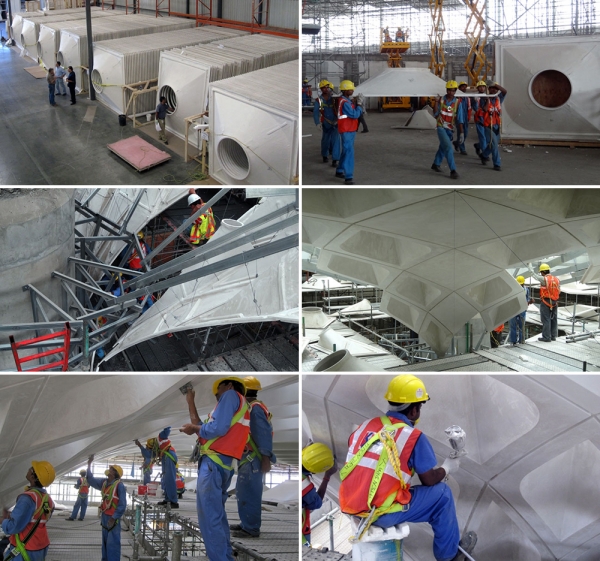 Author

John Hill

Published on

Feb 3, 2014
---