Talking WAF - Interview with Paul Finch
Author

John Hill

Published on

Apr 8, 2013
---
The sixth World Architecture Festival (WAF) will take place October 2-4, 2013 at the Marina Bay Sands in Singapore. With the awards submissions process underway (the deadline for entry is May 24), World-Architects thought it a good time to interview Paul Finch, the driving force behind WAF and the more recent Inside Festival, about the festival's past, present and future.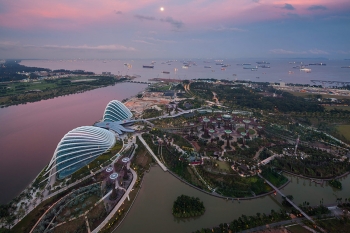 What was the goal of WAF at its inception? And is WAF still focused on this goal or is it evolving into something else?

Our goal was to launch an inclusive global event for architects where architecture was the main focus, rather than the many international real estate events that architects attend. From the beginning, we wanted WAF to be collegiate, to be celebratory, and to be a multi-faceted event rather than simply a conference or set of awards. None of this has changed, though we have added to the "layer cake" by including our interiors event, INSIDE, for example.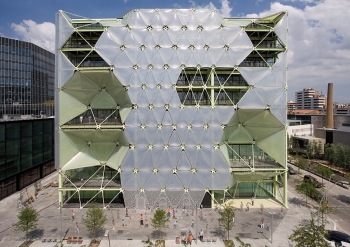 The first four WAFs were held in Barcelona. Why the shift to Singapore? Where else do you want to take WAF?

Our original intention was to stay for three years but we stayed one year extra before finally deciding that we should move. We decided to go to Singapore because it was clear that the Asian market was the most dynamic in the world, and Singapore is a good hub for Asia, Australasia and the Indian sub-continent. We are committed to holding WAF there for another two years, after which we may move but much can happen in the interim.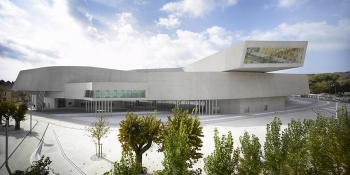 Does the move to Singapore affect who is submitting—more architects from Asia, perhaps, and less from the EU and the Americas?

We did see an increase in award entries and delegates from Asia, but fortunately not much of a drop-off from Europe and the US. We would still like to see more from the latter, and from South America, but we anticipate increasing numbers from across the world in the years to come.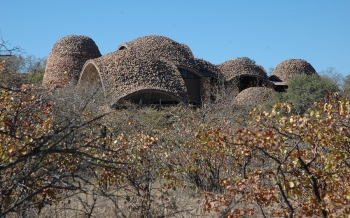 Architects must pay a submission fee to enter a project for a WAF Award, and then travel to Singapore to present it at WAF if shortlisted. Does this discourage any architects—small offices, for example—from attending?

I'm sure there are architects, especially small young practices, who think twice about the potential expense. On the other hand architects are great travelers and many have found it possible to come to WAF as part of a holiday or a business trip. It is going to be difficult for some parts of the world wherever you choose to hold such an event.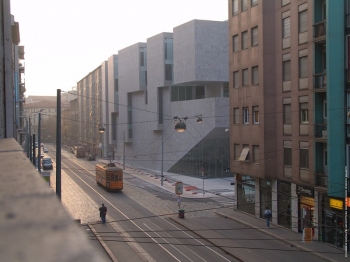 How representative are the submitted projects and awards for a given year? (Some countries, known for high-quality contemporary architecture, have fewer submissions than other countries, for example.) Does it truly represent the best in the world, or just the best of what's submitted?

You can't control who submits entries and we wouldn't want to; it is a voluntary activity. Happily, the standard of award-winning buildings and projects has been extremely high, as has been the range of building types and the variety of locations they have come from. In general I think we can justifiably say that our winners are world-class.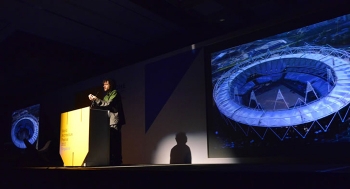 What is the goal of the architects visiting WAF? What is the goal of the manufacturers and media also visiting?

Architect delegates are split into three: Those short-listed for awards who are there to present their designs; those who are speaking in the conference program; and the remainder who are looking for information, inspiration, and the chance to see fellow professionals presenting live, which doesn't happen very often. Media people are there to gather material, to interview architects on the spot, and to follow the fortunes of architects from their own country. Exhibitors, many of whom are also award or conference sponsors, are naturally there to promote their products and services in a context where people are pretty relaxed and where high-quality architecture is appreciated and celebrated. This is a good atmosphere for conversations.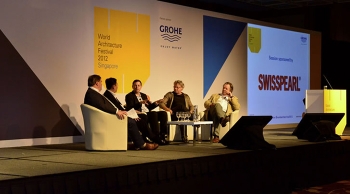 What is the response to the presentation and jury format? Does it privilege architects with strong presentations skills? Does being able to experience a project (the Gardens by the Bay, for example) affect the outcome?

Presentation skills are important, but so is the work. It is difficult to give great presentations of mediocre schemes, and the juries would soon spot this. I think Gardens by the Bay would have won even if the event had been back in Barcelona, because it is an outstanding example of collaborative design.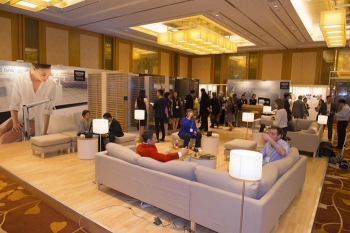 In 2011 the Inside Festival was added in the same venue and at the same time as WAF. Can you talk about the differences between these two and why they are separate events—why isn't IF part of WAF?

We wanted to give interior architecture and design its own show with its own awards, its own talks program, and its own sponsors. This is to reflect the fact that interiors can have a life of their own, and should not simply be regarded as a subset of architecture. On the other hand it is so strongly related that we decided not to separate the shows but run them as an integrated entity so that delegates to one are also delegates to the other without additional payment.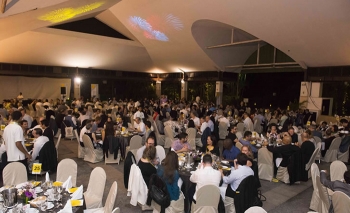 Does WAF undertake anything outside of the festival(s)? Are there any goals to take it beyond the once-a-year festival(s) and online database of submitted buildings?
This year we have had launch receptions for WAF and INSIDE 2013 in New York, Los Angeles, Chicago, Atlanta, London and of course Singapore itself. We have a long-standing ambition to hold "satellite" events around the world, and we are currently looking at this. Watch this space!
Email interview conducted by John Hill.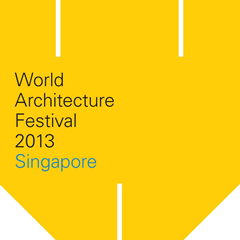 The
World Architecture Festival
began in 2008 as a "festival and live awards competition dedicated to celebrating and sharing architectural excellence from across the globe." In its first year over 700 entries from 63 countries were submitted, 224 shortlisted for the World Building of the Year and for awards in other categories. The WAF continues to draw hundreds of entries from around the world each year, all collected in the
World Buildings Directory
.
The WAF was held in Barcelona its first four years, shifting in 2012 to Singapore's Marina Bay Sands, where it will also be held October 2-4, 2013. In 2011 the
Inside Festival
was added, and it will be returning in 2013, running at the same time and in the same location as the WAF. Entries to the Inside Festival are collected in the
World Interiors Directory
.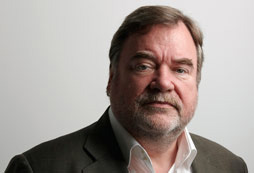 Paul Finch is program director of the World Architecture Festival; he is deputy chairman of the UK Design Council and chairman of Design Council Cabe (Commission for Architecture and the Built Environment); and editorial director of the Architectural Review and Architects' Journal.
Born London in 1949 he took a history degree at Selwyn College, Cambridge, before going into journalism. He was deputy editor of
Estates Times
(now
Property Week
), 1976-1983; editor of
Building Design
, 1983-94; editor of the
Architects' Journal
, 1994-1999, and editor of
The Architectural Review
, 2005-2009.
He was a commissioner at CABE, and deputy chair, 1999-2007, and chair, 2009-2011. He chaired the Olympic Design Review panel from 2006-2010. He has been joint editor of Planning in London since 1992.
He received an honorary FRIBA in 1994; an honorary doctorate from the University of Westminster, 2004; and an honorary fellowship from University College London, 2006. He is an honorary fellow of the Royal Incorporation of Architects in Scotland; an honorary member of the Royal Society of Architects in Wales; and an honorary member of the British Council for Offices. He was awarded an OBE for services to architecture in 2002. (
source
)