Studio Visit: OMA NY
Author

John Hill

Published on

Feb 11, 2013
---
The building at 180 Varick Street in Manhattan's SoHo neighborhood is home to a surprisingly large number of architects. I counted at least three architecture offices after stepping out of the elevator to visit Suite 1328, the Office for Metropolitan Architecture's (OMA) New York office. World-Architects stopped by OMA's office to chat with partner Shohei Shigematsu, get a tour of the studio space, and look at some in-progress projects. Here is our report.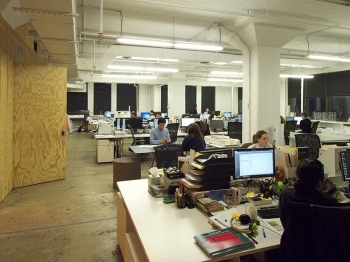 OMA's New York office is one of four around the world for the 300-strong firm started by Rem Koolhaas in the mid-1970s—the main office is in Rotterdam and the other two are in Beijing and Hong Kong; a fifth is planned for Doha. The New York office currently employs 40 people who fit comfortably into the corner space. Like a lot of architecture studios the plan is primarily open, reflecting the egalitarian nature of the office. Two sides of the rectangular open space are bordered by windows, and the other two house conference rooms and service spaces (kitchenette, model shop, supplies). A first impression is that space is quite humble for one of the most well-known and celebrated architecture firms in the world.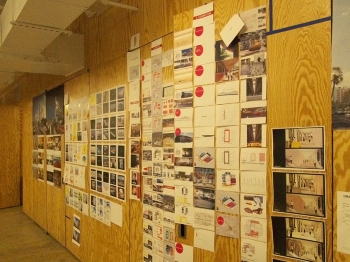 This modesty extends to what can be seen as the most overtly designed feature in the whole space, a plywood-covered wall that separates the studio from the service spaces. Running from the entrance to the far windows, the plywood's articulation blurs the distinction between wall and door. More importantly, the surface of the material is used as pin-up space, keeping the architects and other staff abreast of the various projects in the office—at least a dozen per my conversation with Mr. Shigematsu.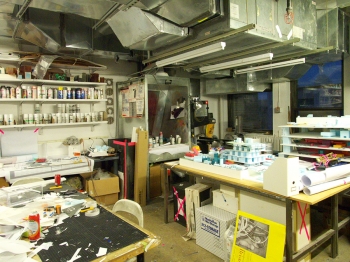 OMA is renowned for, among many other things, its blue foam models. They have in effect popularized the material's use for loads of architects, many of them former employees. Of course, working with foam, hot wire cutters, and other materials and tools requires a dedicated model-making area, and OMA has one that is cluttered but efficient. When I asked if there was a laser cutter or similar machine, Mr. Shigematsu pointed out that he prefers architects to work with their hands on the early stages of projects, therefore keeping computer-generated models for later presentations when they contract out for them to be made.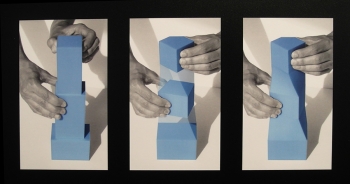 In one of the conference rooms, Mr. Shigematsu showed me some of the projects they are currently working on, though the first one we discussed is a project that didn't happen. In the highly publicized invited competition for 425 Park Avenue in Midtown Manhattan, OMA lost—alongside Zaha Hadid and Richard Rogers—to Norman Foster. OMA's design took the traditional tiering of office buildings in Manhattan (a response to the city's famous 1916 Zoning Code) and twisted it to orient the building at its top to Central Park (note the blue foam used in the above study model). Mr. Shigematsu said he was disappointed with the loss, not only because he was proud of the design but because he underestimated the conservative nature of the city's developers (in this case L&L Holdings with Lehman Brothers). Yet this is not a universal trait, given OMA's should-have-been design for 23 East 22nd Street (killed by the economic collapse) and BIG's design for W57 that is slowly moving forward on the city's west side.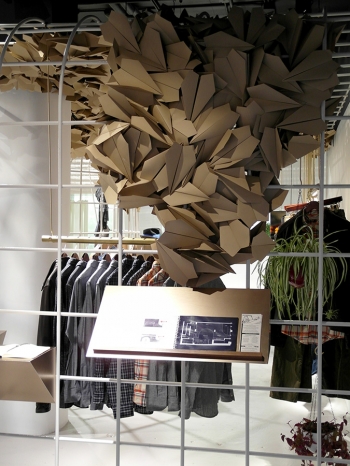 I was surprised to learn that a couple of OMA's recently completed projects are tiny compared to their design for 425 Park Avenue and even Cornell University's
Milstein Hall
from 2011; they are closer in vein to Rem Koolhaas's Prada flagship in SoHo than the projects that have occupied OMA this century. One is a shop on Elizabeth Street in Nolita (North Of Little ITAly) for
Raleigh Denim
, a jeans maker from North Carolina. Mr. Shigematsu was influenced by the company's flagship store in its home state, where the company's designers crafted their own unique interior. His belief that fashion designers may be better suited to creating the ideal environment for displaying their wares, rather than architects, prompted him to develop a "curatorial grid" for suspending clothes and mounting decorations, such as the brown paper airplanes that echo the North Carolina original. So instead of imposing a design whose expression may need to be replaced by a new every year or two (like Prada, which has been slightly renovated since its 2000 opening), OMA installed a structure that gives Raleigh the power to modify the interior at will (like Prada's long image wall facing Prince Street). It is a refreshing attitude to retail design that is at odds with architects trying to put their stamp on a store's space.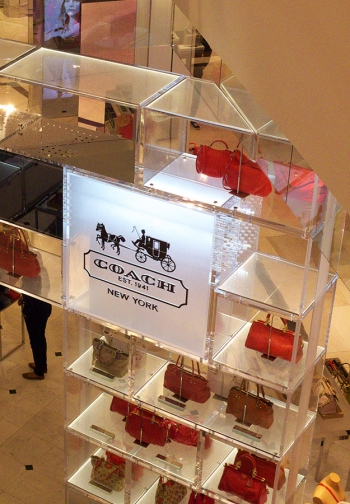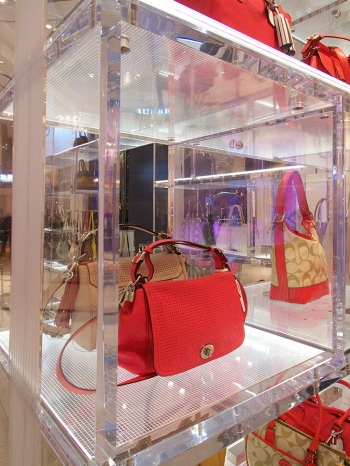 The second project is a kiosk for leather goods company Coach in the Macy's store at Herald Square. The department store is in the midst of a $500 million renovation of its full-block store, and one of its first tasks was to change its main entrance at
34th and Broadway, where a number of luxury designers (Burberry, Longchamp, Gucci) inserted mutli-floor boutiques into the perimeter. Coach is one of the brands relegated to the selling floor, but this did not discourage Mr. Shigematsu from pushing the envelope, if you will, to give them more exposure. Faced with Macy's own version of New York City's Zoning Code, OMA shaped the plan of the custom acrylic shelving (embedded with LED lighting) to build above the allowable height; Macy's allowed the two walls of storage in a compact V-formation to extend all the way to the ceiling. This reveals how OMA is never content to work within restrictions, but it is also just the beginning of a longterm relationship with Coach.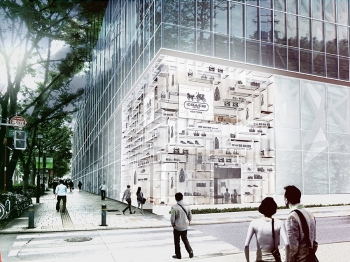 The acrylic boxes that Mr. Shigematsu designed for Macy's are in response to two things: the changing nature of Coach, which started out designing wallets but now produces and sells a large variety of leather goods, and the lack of a consistent design within the company's various retail outlets (flagships, malls, boutiques). The acrylic modules are sized to work with Coach's products, much like the store's original library filing system, but they also serve to put the bags and other pieces on display. In this sense the boxes work like Raleigh's steel frame—they provide an armature for display, but ultimately the appearance is based what the store places within each box. The next incarnation of OMA's work with Coach will take place in April when the company opens a store in Tokyo's Omotesando area that is home to Dior, Louis Vuitton, Prada, Tod's, and other fashion houses in buildings designed by SANAA, Jun Aoki, Herzog & de Meuron, and Toyo Ito. The Coach store occupies a two-story space in the base of a building directly next to Ito's Tod's building, seen reflected in the facade of the rendering above.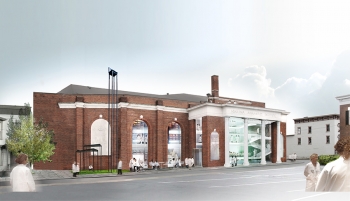 Last summer Mr. Shigematsu delivered a lecture at Cornell University's New York City home of the Architecture Art Planning department. In it he focused on recent and current projects that are cultural but developed by, in his words "powerful individuals that survived the crash and flourished," instead of institutions. These include Kanye West's temporary 7-Screen Pavilion at Cannes last year, an arts project for an Argentinian hotelier, and
the Marina
Abramović Institute for the Preservation of Performance Art (MAI) in Hudson, New York.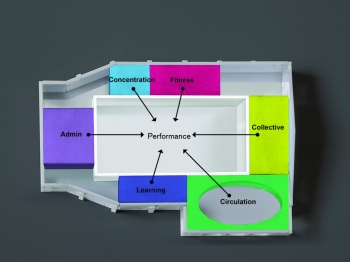 MAI exhibits the traits that many of these cultural projects share. For example, with strong individual clients like artist
Marina
Abramović,
the architectural programs often veer far from the norm. MAI is not solely a performing arts center; it is an educational center that trains people to take part in long-form (more than six hours) performances, in effect becoming part of the artwork. A central performance space (its size and location echo the building's former lives as a theater and tennis center) is overlooked by all of the other spaces—the classrooms, the library, the sleeping chamber, the levitation room, the crystal room. (As I mentioned, it's not your typical program.)
Marina
Abramović announced the project designed by OMA's New York office last Spring, launching fundraising efforts that are pointing to a construction start later this year.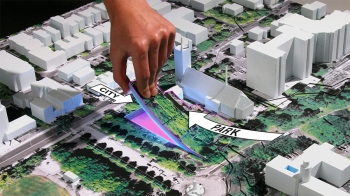 Many of the projects that Mr. Shigematsu and I talked about are not ready for public consumption, but one that is well on its way to completion is his 2010 competition-winning design for the
Musée National des Beaux-Arts du Québec
(MNBAQ) in
Québec City. The form echoes the daring cantilever of Milstein Hall, but here it is a three-story building whose gradual stepping creates an enclosed public space. The inverse of this grand space facing the city is an extension of the park over the roofs, as the diagram above illustrates.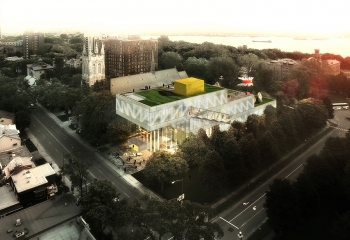 This language of stepping and cantilevers also recalls the way the model for 23 East 22nd Street peered around One Madison Park to grab views of the taller building's namesake. Yet in the hands of Mr. Shigematsu this formal consistency is highly malleable and always appropriate to the needs of the building—the residential tower on 22nd Street refused to get pinned in by its bigger brother; at Milstein Hall the cantilever unifies disconnected buildings; at MNBAQ the city and the park weave together through the stepped galleries.
In this regard I'm optimistic that Mr. Shigematsu's disappointment at losing 425 Park Avenue will be short-lived. The ideas behind the striking form will probably find fruition elsewhere, when appropriate.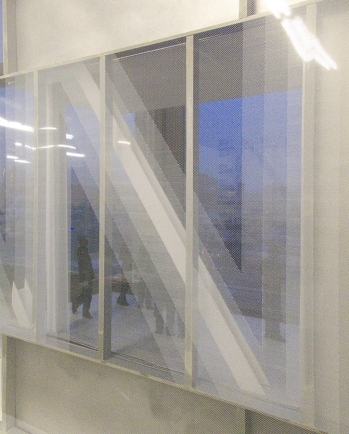 After spending a couple hours with Mr. Shigematsu in his SoHo office, my last impression is of studio that straddles the international projects normally associated with OMA and the small projects that are the lifeblood of New York City architects. Given OMA's five-year-old partnership structure and the fact 80% of the NY office's jobs are Mr. Shigematsu's aquisitions, it's not surprising that boutiques and kiosks for designers are found alongside major global cultural institutions. Yet as Coach Macy's and Omotesando reveal, in Mr. Shigematsu's hands OMA NY is not content with addressing the immediate problem through given restrictions; they research, analyze, and design to affect greater change in a diversity of ways.
John Hill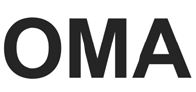 "OMA is a leading international office practicing architecture, urban planning, and cultural analysis. OMA is dedicated to the realization of buildings and masterplans around the world that insist on intelligent forms, while inventing new possibilities for content and everyday use. OMA has projects in over 30 countries with offices in Rotterdam, New York, Beijing, Hong Kong and – soon to be opened – Doha. The counterpart to OMA is AMO, a research and design studio working in media, politics, renewable energy, technology, publishing, fashion, micro-design and cultural advisory."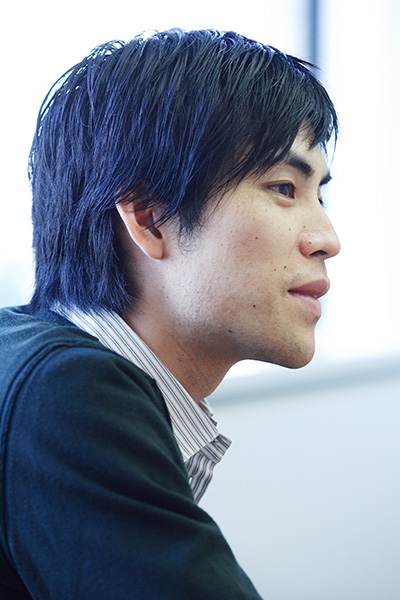 "Shohei Shigematsu became Director of OMA*AMO New York in 2006, and a Partner in 2008. Under the direction of Mr. Shigematsu, the New York office has overseen the successful completion of Milstein Hall, an extension to the College of Architecture, Art and Planning at Cornell University (2011), as well as a temporary pavilion in Cannes housing a seven screen system designed in collaboration with Kanye West (2012). Mr. Shigematsu is also currently leading the design of the Marina Abramovic Institute for the Preservation of Performance Art in upstate New York, the design of a cultural center in Miami, and the construction of the Musée national des beaux-arts du Québec.
"During his time at OMA, Shohei Shigematsu has led a number of competition designs for major institutions including the Whitney Museum, Broad Art Foundation in Los Angeles and the San Francisco Museum of Modern Art (SF MoMA). Having led the team that won the design competition in 2002, he served as project architect for CCTV (China Central Television) Headquarters in Beijing until the end of design development. Mr. Shigematsu also directed OMA's winning competition entry for the Shenzhen Stock Exchange (SSE) Headquarters in Shenzhen, China (2006).
"Mr. Shigematsu designed the world-traveling exhibition "Waist Down," featuring more than a hundred skirts designed by Miuccia Prada. The exhibition was first launched in Tokyo (2003), and has since appeared in Shanghai (2004), New York and Los Angeles (2005) and Seoul (2009). He also led the design for Prada's London and Shanghai epicenters.
"Mr. Shigematsu graduated in 1995 from the Department of Architecture at Kyushu University, Fukuoka. After studying at the Berlage Institute Amsterdam (Postgraduate Laboratory), he joined the Office for Metropolitan Architecture in 1998.
"Shohei Shigematsu speaks regularly on the research and ideas that shape his work. Recent lectures have been held at TED conferences in Edinburgh and New York as well as universities throughout the Americas and Japan.
"He is a visiting faculty member of Columbia University's Graduate School of Architecture, Planning, and Preservation, Harvard University Graduate School of Design, Cornell University, College of Architecture, Art and Planning and for Kyoto University of Art and Design."