Future of The Portland Building Uncertain
Author

John Hill

Published on

Jan 13, 2014
---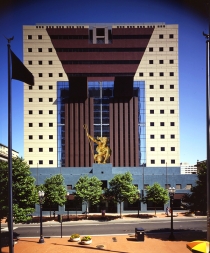 While the
demise of Tod Williams and Billie Tsien's Folk Art Museum is guaranteed
, news in the same week of the less beloved but historically important Portland Building in Oregon by Michael Graves paints a less clear future for the Postmodern governmental building. Due to nearly
$100 million in repairs
needed to fix structural problems related to seismic concerns and water damage that has plagued the building almost since its 1982 completion, Portland's City Council and taxpayers are faced with a decision: repair the building or tear it down and build a new one.
While the building was
added to the National Register of Historic Places in 2011
, this listing does not protect the building. As the National Park Service, which maintains the list, states in
its FAQ
: "Owners of private property listed in the National Register are free to maintain, manage, or dispose of their property as they choose provided that no Federal monies are involved."
The City estimates that a new building would cost between $100 and $400 million, but it will probably be months before enough investigation on alternatives have been explored for the City to make a final decision.