Architecture is a Human Right
Architecture is a Human Right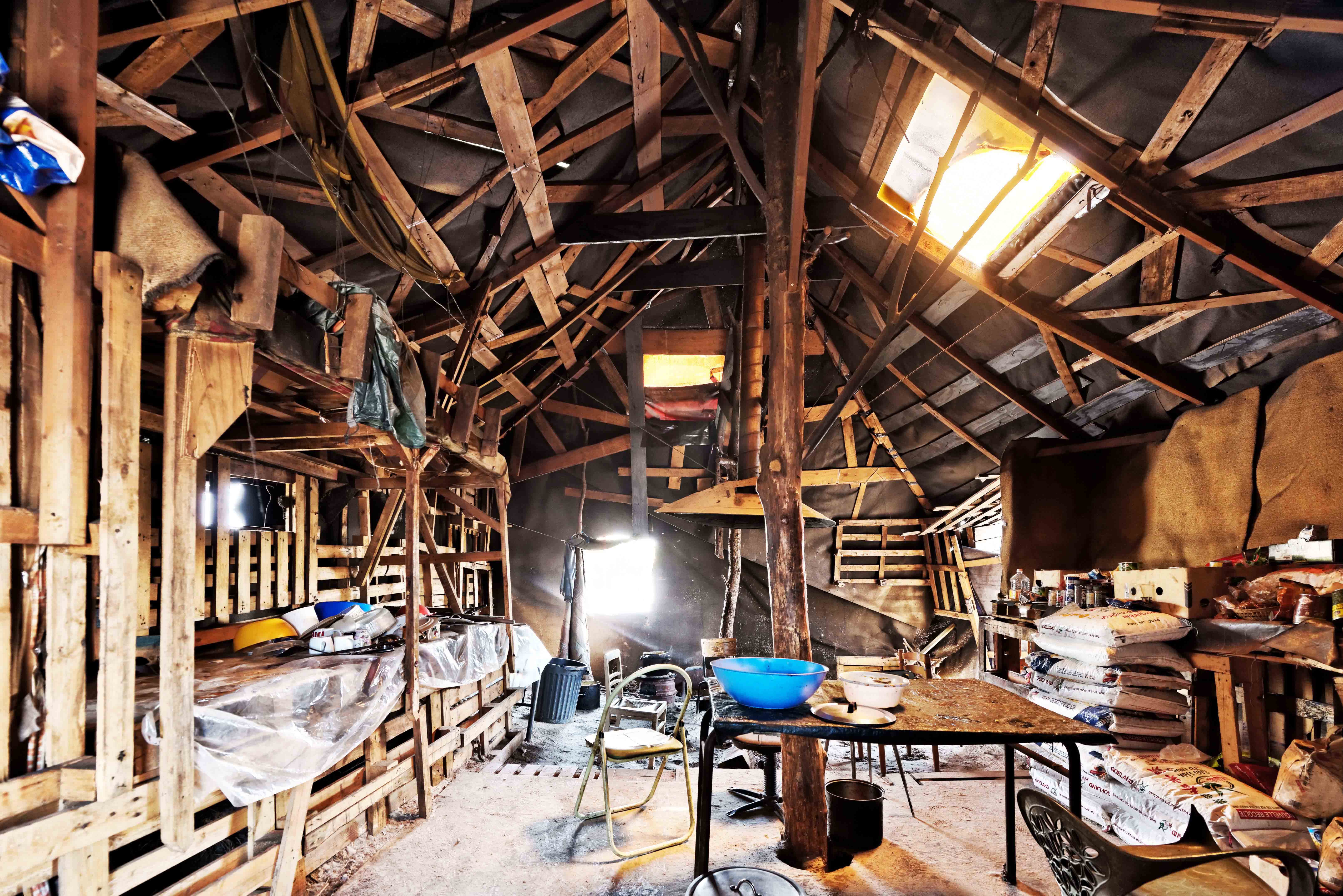 ©David Boureau
Emergency Architecture and Human Rights and Architects for Refugees have joined with World-Architects to start a campaign and movement titled "Architecture is a Human Right". We believe that architecture, spaces, the built environment and cities play a pivotal role in human rights. We have come together to discuss this topic, to attract and involve as many stakeholders as possible, and to develop a common manifesto that links architecture to human rights. Our goal is to make quality spaces accessible to all. We invite individuals and organisations to join us in this exciting and fundamentally important work.
We are looking for problems, solutions, texts, competitions, developments, etc. on the topic of "Architecture is a Human Right".
---
Social Media links to the partners
---
---
Facebook Live Series
We believe, that Architecture should be available for everybody on our planet. Freedom, equality, security are basic human rights just like it is to live a healthy life, and to have access to education. All of these factors have spatial relevances too. We have to develop cities and spaces for everybody. It is the architects' role to develop spaces which answer the human needs and rights. Architecture for Refugees, Emergency Architecture & Human Rights and World Architects started the movement ARCHITECTURE IS A HUMAN RIGHT to generate discussion and make an impact both local and on global scale. Our MANIFESTO is a seed to start the movement.
Architecture for Refugees launched a weekly Facebook LIVE interview series to invite amateurs and professionals. With the series, we aim to discuss the importance and characteristics of Architecture is a Human Right. Please join us on a weekly basis to learn more about the topic, share your comments or ask your questions.
#001 - Cyrille Hanappé
"Architecture and beauty are human rights" once said Cyrille Hanappe to a formal french minister of Sarkozy!
This very first online LIVE discussion - 001. was with a good friend of us Cyrille Hanappé! We hope we don't have to introduce him : D Bence Komlosi, co-founder of the Architecture for Refugees and Architecture for Refugees SCHWEIZ was the host of the first discussion. Join us, bring your friends and colleagues. Sharing is caring!
#002 - Emílio Brandão
"My ordinary Lunch Beat Göteborg!" once said Emílio Brandão on Facebook!
#003 - Rania Qawasma
"It is crucial in times when uncertainty, fear, and hate try to smear our humanity to stand strong, to illustrate the true story of the refugees' suffering and to share solutions for this global crisis." once wrote Rania Qawasma to us!
#004 - Pedro Neto
"Africa is a country..." once tweeted Pedro F. Neto!
#005 - LIVE - Special Edition with Bence Komlósi
Today is the day of human rights! The "Universal Declaration of Human Rights" born 70 years ago!
#006 - Tatjana Schneider
"Seeing beyond the heroic male member and sharing credit where it's due" once wrote Tatjana Schneider in an article!
#007 - Narda Beunders
"Being comfortable on the roof nr.1 #construction #team #roofforhumanity #klabu #sports #clubhouse #togetherstrong #toughguys #goodwork #greatpeople #steelstructure #kenya #highinthesky #welding" once posted Narda Beunders on her Facebook wall! -
The Manifesto
In addition to recognising and explaining the reasons why architecture is a human right, this article sets out to define the origins of and basis for a manifest of architecture for the 21st century. In regards to the former, this manifest is founded in the work of 20th century architects who advanced the concept of architecture being available and designed for all. Such thinking inspired our studio of architecture, EAHR (Emergency Architecture & Human Rights) in Copenhagen, Santiago de Chile and Rome, to define the theoretical approach, of architecture for all´, and ´architecture as a human right´ and to establish this as the main core of our organization.
In regards to the basis of this manifest, it is important to recognize and stress that a manifest of this nature cannot be developed for a single group only. It must be a collective and plural act that joins people of different race, language, gender, culture and geography. It should be a universal creation that invites architects, and those beyond the profession, to come together as a collective body of ideas, knowledge and experiences. It can be used as a tool for placing architecture at the centre of humanism, and more strongly linking architecture to human rights. Once this achieved, the manifest should be publicly destroyed in a symbolic act. This act would symbolise that the link between, and the work on, architecture and human rights, is the only productive future direction of the profession. It would further symbolise that we must not look back to a time when this link was not recognised nor practiced. Advancing and bettering knowledge in this way is necessary for the evolution of humankind.
2. Historical References
To consciously emphasize the relationship between architecture and human rights is fundamental in understanding the contemporary issues and challenges that face our profession specifically, and society more generally. We cannot continue to understand our discipline only from an aesthetic or artistic perspective, because this approach alienates us from the enormous problems and challenges modern society must face.
The relation between architecture and human rights shines in its absence from architectural theory and, often, practise. Consequently, we stress the need to prioritize this missing link in architectural discussions, in order to spread awareness of the need and urgency of this relationship and ethical position. We envisage the establishment of new roles and competencies in our work, utilised as tools for improving and advancing the lives of millions. Current architecture, with its focus on a very small elite, too often ignores – or at least does not consider - the suffering and plight of the majority population. It is our responsibility to change this. By increasing the global mobility of architectural (collective) knowledge and skills, and sharing this with a much broader spectrum of society (meaning those who have previously had no or little connection to professional architecture), the lives of millions can, and will be, improved. Understood in this way, access to the collective knowledge or architecture is a basic right that should be enjoyed by all.
In history, many architects have searched and worked towards using the profession as a tool in advancing social development. Hence, while human rights have been absent in mainstream architectural theory, several movements and groups of architects have been working steadily on social issues. Examples where human rights have been present in the background of modern architectural theory and events include:
- The first approaches to working class housing during the industrial revolution in the 19th century
- The architecture in Northern Europe as a key support to the Welfare State
- The creation of prefabricated social housing in the former Soviet Union which sheltered 40 million inhabitants post-Second World War
- Futurist movements of the 1960s with their urban utopias
- The Latin American movements of the 1960s-1970s pro housing rights and indigenous recognition
Each of these movements, in different places of the world, contributed to architecture, as a profession, being seen and understood through a social-political lens. Yet, despite their importance, these moments, and the ideas and vision they generated, did not materialise into a clear and conscious practice, or a theoretical body or coordinated group, that was convinced of this social cause for world equality. This missed opportunity for linking architecture and social justice (human rights), and for consolidating collective knowledge for positive social change, is a significant challenge facing the profession of architecture today.
To demonstrate this, we can look at the absence of developing architecturally-driven social justice ideas during the the 1980s to 2000 era of neoliberalism. This political wave produced an architecture totally centred in the aesthetics, focused almost exclusively on the social prestige of the new upper class of the free market; housing for millionaires in expensive landscapes, corporative private buildings, luxury hotels, many museums and fashion shops, among other initiatives. These were the main motivation of architecture during this era. The situation now is changing. We are starting to listen to public voices and critics who have turned against capitalist-driven, elite development. Granted, architecture for the free market will not disappear, and nor should it, but architecture for, or in support of, human rights should more forcibly be pushed to the foreground. In doing this, we are likely to witness an eclectic architecture with very different positions, contradictions and dilemmas.
We have seen, exactly as we anticipated and wrote during the 90s, that architecture would retake its ethical perspective, due to the question of social urgency and of more vulnerable groups. Adding to this are new phenomena that that have arisen and are causing significant changes to our world: mass migration from "the third world" to the "first world"; climate change and its disastrous affects (particularly in the poorest regions of the world); increasing social inequality. These issues, and more, have necessitated changes within the profession of architecture, at a pace and intensity not seen before. This, we argue, of course is a welcomed change. Yet greater change, and further emphasis on human rights, is required.
Since 2000, a number of events and activities have heralded a new kind of, what we might call, "rebel architecture", which, to some degree, differentiates itself from the mainstream. The Venice Beinnale in 2000, is but one example of this, with its motto "more ethic and less aesthetic". Despite its potential (through its intellectual reflection and theoretical reason), this event did not, unfortunately shift architecture towards a more ethical direction. The economic crisis of 2007, fortunately proved a more powerful and convincing moment in shifting the ethics-specific, and design mind-set of architects. Many turned from their comfortable social positions, ideas and designs, towards the ideas of the 1960s and 1970s. They recognised the fragility of the system that they themselves had contributed to. This new generation of architects has been forced to view architecture through a different perspective, and in doing so has brought about and affected change across the profession. Given the infancy of this change, we do not yet know whether this shift is the outcome of personal necessity within the specific work of individual architects, or if it is out of a wider conviction that our planet needs alternative building and design approaches.
Examples of architecture showing signs of rapid neoliberal change include:
- Two of the last Pritzker Prizes involved architects involved in social issues: Shigeru Ban from Japan with his emergency housing in cardboard; and Alejandro Aravena from Chile for his propositions of social housing and self-building.
- The Venice Biennale of 2016, where the shift was put at the forefront of discussion
- The Biennale of Chile 2017 invited architects and non-architects to define the "unpostponable dialogues"
- The Workshop WAVE 2017 in IUAV Venice, which focused on Syria post-war reconstruction
- The Quinquennial meeting of "Documenta" in Kassel, 2017, and the Biennale "Manifesta 11" in Zurich, 2017, among other events, which demonstrated the growing link between art and architecture.
Certainly, architecture is being forced into changing its visions and perspectives by the changes in time and the challenges of modern society. Architecture should work for the most vulnerable communities, prepare mitigation plans for humanitarian emergencies, create new systems to face climate change, and, in doing so, propose a new form of architecture for a better and equalitarian world.
These will be the unpostponable themes and part of the DNA of the 21st century Architecture.
Our premise is to interweave three perspectives as a starting point: the Universal Declaration of Human Rights, the 2030 Agenda of the UN and point to where in architectural disciplines this topic should be placed.
A. Human Rights in the perspective of Architecture
The main objective in our last book Architecture & Humanitarian Emergencies 03 was to define which themes of architecture are connected to human rights. We identified nine fundamental themes as a starting point to give shape and content to this topic. Today we are able to go further from that premise:
- First, where should architects begin this new work
- Second, what attitude should architects bring into each project – what is their role? How should they act? What is their social responsibility?
The first point speaks about places, themes, topics and programs. The second talks about attitude, perspective, behaviour and a certain approach to the project.
1: Architecture could emphasis the work within these fields
1. Cultural processes (incl. cultural heritage) and local materials
2. Immigration and refugee camps as future cities or part of the future cities
3. Humanitarian emergencies and resilience
4. Social (e)quality and conflict mitigation
5. Social sustainability and climate change adaptation
6. Water and food production
7. Democratization, co-creation and citizenship
8. Informal settlements and favelas; cities of the future?
9. Affordable low-cost housing; home without house
10. New roles for architects
11. Socialization of new technologies in architecture
12. …
2: Principles that each Architectural Project should follow
1. Work for more vulnerable groups of society
2. Architects and professionals as human rights defenders
3. Always consider local cultures and local materials as a cultural and economic goal
4. Consider local technologies of low environmental impact (low tech)
5. Co-creation, involvement and participation
6. Gender equality
7. Improve community resilience
8. Generosity and solidarity
9. Transport ideas for free from one place to another place in the world
10. ...
B. Universal Declaration of Human Rights
When we analyse where architecture is present in the Human Rights declaration, we found two levels:
- Articles where architecture is indirectly connected (italic)
- Articles where architecture is directly connected (bold)
The first generation of Human Rights (UN Declaration 1948)
Article 1: All human beings are born free and equal in dignity and rights.
Article 2: Everyone is entitled to all the rights and freedoms set forth in this Declaration.
Article 3: Everyone has the right to life, liberty and security of person.
Article 4: Slavery and the slave trade shall be prohibited in all their forms.
Article 5: No one shall be subjected to torture or punishment.
Article 6: Recognition as a person before the law.
Article 7: Equal protection of the law, protection against any discrimination.
Article 8: Right to an effective judiciary.
Article 9: No one shall be subjected to arbitrary arrest, detention or exile.
Article 10: Right to public hearing by an independent and impartial tribunal.
Article 11: Innocent Till Proven Guilty, Public Trial.
Article 12: Right to privacy, not to attack honor and reputation.
Article 13: Freedom of movement and right to leave any country and return.
Article 14: Right to seek and enjoy asylum from persecution *(may not be invoked in case of prosecutions arising from non-political crimes).
Article 15: Right to Nationality. Not be deprived of his nationality or to change it.
Article 16: Right to marry and found a family.
Article 17: Right to own property. Not be deprived of his property.
Article 18: Freedom of thought, conscience and religion.
Article 19: Freedom of opinion and expression.
Article 20: Freedom of peaceful assembly and association.
Article 21: Right to take part in the government of his country/ equal suffrage.
Article 22: Social security.
Article 23: Workers right: no discrimination, equal pay for equal work, join unions.
Article 24: Right to rest and leisure. Periodic holidays with pay.
Article 25: Right to an adequate standard of living (incl. food, clothing, housing and medical care, especially during motherhood and childhood).
Article 26: Right to education. Parents have a prior to choose the kind of education
Article 27: Freely participate in the cultural life of the community.
Article 28: Social and international order in which the rights and freedoms can be fully realized.
Article 29: Duties to the community. Responsibility.
Article 30: Salvatory clause.
The Second generation of subjective Rights (Socio-Economic and Cultural Rights)
- Right to work
- Freedom of association
- Right to education, learning, pension
- Right to insurance for sickness, old age and disability
- Right to water and food
The Third generation of Human Rights (an upgrade to the 1948 Chart)
These rights are motivated by a series of global concerns of the late twentieth and early twenty-first century, mainly the deterioration of the environment and its negative effects on the quality of life of the people.
- Right to Sustainable Development
- Right to the self-determination of the people
- Right to peace
- Right to protection of personal data
- Right to the common heritage of humanity
- Right to enjoy a healthy environment
- Right of sexual minorities, ethnic religious, linguistic, etc.
The fourth Generation of Subjective Rights
- Protect of the human genome (DNA). Right to genetic identity. Banning of cloning
- Obligation of States to defend the person regardless of its genetic characteristics
- Limits of interventions on a person's genetics characteristics
- Respect for humans ego from conception to real death
- *Debate issues: Euthanasia, maintaining artificial life after brain death, late abortion.
C. 17 sustainable UN Goals for 2030
We analyse what goals the UN 2030 Agenda have with direct or indirect connections to architecture. Without doubt, architecture should be more present in these world challenges:
- Articles where architecture is indirectly connected (italic)
- Articles where architecture is directly connected (bold)
No poverty
Zero hunger
Good health and well-being
Quality education
Gender equality
Clean water and sanitation
Affordable and clean energy
Decent work and economic growth
Industry, innovation and infrastructure
Reduce inequalities
Sustainable cities and communities
Responsible consumption and production
Climate action
Life below water
Life in land
Peace, justice and strong institution
Partnership for the goals
To review these premises from a holistic perspective, we are met with questions that must be solved before calling for participation in a common collective manifest:
- Will it be the places or functions where architects work?
- Will it be a kind of ethical attitude and social responsibility that architects perform in each project?
- Should it be within the Human Rights declaration and/or the UN goals 2030?
- Should it be a philosophical declaration about architecture?
This is the discussion that we invite you to be part of.