When Practice Becomes Form: Carpentry Tools from Japan
As its first exhibition upon reopening to the public, Japan Society is pleased to present When Practice Becomes Form: Carpentry Tools from Japan. Opening on the tenth anniversary of the 2011 Great East Japan Earthquake, the exhibition celebrates the resilient spirit of Japanese architecture and craftsmanship through woodworking tools, architectural patterns, and models. Featuring a variety of hand tools and wooden models reflecting joinery techniques that have been used for hundreds of years to build Japan's wooden architectural masterpieces (from temples and shrines to bridges), the exhibition unpacks the intangible qualities of craftsmanship, such as consummate experience, expertise, and the honed skills of master carpenters in Japanese architecture.

A diverse array of tools—planes, chisels, saws—have played an important role in the development of architecture in Japan, and this philosophy extends to Japan's cultural heritage today. Integral to the processes of master carpenters (tōryō) is their extensive knowledge of the local environment and of wood as a material. Using natural resources and learning from their predecessors' practices, they construct buildings using a refined methodology. Their philosophy of sustainability—for example, joinery can be restored or repaired as needed by future craftspeople—has been handed down over generations. The site-specific exhibition design, conceived by the esteemed architect Sou Fujimoto in collaboration with Brooklyn-based Popular Architecture, introduces major themes from the exhibition and is in dialogue with the gallery's spaces, highlighting an enduring connection between traditional Japanese wooden construction and modern architecture.

To celebrate the reopening of Japan Society, we are designating March as TAKENAKA CORPORATION'S Free Admission Month. Visitors can reserve complimentary advance timed tickets online, dispensed on a first come, first served basis.

View our visitor guidelines and safety protocols here.
Admission from April: $12/$10 students and seniors.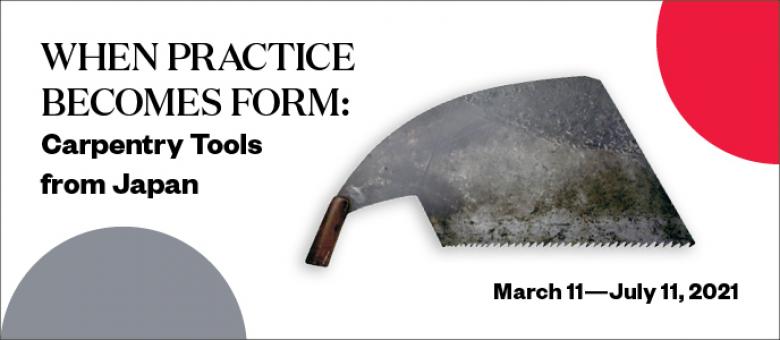 When

11 March to 11 July 2021

Where

The Japan Society
333 East 47th Street
10017 New York, NY, USA

Organizer

Japan Society in collaboration with Takenaka Carpentry Tools Museum

Links
Magazine