The Architect's Studio: Tatiana Bilbao Estudio
This autumn Louisiana Museum of Modern Art opens the third exhibition in the series The Architect's Studio – this time featuring the Mexican architect Tatiana Bilbao, who represents a generation of architects aspiring to much more than just creating good architecture. With Tatiana Bilbao Estudio, we go behind the scenes and get close to the processes, ideas, working methods and philosophy surrounding the works to explore current demarcations of the field of architecture.
Tatiana Bilbao (1972) was born and grew up in Mexico City. She has built in many other countries than Mexico and works with a global outlook, but Mexico's cultural, social and political conditions form a natural part of her activities; although often implicit, social commitment is like a built-in reflex – a way of thinking.
Bilbao's work can be categorized roughly into two types: the bread-and-butter projects with economic and artistic opportunities to experiment and develop an architectural vocabulary; and projects that are deter­mined by a minimal economy and for which the architect may not even be paid – social housing in Mexico. The knowledge she acquires from the more traditional tasks is used to create necessary, sustainable solu­tions and to overcome problems in the world of realities. Bilbao has addressed a wealth of initiatives to the Mexican State, which is responsible for ensuring all Mexicans their constitutional right to a home.
The two spheres in Bilbao's work are linked by simple geometry; a tool that can communicate architectural principles to uneducated construction workers in Mexico. It is geometry that the hand can draw, as opposed to parametric design – design which is created by and large with the aid of the algorithmic thinking of the drawing programs and which most architects work with today. In both process and presentation, Bilbao works with paper collages in an analogue approach to a profession that is otherwise dominated today by virtual renderings.
Image: Tatiana Bilbao Estudio, Staterra, Los Cabos, Baja California, Mexico. Expected to be erected 2020.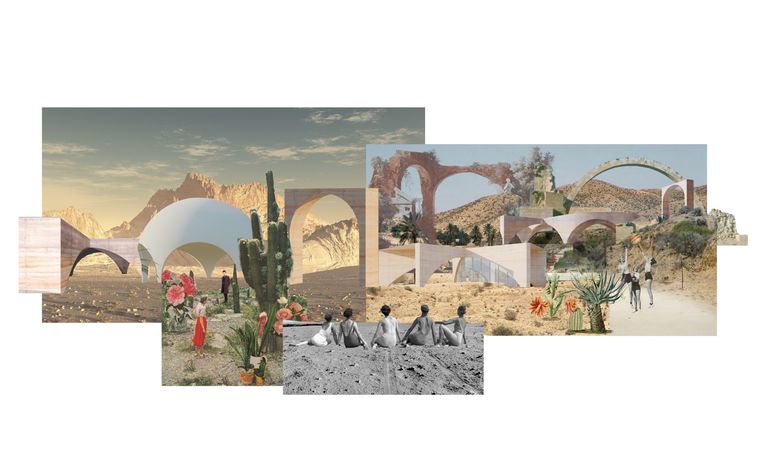 When

18 October 2019 to 9 February 2020

Where

Louisiana Museum of Modern Art
Gammel Strandvej 13
3050 Humlebæk, Denmark

Organizer

Louisiana Museum of Modern Art

Link
Magazine