Re-enactment: Lilly Reich's Work Occupies the Barcelona Pavilion
On the eve of the Women's Day, the Fundació Mies van der Rohe presents the artistic intervention Re-enactment, by Laura Martínez de Guereñu, outcome of the first call of the Lilly Reich Grant for Equality in Architecture.
Re-enactment is a material response to the pervasive invisibility of Lilly Reich's work. It arises with a clear motivation: to reveal the architecture designed by Lilly Reich for the German sections of the 1929 International Exposition inside eight Noucentista Palaces, an area that is fifty times greater in magnitude than the Pavilion itself.
Re-enactment occupies the heart of the Pavilion with the reconstruction of two of the display cases Lilly Reich originally designed for the Palaces. The intervention transforms a vertical element of light – the milky-colored double-glazed screen– into a lengthy horizontal display case and adds a vertical display case to a visitor's path toward the inner reflecting pool. This reconstruction was possible thanks to the blueprints that Lilly Reich saved, moving them to Mühlhausen (Thuringia) during World War II, the originals of which are nowadays a part of the Lilly Reich Collection in the Mies van der Rohe Archive at the Museum of Modern Art in New York.
By presenting documents from another dozen of archives and private collections from Barcelona, Berlin, Dessau, Frankfurt am Main, Madrid, and Weimar, the horizontal display case provides an unprecedented tour through the Palaces. A letter from 1944, in which Lilly Reich regretted having lost "the big photos of Barcelona" after a bombing in Berlin, forges now a continuity with the photos –some of them unknown– exhibited in this intervention. All of them show how her display cases accomplished the scalar transition from the great variety of German products to the very diverse spatial structures of the Palaces. By means of two short films, the vertical display case highlights the immaterial heritage of the work made in Barcelona and reveals the Pavilion as an anteroom to more than 16.000 m2 of industrial exhibitions.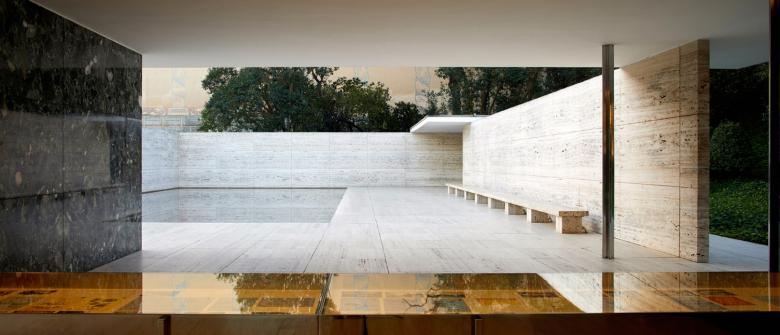 Photo: Pepo Segura
When

6 March to 15 July 2020

Where

Pavelló Mies Van der Rohe
Av. Francesc Ferrer i Guàrdia, 7
08038 Barcelona, Spain

Organizer

Fundació Mies van der Rohe

Link
Magazine