MVRDVHNI: The Living Archive of a Studio
MVRDVHNI: The Living Archive of a Studio is a multimedia exhibition at Het Nieuwe Instituut (HNI) opening on Saturday 6 November 2021. Based on three recurring themes – green, human, and dream – the exhibition highlights more than 400 projects from MVRDV's archive. In addition, HNI offers a glimpse of the renowned firm's working methods with drawings, sketches, models and other archive materials. The exhibition, on HNI's sixth floor, overlooks one of the MVRDV's much-discussed recent designs – the new Depot Boijmans Van Beuningen.
The exhibition gives a glimpse behind the scenes of both MVRDV and HNI, displaying a wealth of material and information from analogue and digital archives. Visitors get an insight into the design processes leading up to the realisation of buildings such as Depot Boijmans Van Beuningen and the Markthal in Rotterdam. Material from the MVRDV archives ranges from early sketches and models to correspondence with engineers and contractors. In parallel, Het Nieuwe Instituut illustrates how it manages the MVRDV archive, from metres of shelves containing models, drawings and documents, to the digital infrastructure required to unlock a digital archive.
The MVRDV archive is the first extensive collection largely consisting of digital files in the national collection at HNI. The exhibition explores the opportunities and possibilities this offers for the management, accessibility, and use of the archive.
In addition to the exhibition, Het Nieuwe Instituut has invited six designers to develop tools to search, visualise, and utilise the immense digital archive through specific criteria. It could take months to search through all the documents for a specific item in the kilometre-long physical archive, but this can be done in just a few seconds in the digital archive. A special video game was designed for the exhibition, allowing players to interactively explore the digital archive.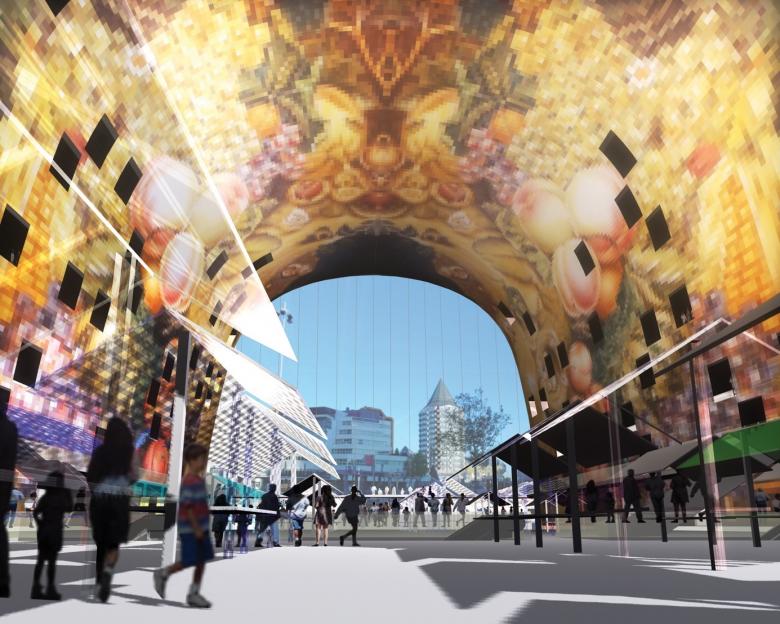 A 2004 visualisation of the Markthal. (Image © MVRDV)
When

6 November 2021 to 4 September 2022

Where

Het Nieuwe Institute
Museumpark 25
3015 CB Rotterdam, Netherlands

Organizer

Het Nieuwe Instituut

Link
Magazine