Makasiiniranta Quality and Concept Competition
The City of Helsinki today announces a competition that invites proposals for the redevelopment of Makasiiniranta at South Harbour, the last old harbour area to be transformed for public use in Helsinki. The initial period for participant enrollment - intended for operators in the construction, architecture and real estate industry - covers a six week timeframe, open until 21 June 2021, with the inclusion of a new site for the design and architecture museum as a vital aspect of the land use plan along the city's shoreline.
Competition timeline:
Launch: Development consortiums which have the technical, economic and functional experience to plan and implement a demanding and high-quality construction project are invited to register for the competition by 21 June.
Phase 1: Approved participants will submit a plan for the area as a competition entry under a pseudonym by December 2021. Entries will be placed on public display.
Phase 2: A selection of the four best entries will be chosen in early 2022 as evaluated by the multidisciplinary panel. In the second phase competitors will prepare a further developed planning entry.
Result: The winner will be announced in autumn 2022, to be granted a development reservation for further planning of the project.
Makasiiniranta at South Harbour area is part of the Helsinki National Landscape and a nationally significant valuable cultural environment. The place is central and symbolically very valuable and is part of the maritime façade of Helsinki's historic centre.
The objective of the competition is to develop the area as part of the expanding pedestrian city centre and the seaside trail around the shores of Helsinki for Helsinki residents to share and enjoy, and as a location for the new Architecture and Design Museum.
A key goal of the competition is to produce an overall land use plan of exceptionally high quality and functionality that implements the City's objectives in terms of land use, urban space and other aspects and serves as a basis for the future development, detailed planning and implementation of the area.
Matters to be taken into consideration in planning an overall solution for the area include the landscape and cityscape values of the area, as well as the significance and identity of the location.
The competition also involves brainstorming new functions and activities for the valuable buildings in the area with protection values kept in mind.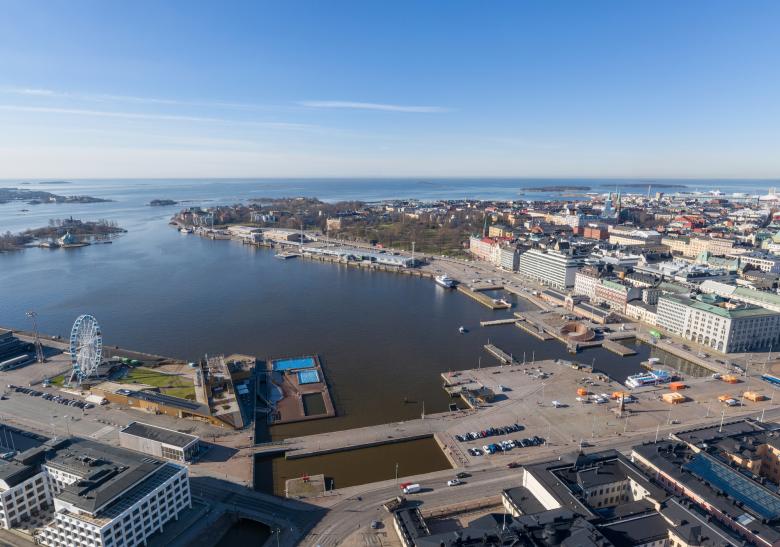 View of Makasiiniranta and Helsinki's wider South Harbour area and archipelago (Photo: Tietoa Finland, Janne Hirvonen)
When

12 May to 21 June 2021

Where

Helsinki's South Harbour
-
Helsinki, Finland

Organizer

City of Helsinki

Links
Magazine