Mad About Dugnad – Work Together, Build Better
The Norwegian tradition of 'dugnad' encourages everyone to contribute in order to achieve a common goal. It is based on a process of social relations, reciprocity and community solidarity and thus on the belief that together you are stronger than alone. The architecture firm Mad refers to 'dugnad' as a key to creating solutions for a sustainable future in an increasingly complex and challenging world. For Mad, architecture is also about re-evaluating, nurturing or preserving social and cultural resources that shape our built environment. These aspects can be observed exemplarily in the four projects that have been compiled for the exhibition at Aedes – among them, the timber high-rise WoHoin Berlin-Kreuzberg, which is currently under planning and is considered a social pilot project in urban development.
Dugnad
'Dugnad' is a Norwegian term that represents joining forces for mutual support and working together towards a common goal and greater good. In a 'dugnad', participants contribute what they can offer within their means – this can be time, effort, knowledge, skills, money, shared risk, etc. This Norwegian tradition began in the 14th century when rural communities came together for building projects. When the project was completed, people celebrated with a feast as a reward for the work done. In Norway, the 'dugnad' heritage lives on until today as a form of mutual support in different areas of society. For example, since the outbreak of the Corona pandemic, the collective fight against the virus has been repeatedly associated with 'dugnad'.
Mad arkitekter
For Mad, the 'dugnad'-spirit – the power of positivity, creativity and togetherness – is central to creating the solutions needed for a sustainable future. Architect and partner Jonny Klokk explains: "We trust in processes and involvement through collaboration on all levels and we believe that we as architects and individuals have an obligation to take part in the common 'dugnad', towards a sustainable future where people and nature can thrive."

Mad arkitekter is based in four Norwegian cities – with the head office in Oslo – and works at the interface between people and their environment. The interdisciplinary team of over 100 people designs furniture, buildings and neighbourhoods with the intention to cultivate, nurture and sustain life. Aware of the responsibility they carry as designers, they constantly question their work, towards a deeper understanding of the complexity of the world we live in, to find better solutions on how to tackle the climate and societal challenges we are facing today.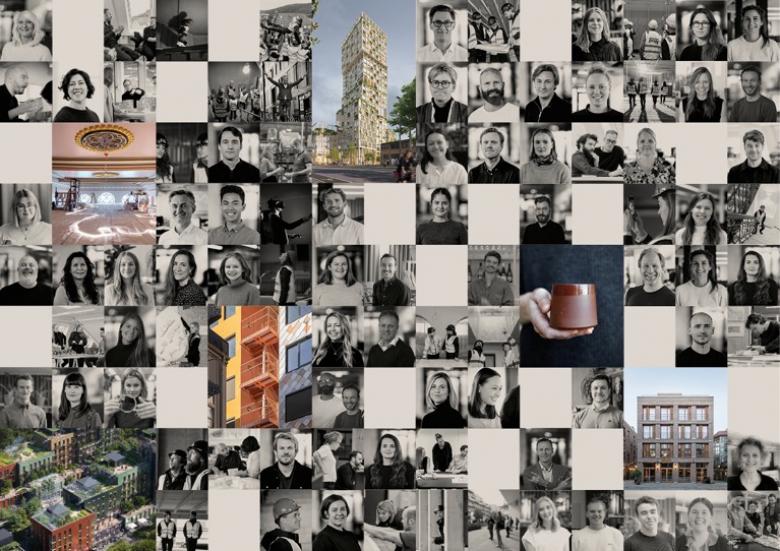 Collage of team members and projects by Mad arkitekter. © Mad arkitekter
When

22 January to 10 March 2022

Where

Aedes Architekturforum
Christinenstr. 18-19
10119 Berlin, Germany

Organizer

Aedes Architecture Forum

Link
Magazine