Ingo Maurer: Pendulum
The concept of pendulums – be they suspended lamps or swinging metal ellipsoids – is a central feature of Ingo Maurer's oeuvre that enables him to mobilize light using simple means. Since time immemorial people have been fascinated by the archaic shape of the egg and its perfect design. The swinging pendulum is one of nature's physical phenomena that already provided orientation to the Ancient Egyptians. Watching a pendulum is one of the kinetic experiences with a positive impact on our well-being thanks to its regular and calming motion. It is this combination of the egg's harmonious shape and the comforting quality of the "Pendulum" that informed Ingo Maurer's pendulum – it offers us a new spatial experience whether it is in motion or not.
From 2019, the Rotunda will regularly feature a site-specific work in alternation with the three other museums in Pinakothek der Moderne: the installation "Pendulum" by Ingo Maurer is the first item in this series for die Neue Sammlung – The Design Museum.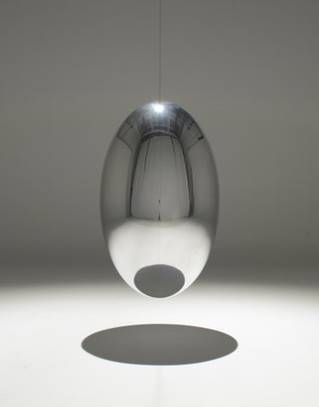 When

3 May 2019 to 1 February 2020

Where

Pinakothek der Moderne
Barer Straße 40
München, Germany

Organizer

Pinakothek der Moderne

Link
Magazine