'Urban Mining & Recycling' in Switzerland
1. March 2018
On February 8th at Empa in Dübendorf, Switzerland, the "Urban Mining & Recycling" residential unit (UMAR) was inaugurated inside NEST. Designed by Werner Sobek with Dirk E. Hebel and Felix Heisel, the unit aims "to advance the construction industry's transition to a recycling economy."
Project
: "Urban Mining & Recycling" Unit, 2018
Location
: Empa, Dübendorf​
Builder
: Empa, Swiss Federal Laboratories for Materials Testing and Research
Concept, design, and project planning
:
Werner Sobek
(Director of the Institute for Lightweight Structures and Conceptual Design at the University of Stuttgart, Werner Sobek Group) with Dirk E. Hebel (Director at the Chair of Sustainable Construction at KIT Karlsruhe, Future Cities Laboratory at the Singapore-ETH Center) and Felix Heisel (Head of Research at the Chair of Sustainable Construction at KIT Karlsruhe, Future Cities Laboratory at the Singapore-ETH Center)
Structural design and general contractor
: Kaufmann Zimmerei und Tischlerei GmbH
HVAC, sanitation, and electrical systems, and measurement and control
: Amstein-Walthert AG
Sprinklers
: NBG Ingenieure AG; JOMOS Feuerschutz AG
Fire protection
: Balzer Ingenieure AG
Building physics
: Weber Energie und Bauphysik
Participating NEST partners in the UMAR unit
: Werner Sobek Group, Karlsruher Institut für Technologie (KIT) Flumroc, Laufen & arwa, Schenker Storen, V-Zug, alphaEOS, Kaufmann Zimmerei & Tischlerei Nimbus Group, Lindner, Pfister, Flextron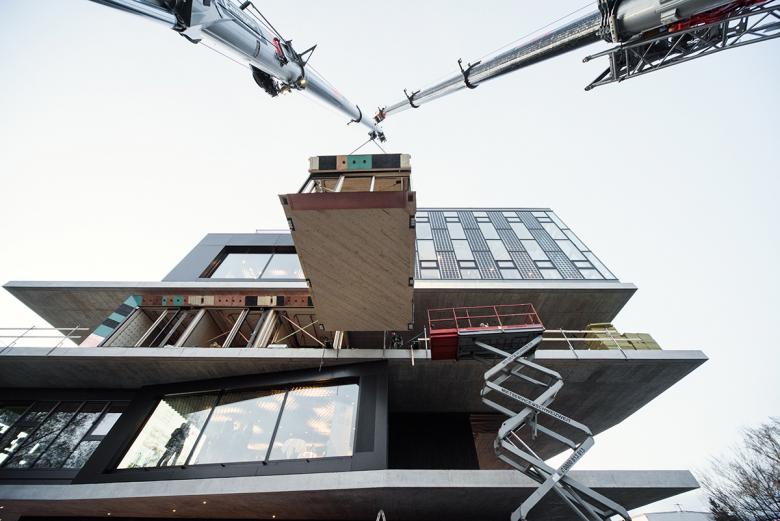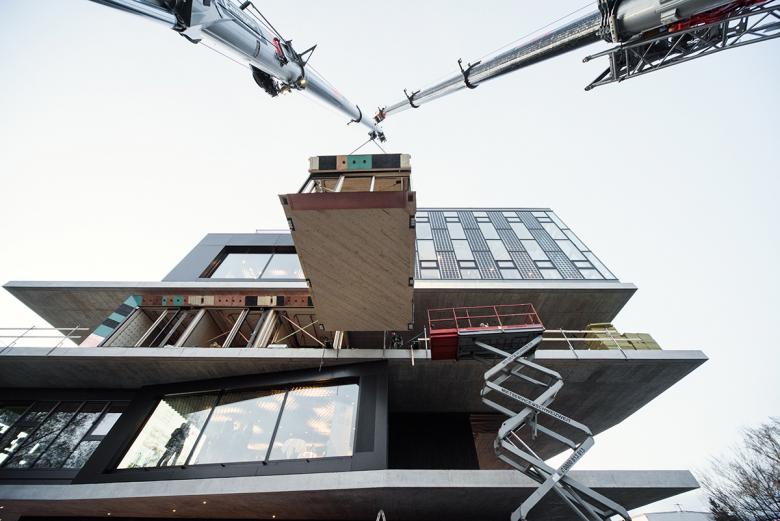 The unit was assembled from 7 prefabricated and preinstalled modules – all installed in one day with two cranes. (Photo © Wojciech Zawarski)
Three years ago, during the IDEAS Festival in New York City's East Village, we dedicated a Product feature to Hebel's
ETH Zurich Pavilion
made from recycled beverage cartons. That project, and his efforts with Sobek and Heisel at Empa, arose in part from the 2014 book,
Building from Waste: Recovering Materials in Architecture and Construction
, by Hebel, Heisel, and Marta Wisniewska. While the arched pavilion in NYC called attention to recycled construction through itself and a small display of recycled products, UMAR will function as a living laboratory: "Soon, two students will move into the three-room apartment and regularly discuss their everyday experiences with the researchers involved," per a press release from Empa, Swiss Federal Laboratories for Materials Testing and Research.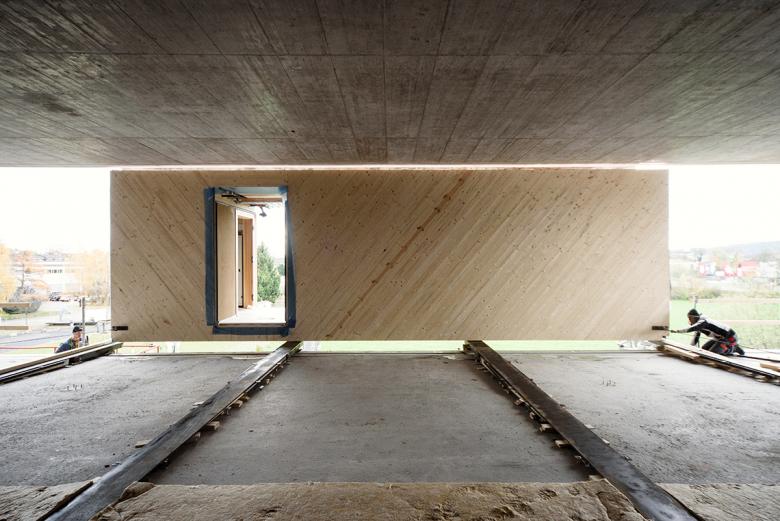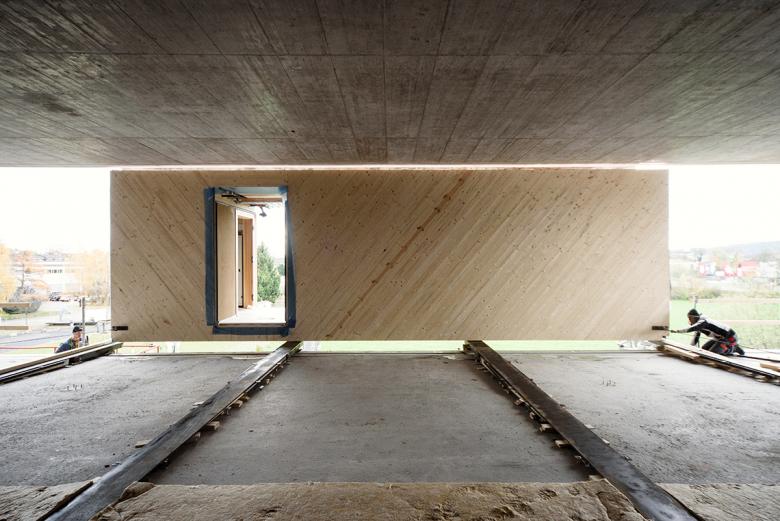 Bathrooms and technical installations are all placed in the same module. (Photo © Wojciech Zawarski)
UMAR sits inside NEST (Next Evolution in Sustainable Building Technologies),
a concrete structure designed by Gramazio & Kohler
as a modular research and innovation building that is run by Empa and Eawag, Swiss Federal Institute of Aquatic Science and Technology. NEST's core and cantilevered floors exist to accept plug-in modules, such as Gramazio & Kohler's own
DFAB House
being placed on the top floor. UMAR has been inserted into the second floor as seven prefabricated modules – installed in just one day with the help of two cranes. As Heisel explains, the modules are made of untreated wood: "The innovation here lies in the joinings. All joinings can be easily reversed because, for instance, the materials are not glued together but rather tucked, folded, or screwed." Furthermore, the distinctive frame visible from the outside (top photo) comes from the incorporation of repurposed copper sheets from a hotel in Austria and sheets made from melted down, recycled copper.
UMAR is laid out as a two-bedroom apartment with two bathrooms and an open-plan living space with island kitchen. All of the materials – new insulation boards made from mushroom mycelium, innovative recycling stones, recycled insulation materials, leased carpeting, etc. – "can be separated, sorted and, without any residues, returned to their respective material cycles," per the press release. Also, as described by Jenny Keller in her
coverage of the project at Swiss-Architects
, even the bathroom mirror is not conventional (it is made of polished stainless steel), the kitchen countertop is made of recycled glass, the lights from Nimbus are magnetically attached and unpainted, and the brass door latches come from a 1970s bank building in Brussels. In other words, inside UMAR the means of recycling – how materials are extracted from their cycle and later returned to it – are as varied as the architects behind it and the students who will occupy it.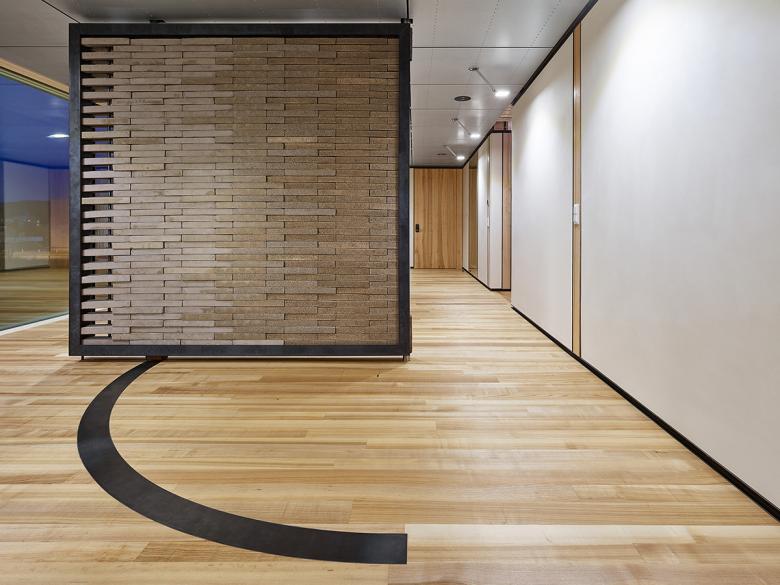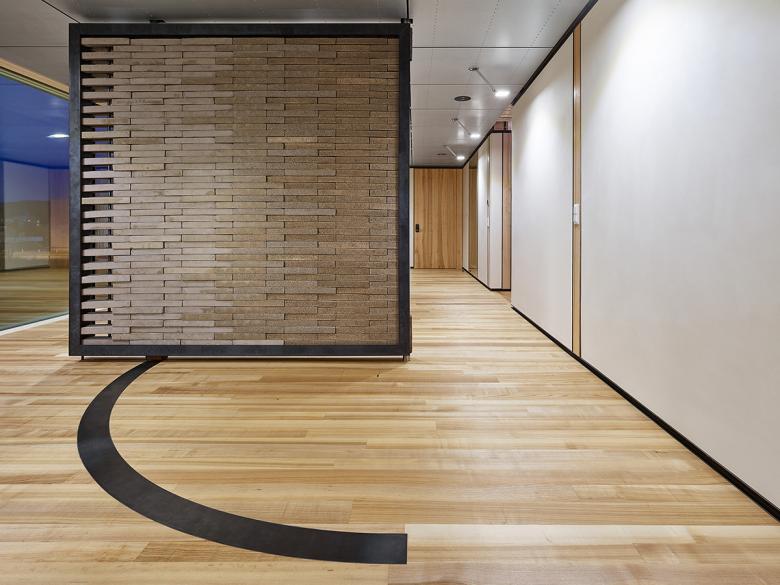 The bricks of the turning wall are manufactured from mineral demolition waste. (Photo © Zooey Braun)
Related articles
Featured Project
Other articles in this category