5. January 2018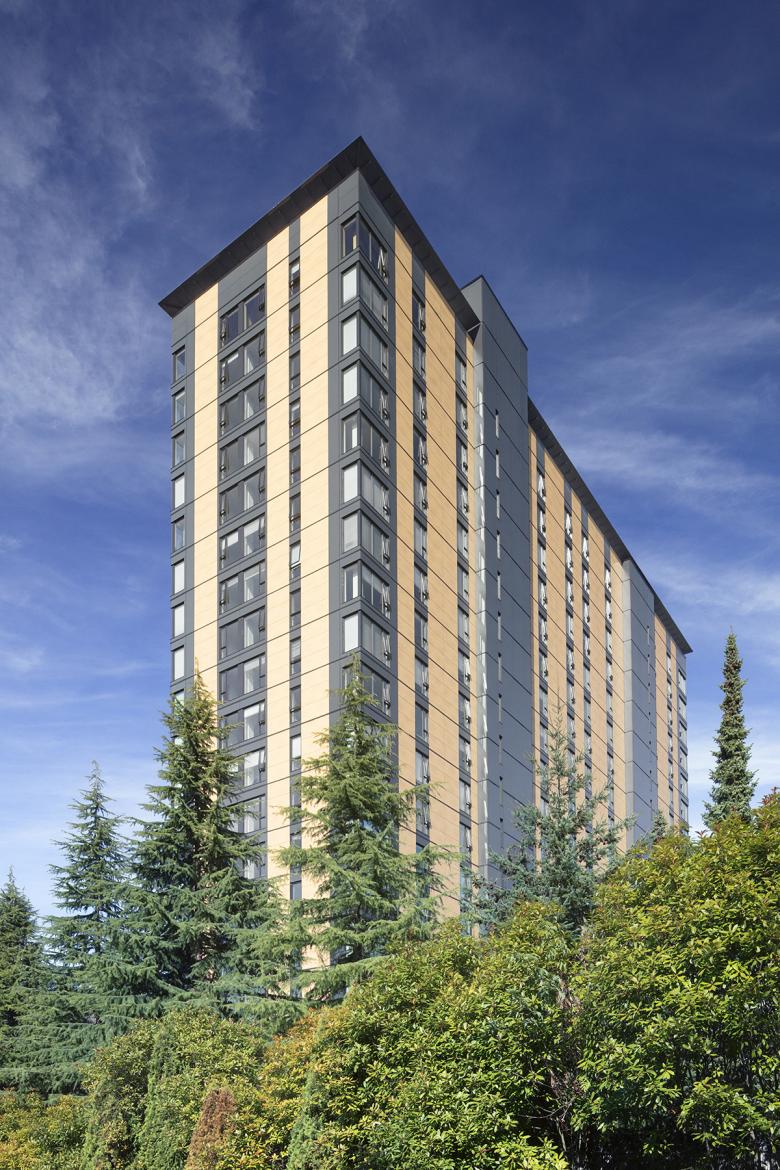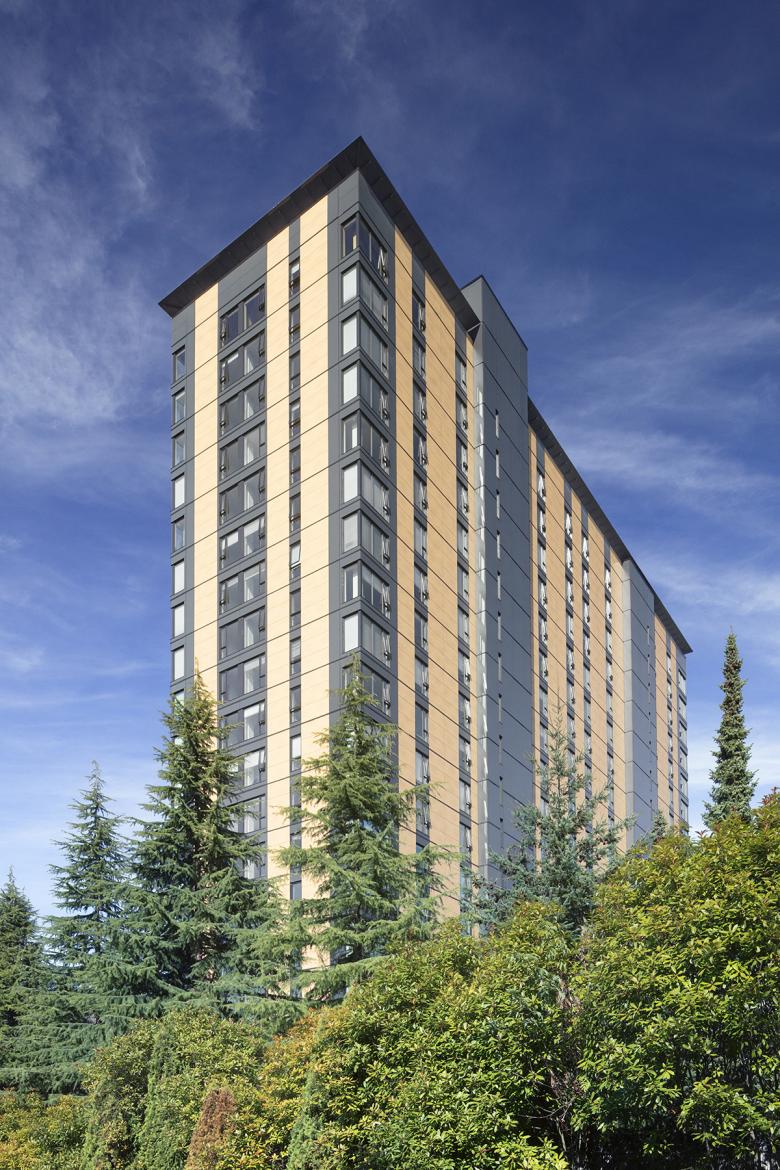 Photo: Michael Elkan (Unless noted otherwise, all images courtesy of Acton Ostry Architects & University of British Columbia)
The aptly named Brock Commons Tallwood House – currently the world's tallest mass timber tower – opened on the University of British Columbia's Point Grey campus in July 2017. The building, designed by Acton Ostry Architects, delivers on the promise of mass timber and aspires to be a model for future mass wood buildings that are quick, clean and cost effective.
Project
: Brock Commons Tallwood House
Location
: Vancouver, BC, Canada
Owner
: University of British Columbia
Architect
:
Acton Ostry Architects Inc.
Tall Wood Advisor
: Architekten Hermann Kaufmann ZT GmbH
Structural
: Fast + Epp
Fire Science & Building Code
: GHL Consultants Ltd.
Building Science
: RDH Building Science
Mechanical, Electrical & Sustainability
: Stantec
Mass Wood Erection
: Seagate Structures
Mass Wood Supply
: Structurlam
Concrete Formwork
: Whitewater Concrete Ltd.
Virtual Modeling
: Cadmakers Inc.
Energy Modeling
: EnerSys Analytics Inc.
Acoustics
: RWDI
Landscape
: Hapa Collaborative
Civil
: Kamps Engineering Limited
Geotechnical
: Geopacific Consultants Inc.
Construction Management
: Urban One Builders
Development Management
: UBC Properties Trust
World-Architects is no stranger to mass timber, having already highlighted notable projects built from CLT (cross-laminated timber), glulam (glue-laminated timber), and LVL (laminated veneer lumber). These include Shigeru Ban's
Tamedia Building
in Zurich, whose columns and beams are pinned together; Michael Green Architecture
T3 building
in Minnesota, the tallest mass timber building in the US; and
a handful of buildings
explored in Joseph Mayo's excellent book
Solid Wood
. The trend, as evidenced by
PLP Architecture's proposal
for an 80-story timber-framed tower in London, is to apply the benefits of mass timber – sequestering carbon and reducing greenhouse gas emissions, among others – to tall buildings. Brock Commons is a notable advance in this realm.
Brock Commons Tallwood House is an 18-story, 404-bed student residence that tops out at 53 meters (174 feet) in height. By the standards of towers in concrete and steel, this is hardly tall. But if seen relative to early steel-framed skyscrapers in Chicago (William Le Baron Jenney's 1885 Home Insurance Building, for instance, was 55m/180' before it was demolished 46 years later), Brock Commons is just the beginning of taller heights that should be capable with mass timber. Working toward more height,
Skidmore, Owings & Merrill is studying
how an existing 42-story steel building would fare if built in a mass-timber composite, or hybrid, system. Brock Commons is likewise a composite system, with a concrete foundation, concrete stair cores, steel connectors where the wood floors meet the wood columns, and a steel-beam and metal-deck roof; but it benefits from being a real-world example occupied by real people.
One aspect of the Tallwood House that should attract some attention is speed: the structure and prefabricated facade of glulam and CLT components were erected in only 66 days, or roughly two floors per week. For the sake of comparison, one floor per week for a steel-frame tower with composed concrete slabs is speedy – and that's for the structure only. The use of mass timber at UBC saved four months in the overall construction process. Furthermore, per Acton Ostry Architects, "At 2,233 cubic meters, the building utilizes an extraordinary amount of timber that stores an impressive 1,753 metric tons of carbon dioxide and avoids production of 679 metric tons of greenhouse gas emissions."
Even with its generous benefits, mass timber is impeded by building codes that see wood construction as a greater fire risk than concrete and steel structures. Tests have proven that mass timber (not to be confused with lightweight wood framing) performs remarkably well in fires, since the members char on the outside while retaining strength, therefore slowing combustion and allowing people to evacuate the building. At Brock Commons, building tall in timber was made possible through a site-specific regulation from the provincial government of British Columbia. Per Russell Acton, principal of Acton Ostry, the regulation resulted in a building even more fire-resistant than concrete or steel: "Key to receiving approvals and realizing economic viability for the timber tower was a 'keep it simple' design approach that makes the building appear ordinary – extraordinarily ordinary – through the encapsulation of the wood structure with gypsum board."
Although the hybrid encapsulated structure means the 305 studio and quad residences look fairly typical (photo below), the glulam structure was left exposed in a couple areas: the social and study space on the ground floor and the lounge on the 18th floor; the former sits behind a glass wall shaded by an extensive CLT canopy that unites inside and outside. Wood is also found in the elevator lobbies and entry doors to each residence, reminding students of the special building they occupy.
Structure
From the architect: The structural system is a hybrid consisting of a one-story concrete podium, two concrete cores and 17 stories of mass timber topped with a prefabricated steel beam and metal deck roof. Vertical loads are carried by the timber structure, while the two concrete cores provide lateral stability. The mass wood structure is comprised of five-ply, 169mm thick, CLT panels supported on glulam columns on a 2.85 x 4m grid. The CLT panels act as a two-way slab diaphragm, which eliminates the need for load-carrying beams. To avoid a vertical load transfer through the CLT panels, a steel connector allows for a direct load transfer between the columns and provides a bearing surface for the CLT panels.
Construction
From the architect: To test the speed and efficiency of the erection of the mass timber structural system, a full-scale, two-story, proof-of-concept mock-up was constructed in July 2015. Erection of the structure went smoothly and assembly proved to be faster than was initially projected. The concrete foundation and ground floor structure, transfer slab and two freestanding cores were constructed in 2016 during the winter and in advance of the wood structure, which was erected during the summer in 66 days at a rate of two floors plus prefabricated facade per week and resulted in four months of time savings for the overall construction process.
Cost
From the architect: In 2017, the construction cost for a comparable building with a concrete structure was approximately $220 per square foot. Brock Commons was constructed for approximately $240 per square foot, which is well in alignment with market costs for such a building type. The additional cost is attributable to an innovation premium associated with constructing a first-of-its-kind building. It is anticipated that construction costs will reduce over time as approval requirements for mass wood structures are adopted in future building codes, there is greater competition in the mass wood building supply industry, and comparable resolution and optimization of design and construction considerations evolve to the level that already exists for concrete and steel.
Sustainability
From the architect: Brock Commons targets LEED v4 Gold certification, conforms to ASHRAE 90.1-2010 and has a building energy target set by the UBC Sustainability Office of 135 kWh/m2/year. The building is connected to the UBC district energy system, which supplies heating for the ground floor amenity spaces, while heating for the resident units is provided by electric baseboard heaters. The carbon stored in the mass timber structure, plus avoided greenhouse gas emissions, results in a total estimated carbon benefit of 2,432 metric tons of CO2, which is equivalent to taking 511 cars off the road for a year. In comparison to typical construction, there was 65% less waste produced, recycling was 94% efficient, and trucking was 87% less. The wood used is replenished by Canadian and U.S. forests in just six minutes.
Related articles
Featured Project
Other articles in this category