21. November 2016
World-Architects was a media partner for the ninth World Architecture Festival that took place last week at Arena Berlin – the first time back in Europe after four years in Singapore. Here we present a handful of highlights from the three-day program of awards, seminars, tours, and other events.
Although there is plenty to criticize of WAF – it is expensive for participating architects and festival-goers, a number of notable projects are missing each year, the format works so that only one building per typology competes for
World Building of the Year
, and so forth – the festival started by Paul Finch back in 2008 has established itself as an important register of quality architecture on an international scale. Too many awards programs focus on a single country or region, and very few allow the public to visit and see the judging play out in real time. But WAF is more than awards, as the below highlights reveal.
The Crits
All architecture awards have juries, but most of them take place out of sight, after projects have been submitted and shortlists created. Unique to WAF is the crit format, which recalls architectural education and consists of short, ten-minute presentations by architects to a jury of two or three people. Architects submitted their projects earlier in the year and those with shortlisted projects traveled to Berlin to present them. The crits took place in inflatable rooms – I like to call them "bubbles" – and were organized by typology: housing, culture, higher education, and so forth. Part of the fun of WAF is seeing who is presenting what project at what time in which bubble, and bouncing about the festival to watch as many as possible. (Even though the bubbles had a strong presence in the grand Arena Berlin space, their openness, combined with the need to use microphones and speakers, meant there was little acoustical privacy.) There were big names, of course, but also architects lesser known but no less talented – lest they make it to WAF to begin with.
After the architects presented their projects, the jury asked questions, usually three or four given time restrictions. Here one could get a sense if a project would win the category and become a contender for Building of the Year. In one of the presentations I attended (who and what shall remain nameless), the jury criticized the choice of materials, their execution, and the apparent thrift of landscape accompanying the building; clearly this was not going to be a winner. In another, the jury praised the architecture but was confused as to some programmatic aspects; again, this project would have a hard time moving forward for Building of the Year judging. Across the two days, I attended at least a dozen crits but none of them turned out to be winners in their respective categories. The only way to really ensure seeing a winner is to stay in one bubble the whole day so as to attend every presentation in one category. Regardless, each project is commendable to have been shortlisted (even if notable buildings are missing for various reasons, be it expense, as noted, or lack of interest), and hearing the presentations and questions is a great learning experience and an opportunity to meet some of the world's best architects.
The Keynotes
Amongst the numerous seminars and talks that also took place, five keynotes were held across the festival's three days; two are of particular note. On the first day, filmmaker Hubertus Siegert talked about his 2001 film Berlin Babylon with WAF curator Jeremy Melvin. The conversation came late in the day, following a mid-day screening of the film that featured audio commentary by the director and architect Louisa Hutton of Suaerbruch Hutton. The film was made from 1995 to 2000 and documents the amazing amounts of construction that was taking place in post-Wall Berlin at the time: Potsdamer Platz by Renzo Piano, Sony Center by Helmut Jahn, and Axel Schultes's Chancellery, to name a few. Siegert shows the architects, but he does not talk to them; instead his camera stays back and documents the architects' conversations with clients and presentations to the public, such as at ribbon cuttings. Clips of construction are countered by those of demolition, which are poetic images yet make it clear that Berlin preferred to wipe away the memory of the Wall rather than incorporate it into its future. Fifteen years after making the film, Siegert laments this decision, but he still considers Berlin a unique city, even though it has a sameness to other cities through the actions of developers and corporations.
The following evening,
Patrik Schumacher
of Zaha Hadid Architects spoke on the main stage, following a conversation between
Peter Cook
of Crab Studio and
Wolf Prix
of Coop Himmelb(l)au. Any left-leaning attitudes promoted by these two architects were countered vehemently by Schumacher, who presented a few ZHA residential projects but spent much of his time espousing a future where developers and entrepreneurs direct the built environment rather than governments and planners. He called for, among other things, the privatization of all public spaces (one person in the crowd asked, "Why stop there? Why not privatize air?). Those familiar with Schumacher,
particularly on Facebook
, know that he is opinionated and prone to rants, but real estate was his subject during the keynote rather than his usual subject, Parametricism. The crowd's dissatisfaction with his talk was palpable, though moderator Jeremy Melvin finished the sometimes uncomfortable evening in a good way: he referenced an entrepreneur who, a very long time ago, raised the wages of his employees so they could afford his goods; this had the ripple effect of making other businesses raise their wages and prompted Melvin to ask Schumacher to pay everybody at ZHA well enough so they could afford to live in one of their projects!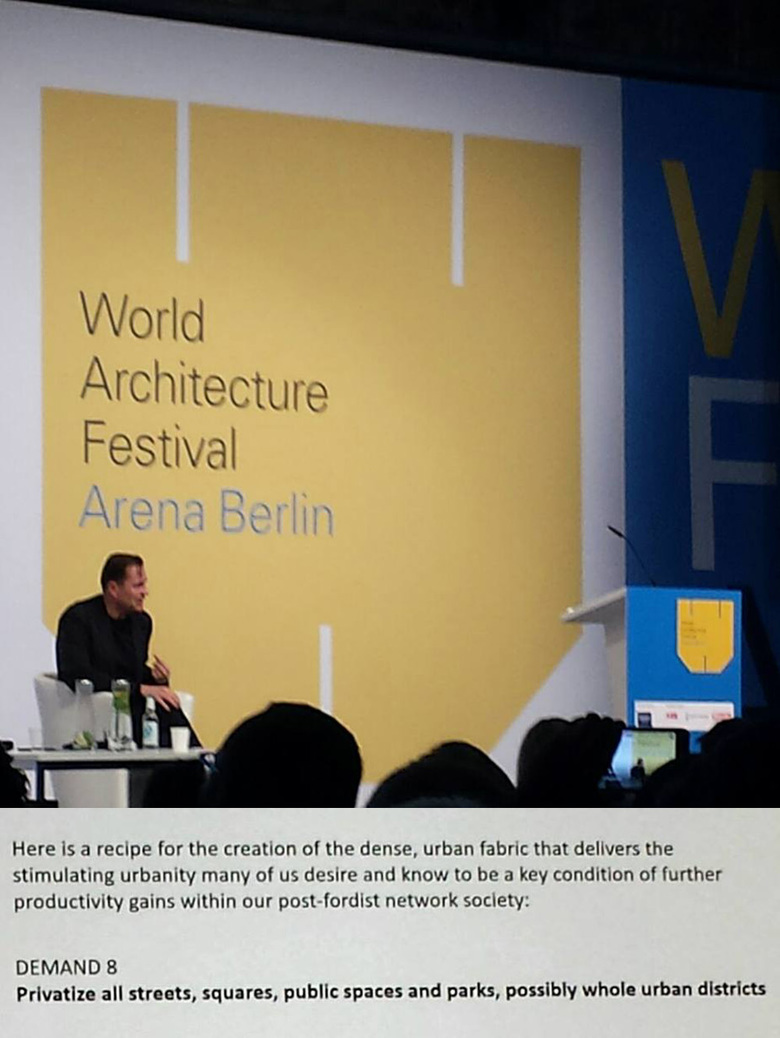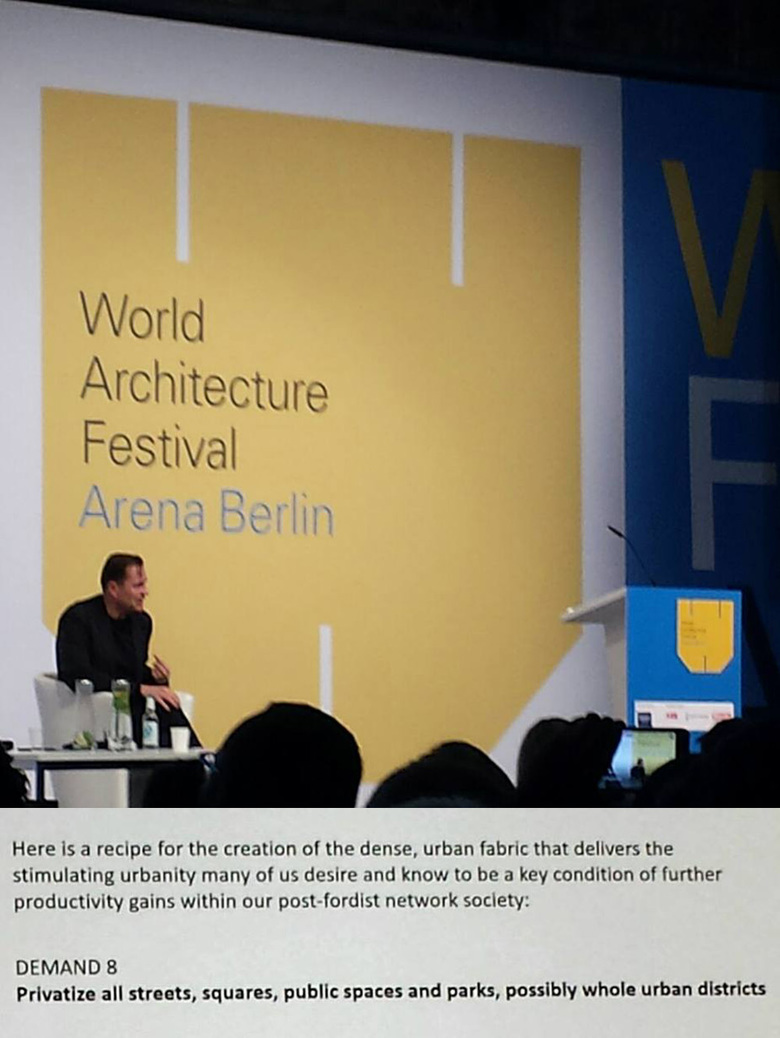 Patrik Schumacher on stage, and the last of his eight demands for the future of cities, London in particular
The Tours
According to WAF director Paul Finch, "We decided to organize more building visits as part of our quest to improve the event for all our delegates." This year's festival offered at least a dozen tours, including one organized by World-Architects: "Colorful Modernism," which visited two
Bruno Taut
projects well outside the central city. Led by Carsten Sauerbrei of Berlin's architekTour B, the tour stopped first at Falkenberg Garden City in Treptow, one of six modernist Berlin housing estates that were added to the
UNESCO World Heritage List
in 2008. Also known as a "paintbox estate" – as it appeared that Taut raided the paintbox in coloring the buildings and their details – the name of the tour was made immediately clear. The tour then stopped at Hufeisensiedlung Britz (Horseshoe Estate), which was built according to the plans of Taut and Martin Wagner from 1925 to 1933 in what is now Berlin's Neukölln district. Executed on a grander scale than Falkenberg, but with fewer splashes of color, the project is notable for its horseshoe plan and its inclusion in the same UNESCO listing.
The Exhibitors
Sitting in the middle of the impressive Arena Berlin space, between the "bubbles" and other venues for presentations and seminars, was the Expo floor, where sponsors displayed products, media partners gave away magazines, and exhibits provoked visitors. Unlike the AIA Convention, the BAU Trade Fair, and other large-scale events, the small and highly focused expo floor at WAF equates to a more laid-back experience than the norm; in turn, it's easier to talk more in-depth with manufacturers than at larger fairs.
Grohe
, which has been a sponsor since the first year of WAF in Barcelona in 2008, had the largest stand, and used it to provide a much-needed lounge for delegates and festival-goers to take a break. Sto hosted Arcaid Images' photo contest (see the winner
here
) and an installation by Sam Jacob, while the GAD Foundation presented an installation exploring "the innovative use of physical and digital research." Another highlight was Turkishceramics' small exhibition,
Sinan: The First Starchitect
. Not as well known internationally as such 16th-century contemporaries as Leonardo da Vinci and Michelangelo, Mimar Sinan, "the maestro behind the skyline of historic Istanbul," really deserves to be a household name. Ian Ritchie, Feilden Clegg Bradley Studios, Rogers Strik Harbour + Partners, and others anayzed his projects and presented their findings in the exhibition, while a take-home magazine allows Sinan to be studied in greater depth, something I plan on doing.
The City
Held for four years in Barcelona and then four years in Singapore, WAF returned to Europe and another great city with its ninth festival. The tours, mentioned above, enabled festival-goers to explore parts of the city via bus and foot, but for those unwilling to take out a chunk of the day to do so, the city offered plenty to do at night (Norman Foster's Reichstag is open until midnight!) and over the weekend. Aiding in personal explorations of the city was Dominik Schendel's Architectural Guide Berlin, published by DOM Publishers and released to coincide with WAF. Although not as comprehensive as other DOM guidebooks (it is missing such notable buildings as Daniel Libeskind's Jewish Museum Berlin), Schendel's four excursions capture the history and changes of the German capital. One of the tours even traces the path of the former Wall, whose trace is depicted in aerial shots that reveal how new projects ignored the Wall's once-conspicuous footprint.
---
Related articles
Featured Project
Other articles in this category