Vers une Architecture en Bois
Georg Windeck
10. August 2020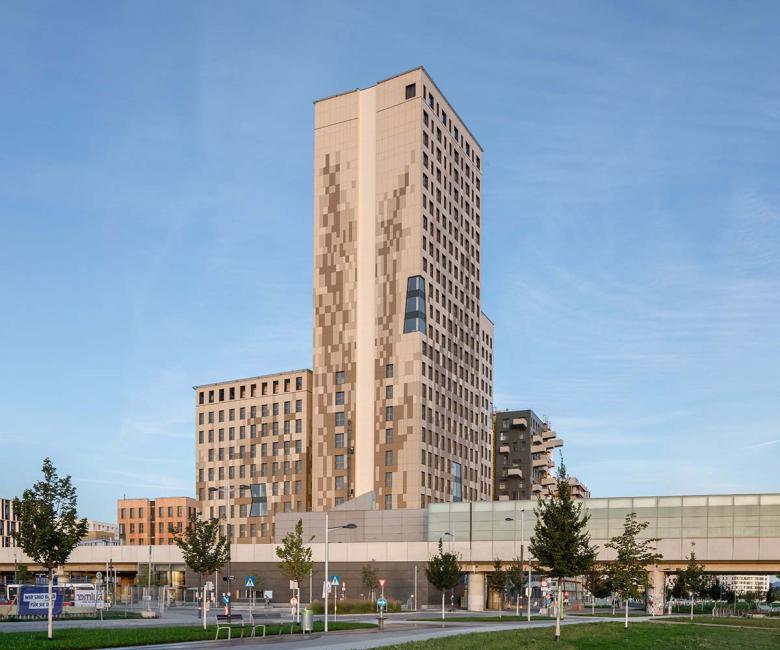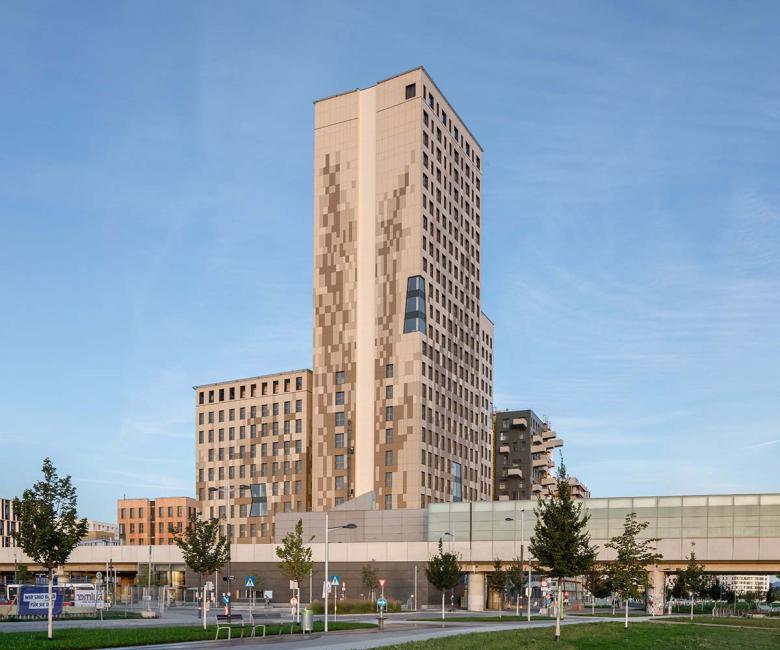 At 84 meters (275 feet) HoHo Wien, designed by RLP Rüdiger Lainer + Partner and completed in 2019, is one of the tallest wood buildings in the world. (Photo: Cetus + kito.at)
The second and expanded edition of Michael Green and Jim Taggart's Tall Wood Buildings: Design, Construction and Performance builds upon the successful first edition from 2017 to present more case studies of high-rise timber structures and argue for more of them to be built.
Is there anything in architecture that wood cannot do? New engineering methods allow for the erection of timber buildings of unprecedented heights, creating healthier living and working environments in our cities. These new structures reduce the carbon footprint of the construction industry and tackle the global housing shortage in an eco-friendly way. They are practical, economical and at times beautiful.
Tall Wood Buildings by Michael Green and Jim Taggart is a passionate plea for the use of advanced timber technologies in high-rise construction. Written by architects for architects, the book — now available in a second, expanded edition — embeds the technical subject matter and its contemporary relevance in a broad cultural context.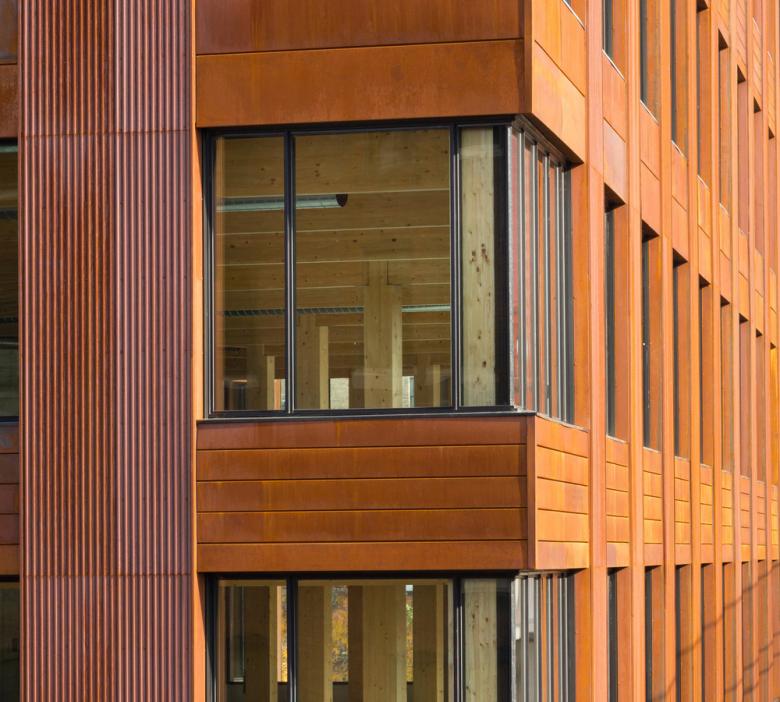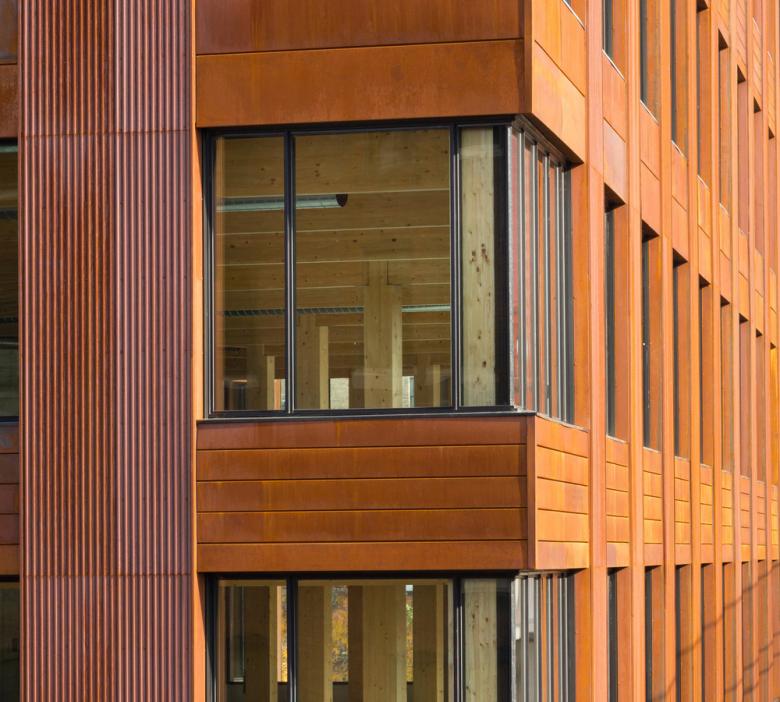 T3 Minneapolis, completed in 2016, is a seven-story mass timber office and retail building designed by Michael Green Architecture and DLR Group. (Photo: Ema Peter)
In the first of the book's three sections, the authors trace the history of wood construction in urban environments. They explain the ecological advantages of using the renewable material as building structure by comparing it to steel and concrete. Sustainable forest management, carbon storage and embodied energy are factored into a holistic reasoning about why it is important to build in wood today.
The second section introduces the reader to the technological principles. It explains fire behavior, thermal performance and the role of international code legislation in the development of tall timber buildings. Composite materials such as plywood, glue-laminated timber and parallel-strand lumber are introduced, together with the structural systems they lend themselves to: panel systems, frame systems and hybrid systems.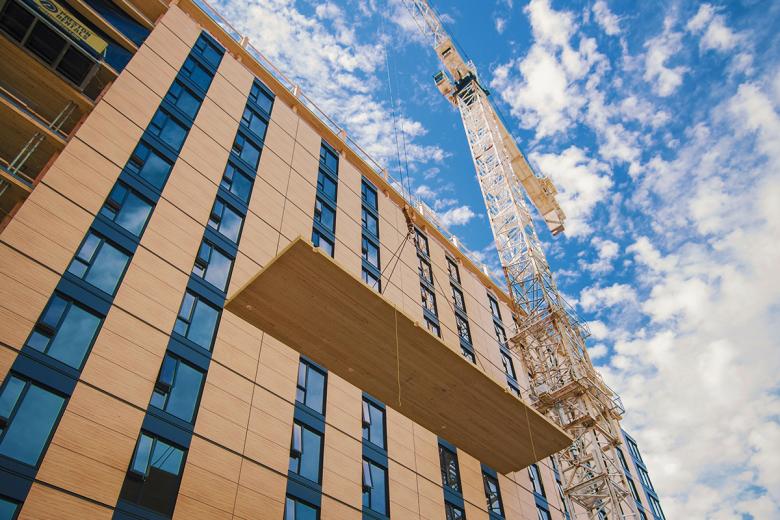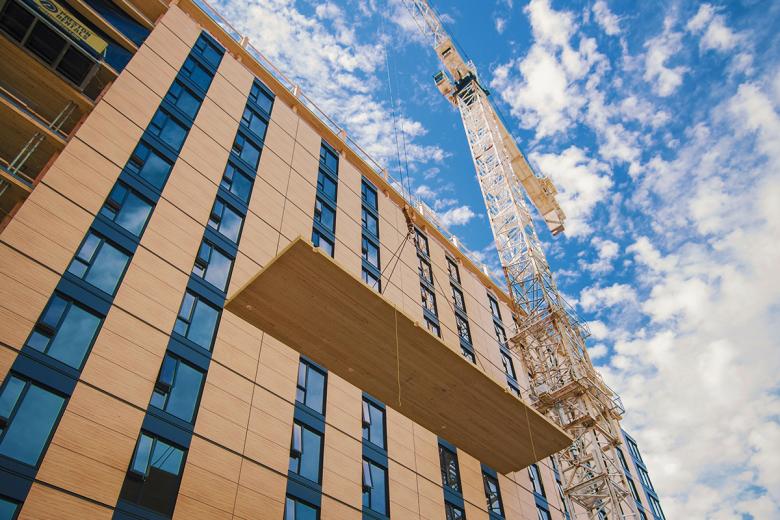 The construction of CLT panels at the Brock Commons Tallwood House, completed in Vancouver in 2017 and designed by Acton Ostry Architects (Photo: Pollux Chung/Seagate Structures)
The inspiring case studies of the third section, which make up the bulk of the book, are organized accordingly. Apartment buildings, office towers and academic facilities in Europe, North America and Oceania are discussed with relevance to program, climate and siting. The Bullitt Center in Seattle by Miller & Hull, for instance, is a post-and-beam frame made from glue-laminated timber that is filled with nail-laminated wood-panel floors. Its floating roof canopy used both for shading and solar power gives a bold expression to a new wooden architecture. The authors use intuitive detail drawings to explain the assembly of the different elements. Captivating photos illustrate the spatial qualities of the building's exterior and interior. And an exciting description of the construction sequence grasps the joyful process of its making.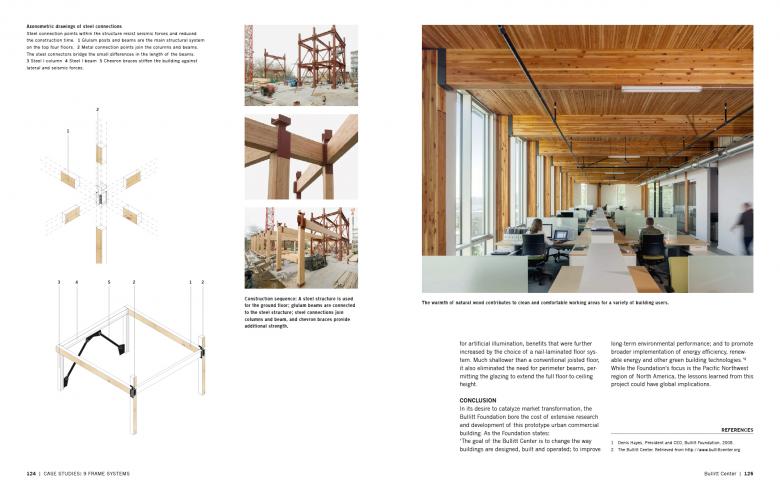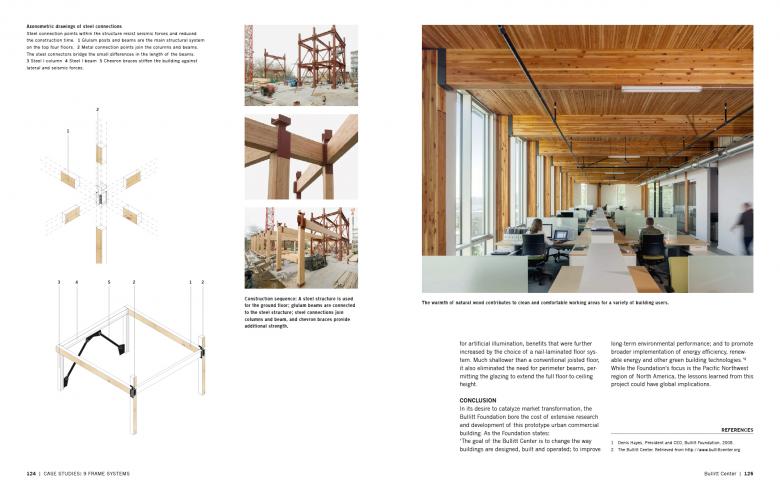 Spread from Tall Wood Buildings showing the Bullitt Center (Photo courtesy of Birkhäuser)
The book concludes by "tracing the way forward," a new part in this second edition. According to Green and Taggart, engineered-wood technologies will establish new collaborative relations between designers and builders. An integral thinking that considers digital modeling, off-site prefabrication and innovative transportation concepts is required. This gives architects the chance to reassert their role in society, by reconnecting to their ancient Greek ancestor, the architekton, or master carpenter.
It remains to be seen if the master carpenter of the 21st century can solely rely on techno-ecological expertise to create masterly wood buildings. Greatness in architecture is not necessarily created by height. And optimized engineering methods carry the risk of erasing the architectural poetics of timber in the strive for sheer tallness. According to Green and Taggart, a cultural shift is necessary to open minds toward envisioning future cities made from wood rather than concrete. That shift must also include a rethinking of urban typologies to unfold not only the physical but also the associative qualities of the material, embedding it into its own history. In the quest towards a new wooden architecture, it is necessary to embrace the material's special tectonics beyond the competition with steel and concrete. The book is a great contribution to creating the technological excitement and confidence architects need to work on that task.
Tall Wood Buildings: Design, Construction and Performance
Michael Green, Jim Taggart

28 x 22 cm
200 Pages
320 Illustrations
Hardcover
ISBN 9783035618853
Birkhäuser
Purchase this book

Georg Windeck is a practicing architect, licensed in Berlin and New York. He works on the design and construction of residential and institutional buildings, as well as the preservation of historic landmarks. He is the author of Construction Matters (2016), which examines the way that architects respond to technological innovation through the creation of new types of spaces, and the materials through which an architectural idea finds its physical realization.
Other articles in this category