Morphosis Designs the New OCMA
4. June 2018
The Orange County Museum of Art (OCMA) has unveiled the design for the Southern California museum's new building by Morphosis Architects, the firm of Pritzker Prize winner Thom Mayne.
When complete in 2021, OCMA will make the move from its longtime home in Newport Beach southeast of Los Angeles to nearby Costa Mesa. The new building will be located on the campus of the Segerstrom Center for the Arts, which is home to a variety of performance venues. It will sit on a green space next to two concert halls, an office tower, and a plaza home to a large Richard Serra sculpture.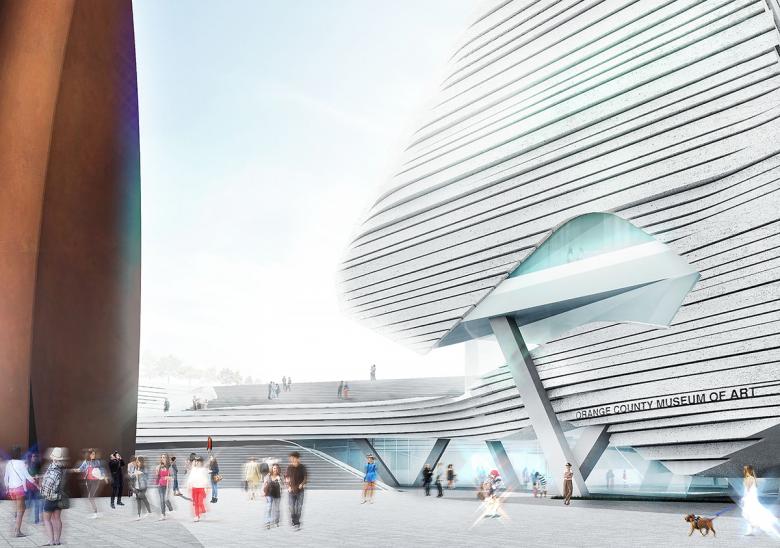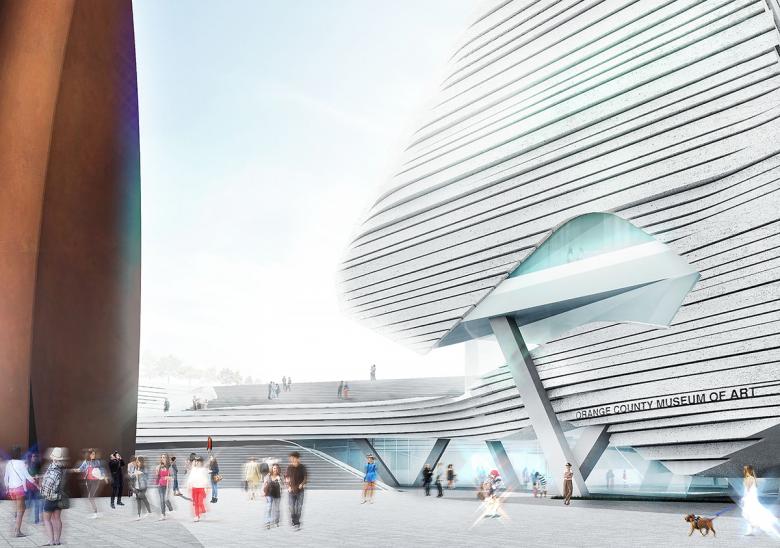 View from Argyros Plaza of OCMA's main entrance, located near Richard Serra's monumental sculpture, "Connector" (Image: Morphosis Architects)
Founded in 1962 as the Balboa Pavilion Gallery and subsequently known as the Newport Harbor Art Museum, OCMA (as it's been known since 1997) has a collection of more than 3,500 works, with a focus on artists from Califoria and the Pacific region. The new building will total 52,000 square feet, with approximately half of it devoted to galleries. Additionally, it will have a multi-purpose education hall, event spaces, store, cafe, administrative spaces, and a large roof terrace.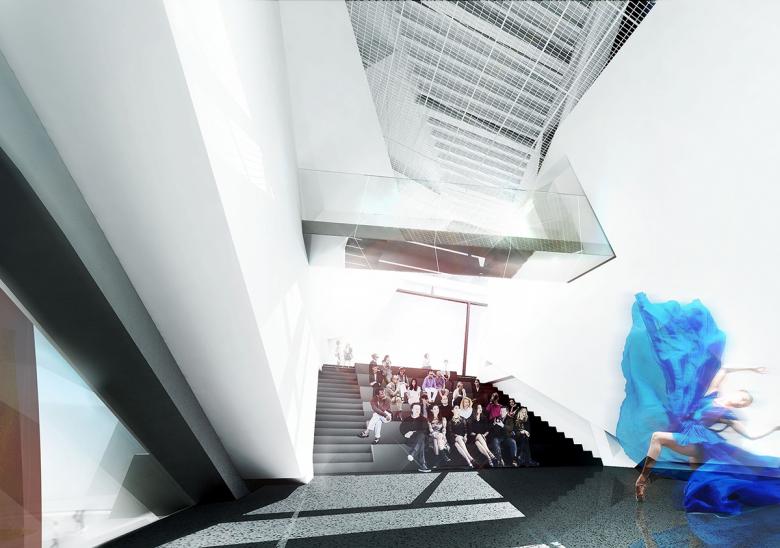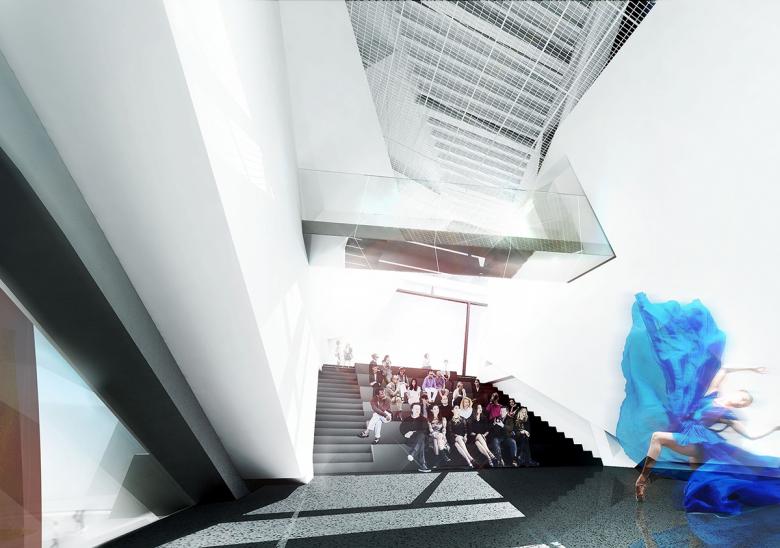 . Hovering above the atrium lobby is a dynamic space for education events and performances (Image: Morphosis Architects)
The design places reconfigurable exhibition spaces on the main floor, with administrative and educational spaces on the upper level, the latter visible as full-height wnidow overlooking the roof terrace. The roof garden is designed to serve as an extension of the galleries, providing additional square footage equivalent to 70% of the building's footprint.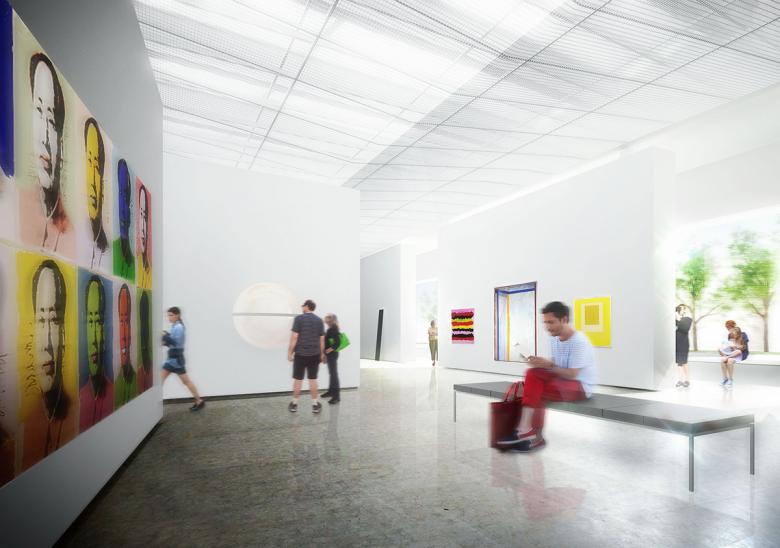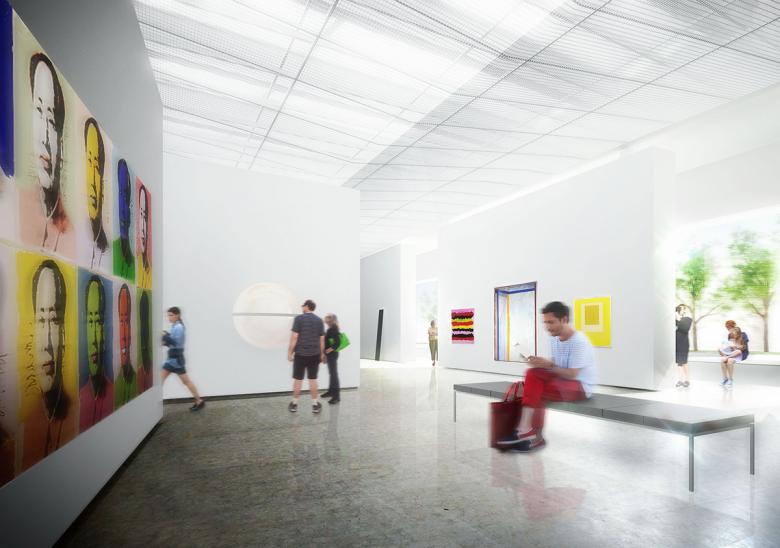 OCMA's ground floor and mezzanine hold open, flexible galleries for permanent collection installations and temporary exhibitions. (Image: Morphosis Architects)
In a statement from Morphosis, the design strategy
choreographs a rich and diverse visitor experience, from approach and entry, to procession through the galleries, and finally, an invitation to linger on the steps, in the café, or in the museum store. By creating a gradient of architectural intensity, from complex forms at the museum's entry to rectilinear and flexible forms within the galleries, the building is both memorable and striking, while serving primarily as a supportive stage for art. Its strong relationship between indoor and outdoor space encourages visitors to immerse themselves in the celebrated climate of southern California, where light, air, and space have influenced generations of artists.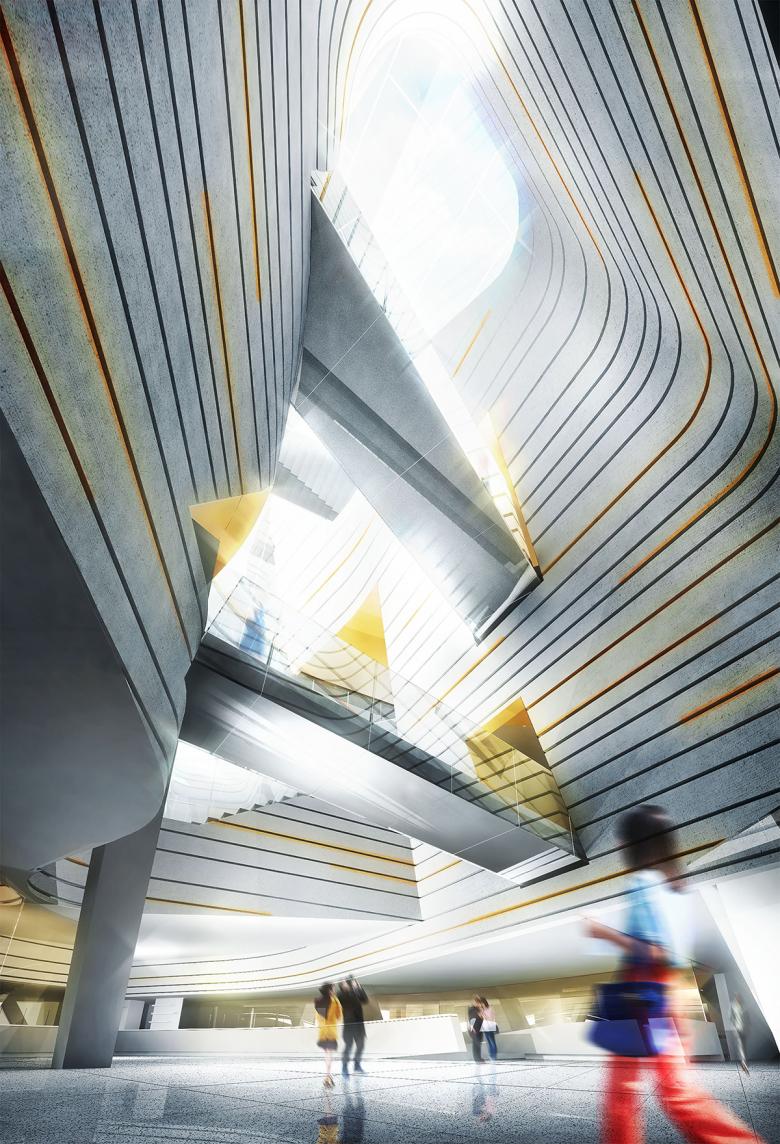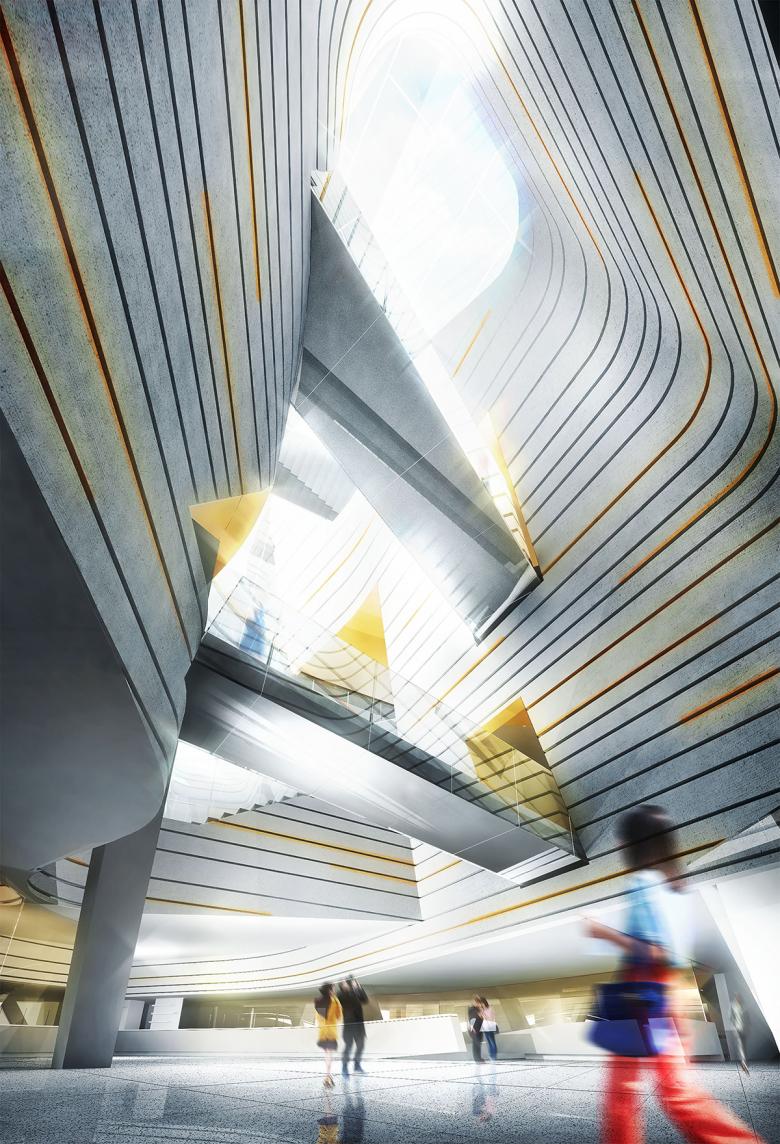 In the entrance lobby, light-filled atrium space is crossed by bridges to educational hall and mezzanine gallery spaces. (Image: Morphosis Architects)
Groundbreaking is slated for 2019 with an anticipated opening in 2021.
Related articles
Featured Project
Other articles in this category