Biennale Architettura 2018
Gold for the Swiss
27. May 2018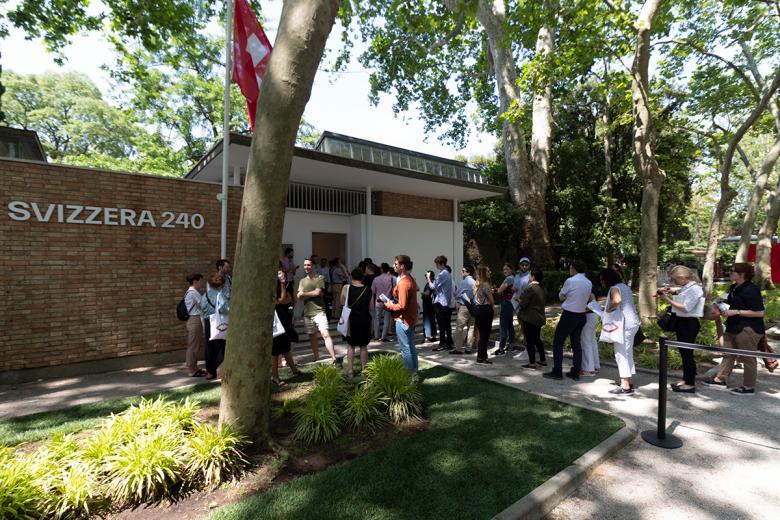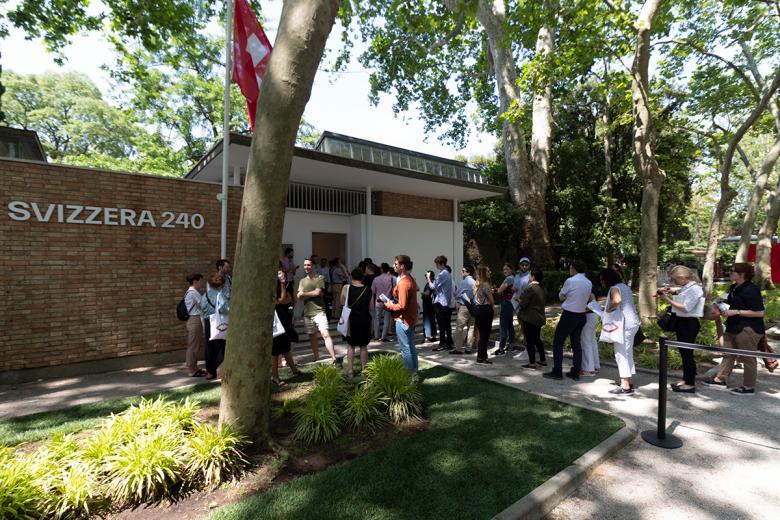 The line for the Swiss Pavilion literally five minutes after it won the Golden Lion Saturday morning (All photographs by John Hill/World-Architects)
Switzerland's Svizzera 240: House Tour exhibition has won the Golden Lion for Best National Participation at the 16th International Architecture Exhibition – La Biennale di Venezia. It is the first time the Swiss Pavilion has won the prestigious award.
The Golden Lion was given during a ceremony on Saturday to the Swiss Arts Council Pro Helvetia, which commissioned the exhibition, and the curators, a group of young architects from ETH Zurich: Alessandro Bosshard, Li Tavor, Matthew van der Ploeg and Ani Vihervaara.
Svizzera 240 is the built representation of photographs of empty contemporary apartments – what are, according to the curators, increasingly prevalent images in Switzerland that are more aligned with real estate than architecture. Scaleless photos were translated into "a labyrinth of interior perspectives" at scales ranging from an inaccessible 1:5 to a giant-sized 2:1. By interlocking generic, all-white spaces of different scales in a meandering "house tour," the curators turned banal apartments into a funhouse. It was one of the few pavilions during the preview where people had to queue to get in. For those unable to see it in person, the exhibition is best grasped in photos with people acting as scale figures within the three-dimensional representation.
A special mention for National Participation was given to Great Britain for Island. Curators Caruso St. John and Marcus Taylor responded to the FREESPACE theme by emptying the British Pavilion of any contents (yet leaving residue from previous Biennales on the wall) in order to generate potential: programmed events will take place during the Biennale's six-month duration, while informal events are encouraged.
Great Britain's curators also wrapped the building in scaffolding and added an exterior stair to access a rooftop platform for afternoon tea (everyday at 4pm, weather permitting), a perfect spot to take in views of the Giardini and the Lagoon.
The jury that selected the Swiss and British Pavilions was led by Argentinean architect Sofia von Ellrichshausen and consisted of architect Frank Barkow of
Barkow Leibinger
, curator Kate Goodwin, Canadian architect Patricia Patkau, and Italy's Pier Paolo Tamburelli.
Related articles
Featured Project
Other articles in this category