Fire Ravages Glasgow School of Art
16. June 2018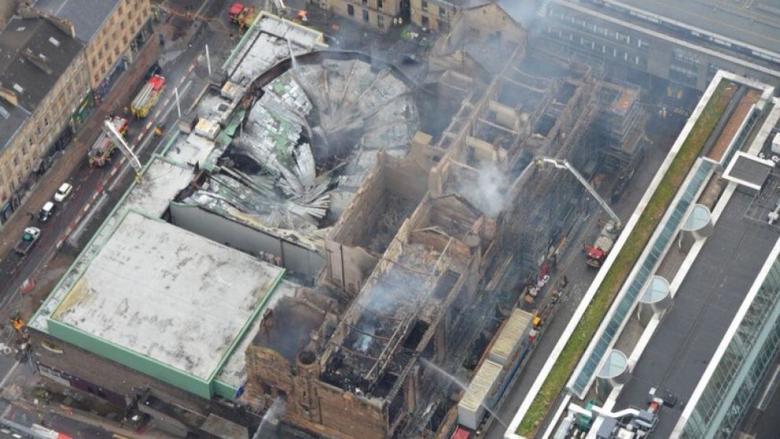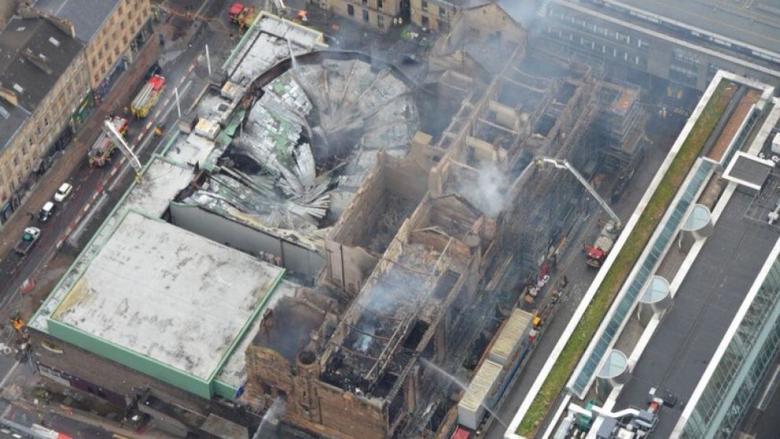 Post-fire aerial with Mackintosh's Glasgow School of Art at center, O2 ABC music venue at left, and Steven Holl's extension to the Glasgow School of Art across the street at right. (Photo: Police Scotland)
A fire over the weekend destroyed much of Charles Rennie Mackintosh's masterpiece at the Glasgow School of Art, just as the school was wrapping up restorations following a 2014 fire that destroyed the landmark building's library.
The Glasgow School of Art
tweeted
at close to midnight on Friday night: "There is a fire at the Mackintosh Building. The fire brigade are currently on scene."
According to the Scottish Fire and Rescue Service
around that time, "more than 120 firefighters are working to extinguish the ... extremely challenging and complex [fire]." The blaze broke out around 11:15pm on the night of June 15th but wasn't extinguished until around 6:30 on Saturday morning.
Fortunately, even though the fire spread to a neighboring night club and music venue, there were no reported casualties. Unfortunately, given the intensity of the fire (much greater than
the fire that hit the building in 2014
), the roof of the music venue collapsed and Mackintosh's masterpiece of modern architecture was reduced to a charred shell.
Even before the flames subsided, local politicians were expressing the need to rebuild. In particular, Paul Sweeney, a Glasgow MP and self-described "Glasgow architecture geek,"
wrote on Twitter
: "There must be a comprehensive national effort to ensure every possible option to salvage and restore what is one of the finest edifices in the history of world architecture is pursued in the wake of this latest setback."
No cause of the fire is yet known. This post will be updated when more information on the fire is available. For minute-by-minute reporting of the devastating incident, head to
Sky News
.
Update June 28
: Although the cause of the fire has yet to be determined, the Guardian and other news sources are
reporting on the building's demolition
: "Glasgow city council said a large part of the south facade of the Charles Rennie Mackintosh building would have to be knocked down as a matter of urgency after surveys found its walls had moved significantly."
Related articles
Featured Project
Other articles in this category