79 Projects Selected for American Architecture Awards
11. April 2017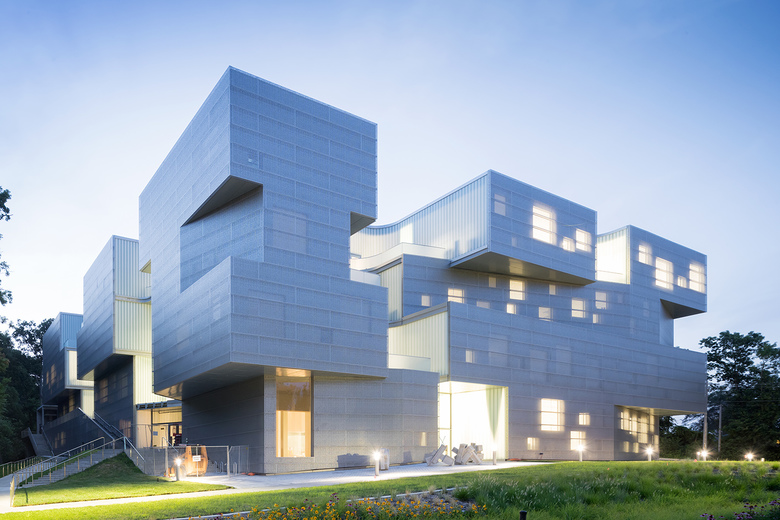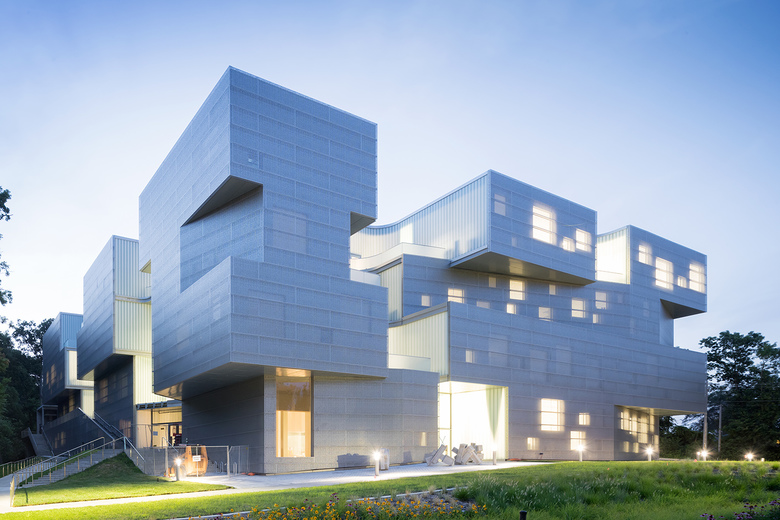 UNIVERSITY OF IOWA VISUAL ARTS BUILDING, Iowa City, Iowa by Steven Holl Architects (Photo: Iwan Baan)
The Chicago Athenaeum: Museum of Architecture and Design and The European Centre for Architecture Art Design and Urban Studies have announced the winners of the 23rd American Architecture Awards.
The winners, listed below, were selected from a shortlist of 300 buildings and urban planning projects, and were decided upon by a jury of Greek architects: architect/visual artist Giannis Giannoutsos, Pantelis Kabouropoulos (PANK_architects and OPA), architect Nikos Kazeros (Metropolitan College, Athens), Iro Nikolakea (National Museum of Contemporary Art, Athens), Stavros Vidalis (Stavros Vidalis Architect), and Vasilis Vavuyos and Manolis Vourakis (Officetwentyfivearchitects).
The winning projects will be exhibited in Athens this summer, and the winners and their clients will be honored at an Awards Dinner/Gala Presentation at the Orlando Museum of Art on 27 April 2017. More details on the awards can be found
on the Chicago Athenaeum website
.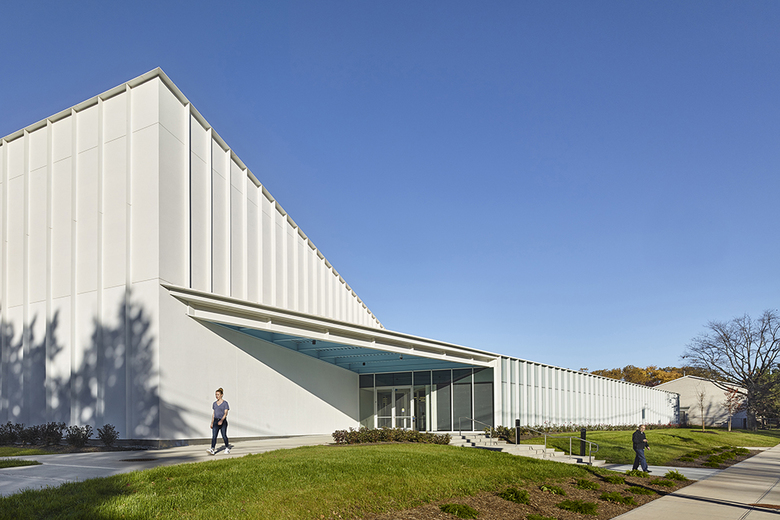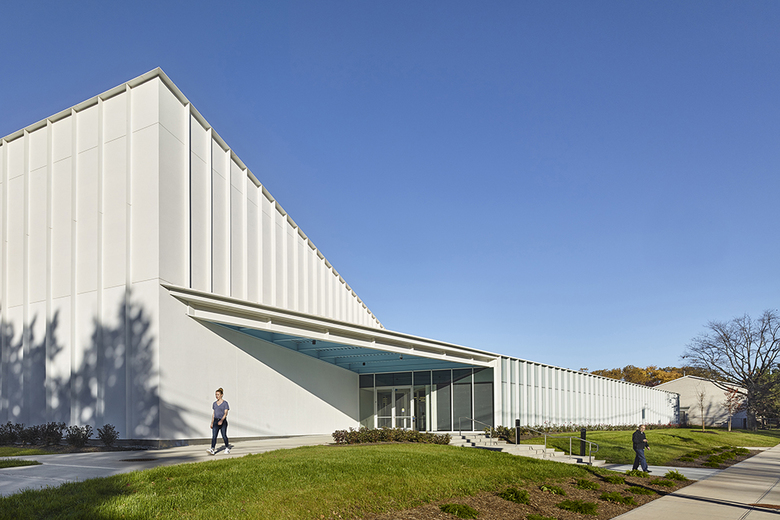 TREC - Training Recreation Education Center, Newark, New Jersey by ikon.5 architects (Photo: Jeffrey Totaro)
510 HOUSE, Fox Point, Wisconsin by Johnsen Schmaling Architects
THE LINEAR CABIN, St Germain, Wisconsin by Johnsen Schmaling Architects
WAKE TECH REGIONAL PLANT TEACHING FACILITY, Raleigh, North Carolina by Clark Nexsen
MICHIGAN LAKE HOUSE, Leelanau County, Michigan by Desai Chia Architecture
IN SITU, San Francisco, California by Aidlin Darling Design
3 LP Residence, Iowa City, Iowa by substance
CORPORATE CAMPUS CAFE AND TRAINING CENTER, West Des Moines, Iowa by substance
UNIVERSITY OF WASHINGTON STATION, Seattle, Washington by LMN Architects
RIVERSPORT RAPIDS, Oklahoma City, Oklahoma by Elliott + Associates Architects
FRAMEWORK, Portland, Oregon by Works Partnership Architecture
GOLDEN 1 CENTER, Sacramento, California by AECOM
SPENCER MUSEUM OF ART RENOVATION THE UNIVERSITY OF KANSAS, Lawrence, Kansas by Pei Cobb Freed & Partners Architects
HIDE OUT, Los Angeles, California by Dan Brunn Architecture
RAJEUNIR BLACK CAVIAR, Palm Desert, California by Studio Jantzen
GRACE STREET RESIDENCE, San Francisco, California by VeeV Design
CHAPEL FOR OUR LADY OF FATIMA, Cayey, Puerto Rico by Toro Arquitectos
MINOR AND STEWART, Seattle, Washington by WATG
ARTIST RETREAT, Upstate New York by GLUCK+
TU LIEN BRIDGE, Ha Noi, Vietnam by WATG
15 RENWICK, New York, New York by ODA New York
GATEWAY PLAZA, Richmond, Virginia by Forum Studio
COMMON GROUND HIGH SCHOOL, New Haven, Connecticut by Gray Organschi Architecture
BURJ 2020, Dubai, United Arab Emirates by RNL Design
COLLEGE OF MARIN ACADEMIC CENTER, Kentield, California by TLCD Architecture + Mark Cavagnero Associates
OVERLOOK GUEST HOUSE, Los Gatos, California by Schwartz and Architecture
TREC - Training Recreation Education Center, Newark, New Jersey by ikon.5 architects
FAST HORSE, Duluth, Minnesota by Salmela Architect
KMAC MUSEUM RENOVATION, Louisville, Kentucky by Christoff:Finio Architecture
WASHINGTON FRUIT & PRODUCE CO. HEADQUARTERS, Yakima, Washington by Graham Baba Architects
MINNESOTA STREET PROJECT, San Francisco, California by Jensen Architects
ALAMO SQUARE RESIDENCE, San Francisco, California by Jensen Architects
THE MAIN MUSEUM OF LOS ANGELES ART, Los Angeles, California by Tom Wiscombe Architecture
UNIVERSITY OF IOWA VISUAL ARTS BUILDING, Iowa City, Iowa by Steven Holl Architects
DEBRUCE CENTER AT THE UNIVERSITY OF KANSAS, Iowa City, Iowa by Gould Evans
SHINSEGAE INTERNATIONAL, Seoul, South Korea by Olson Kundig
ST PATRICK'S ISLAND, Calgary, Alberta, Canada by W Architecture and Landscape
BRIDGE FOR LABORATORY SCIENCES VASSAR COLLEGE INTEGRATED SCIENCE COMMONS, Poughkeepsie, New York by Ennead Architects
MARTIN'S LANE WINERY, Seattle, Washington by Olson Kundig
MIRRORHOUSE, Beverly Hills, California by XTEN Architecture
LITTLE HOUSE, Seabeck, Washington by mwworks
GLOBAL CONTEMPORARY ART MUSEUM (GCAM), North Adams, Massachusetts by Gluckman Tang Architects
ORLANDO INTERNATIONAL AIRPORT SOUTH TERMINAL COMPLEX, Orlando, Florida by Fentress Architects
COLORADO ESPLANADE, Santa Monica, California by PWP Landscape Architecture
SWIFT AGENCY, Portland, Oregon by Beebe Skidmore Architects
MASSACHUSETTS COLLEGE OF ART AND DESIGN DESIGN AND MEDIA CENTER, Boston, Massachusetts by Ennead Architects
SAWMILL, Tehachapi, California by Olson Kundig
GEMMA OBSERVATORY, Southern New Hampshire by Anmahian Winton Architects
GUEST HOUSE, Wainscott, New York by Roger Ferris + Partners
ONTARIO RESIDENCE, Washington, DC. by David Jameson Architect
LAKE HOUSE, Stockbridge, Massachusetts by Taylor and Miller Architecture and Design
AESOP THE SHAY, Washington, DC. by Taylor and Miller Architecture and Design
CUERNAVACA RESIDENCE, Austin, Texas by alterstudio architecture LLP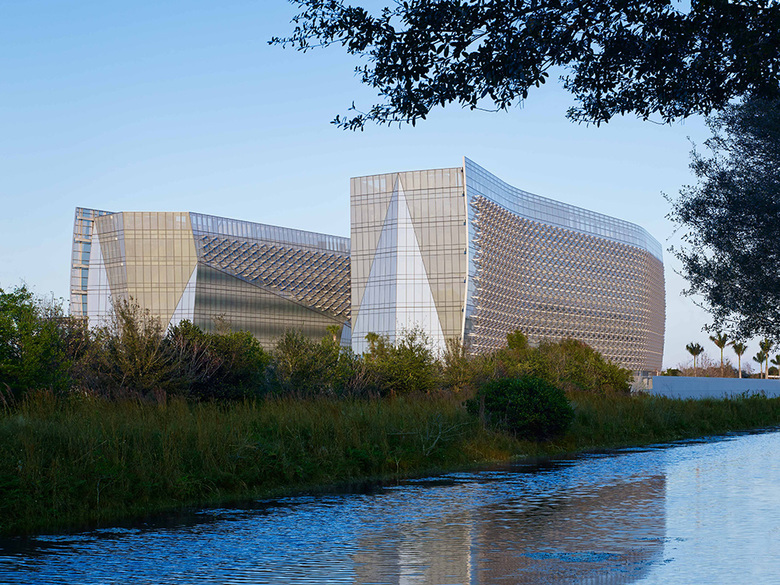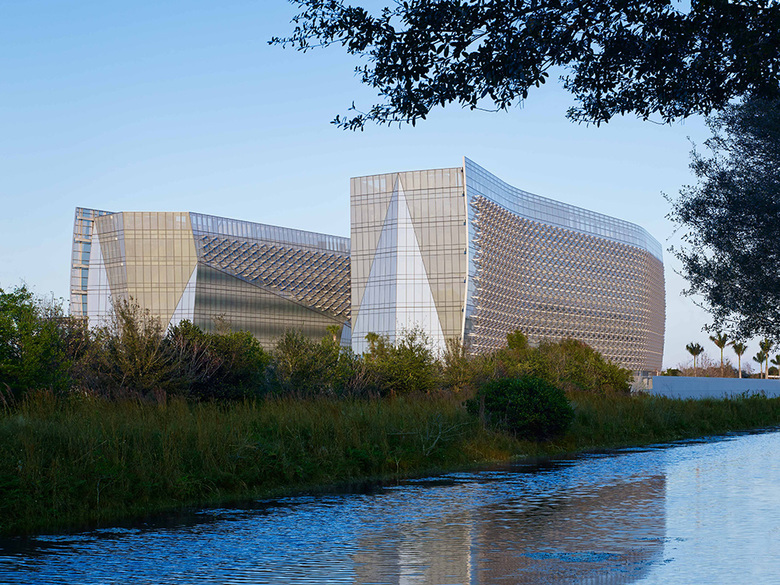 BENJAMIN P. GROGAN AND JERRY L. DOVE FEDERAL BUILDING, Miramar, Florida by Krueck + Sexton Architects (Photo: Nick Merrick © Hedrich Blessing)
BENJAMIN P. GROGAN AND JERRY L. DOVE FEDERAL BUILDING, Miramar, Florida by Krueck + Sexton Architects
PETERSEN AUTOMOTIVE MUSEUM, Los Angeles, California by Kohn Pedersen Fox Associates
REDWOOD HIGHWAY, Mill Valley, California by Studio VARA
WHITNEY MUSEUM OF AMERICAN ART, New York, New York by Renzo Piano Building Architects and Cooper Robertson
SQUARE HOUSE, Mill Valley, California by Levenbetts
HANNA ANDERSSON HEADQUARTERS, Portland, Oregon by ZGF Architects, LLP.
CHARLES SMITH WINES JET CITY, Seattle, Washington by Olson Kundig
TAUBMAN COMPLEX, Southfield, Michigan by Morphosis Architects
PRINCETON UNIVERSITY EMBODIED COMPUTATION LAB, Princeton, New Jersey by The Living
PRESTON OUTDOOR EDUCATION STATION, Elmdale, Kansas by KSU Design+Make Studio
THE STOREFRONT THEATER, Lyons, Nebraska by Matthew Mazzotta
HARVEY CLINIC, Rogers, Arkansas by Marlon Blackwell Architects
PACIFIC CENTER CAMPUS AMENITIES BUILDING, San Diego, California by BNIM
SEA SONG, Big Sur, California by Form4 Architecture
WILLOW CREEK NORTH SHORE, Glenview, Illinois by Adrian Smith + Gordon Gill Architecture
CONFIDENTIAL OFFICE COMPLEX, Chicago, Illinois by Adrian Smith + Gordon Gill Architecture
38 NEWBURY STREET, Boston, Massachusetts by Touloukian Touloukian Inc.
SOKA GAKKAI INTERNATIONAL- NEW ENGLAND, Brookline, Massachusetts by Touloukian Touloukian Inc.
BLU DOT SHOWROOM, West Hollywood, California by Standard Architecture
DAVIS-HARRINGTON WELCOME CENTER, Springfield, Missouri by Dake Wells Architecture
MIT KRESGE AUDITORIUM AND CHAPEL RENOVATIONS Cambridge, Massachusetts by EYP
PACIFIC HEIGHTS RESIDENCE, San Francisco, California by Jensen Architects
LIBERTY PARK, New York, New York by AECOM
HARAHAN BRIDGE - BIG RIVER CROSSING, Memphis, Tennessee by Philips Lighting
THE NEW ST. PETE PIER, St. Petersburg, Florida, by Rogers Partners
CHICAGO RIVERWALK, Chicago, Illinois by Ross Barney Architects
AMERICAN ENTERPRISE GROUP NATIONAL HEADQUARTERS RENOVATION, Des Moines, Iowa by BNIM
Related articles
Featured Project
Other articles in this category