Studio Visit: WEISS/MANFREDI
WEISS/MANFREDI moved from a space a few blocks from Penn Station to a loft building on Hudson Street in late 2011. The new space is not dramatically larger than the previous one, but its corner location and large windows allow for plenty of sunlight and views that encompass the Hudson River, the entrance to the Holland Tunnel, and Hudson Street. The area they did gain allows for conference rooms and a generous open studio space punctuated by the building's original mushroom-cap columns. Both Marion Weiss and Michael Manfredi sit in the open space with their roughly 35 employees, lending an egalitarian air to the studio.

"Weiss / Manfredi Architecture / Landscape / Urbanism is at the forefront of architectural design practices that are redefining the relationships between landscape, architecture, infrastructure, and art. The firm's projects are noted for clarity of vision, bold and iconic forms, and material innovation.

"Named one of North America's 'Emerging Voices' by the Architectural League of New York, WEISS/MANFREDI's distinct vision was recognized in 2004 by the Arts and Letters Award in Architecture from the American Academy of Arts and Letters. Additional honors include the Tau Sigma Delta Gold Medal—an international recognition awarded to one architect annually—and the
New York AIA Gold Medal.

"Publications featuring WEISS/MANFREDI's work include Architect, Metropolis, Architectural Record, Architecture, Architectural Review, A+T, Lotus, Space, Landscape World, Topos, Detail,
Domus, L'Arca, C-3 Korea, GA Document, Praxis, Landscape Architecture, I.D. Magazine, Time Magazine, Chicago Tribune, The Washington Post, The Wall Street Journal, and The New York
Times. Their work has also been presented in numerous books, including The Sex of Architecture, Art Spaces, Constructed Living Systems, Architecture & Design, The Fractured Metropolis, Value in Art, and Design Culture Now.

"WEISS/MANFREDI's work has been exhibited internationally, including in The Museum of Modern Art's Groundswell exhibition. Their work has also been featured at the Cooper-Hewitt Museum, the National Building Museum, the Max Protetch Gallery, the University of Pennsylvania, Yale, Harvard, and Columbia Universities, the Van Alen Institute, the Architectural League of New York, the Storefront for Art and Architecture, the Essen Design Centre in Germany, the São Paulo International Biennial, the European Landscape Biennial, and the Venice Architecture Biennale.

"Two monographs on their work have been published by Princeton Architectural Press and a monograph in Korean and English by Pro Architect is forthcoming, summer 2012." (Courtesy of WEISS / MANFREDI)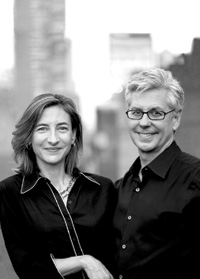 "
Marion Weiss
received her Master of Architecture at Yale University, where she won the American Institute of Architects Scholastic Award and the Skidmore, Owings and Merrill Traveling Fellowship. She has taught design studios at Yale University, Cornell University, and since 1991 has been a faculty member at the University of Pennsylvania's Penn School of Design where she is currently the Graham Professor of Architecture.
"
Michael Manfredi
received his Master of Architecture at Cornell University where he studied with Colin Rowe. There he won the Paris Prize and the Eidlitz Fellowship. In addition to teaching at Cornell, where he is the Gensler Visiting Professor, he has taught design studios at Yale University, University of Pennsylvania, and Princeton University. He was the founding chairman of the Van Alen Institute and is currently a board member of the Storefront for Art and Architecture." (Source:
WEISS / MANFREDI
)