Studio Visit: Studio Gang Architects
The last time I was in Chicago was 2007, when the Architecture and Design department at the Art Institute was housed in the distinctive yet awkward, horseshoe-shaped gallery adjacent to the grand staircase. With the 2009 completion of the Renzo Piano-designed Modern Wing, the department moved into two large rectangular galleries, one overlooking the skylit atrium.
Aqua Tower, in Chicago's Lakeshore East development northeast of Millennium Park, is another example of Jeanne Gang's sensitivity to birds. While the building looks like a fairly generic glass tower from a distance, up close it is a rippling surface accentuated by the white undersides of the wraparound terraces. Birds approaching the building would not mistaken the glass walls for sky, given the visible areas of solid surfaces.
On the contact page of Studio Gang's website is this sentence in a jumbo font: "The world is our studio, Chicago is our home." Beyond the idea that the work of Jeanne Gang's office extends outside of the proverbial "Second City," this quote rings true in other ways when visiting the office. Instead of being located in the Loop—Chicago's downtown or CBD (Central Business District)—Studio Gang occupies the top floor of a two-story building in Wicker Park, a popular, comparatively residential neighborhood. The office is precisely located at the confluence of Ashland, Milwaukee, and Divsion, a busy hub with a triangular open space visible from the second floor studio. It is a thriving yet modest location for Chicago's most popular and exportable practicing architect.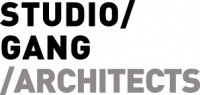 "Founded by Jeanne Gang, FAIA, in 1997,
Studio Gang
is an international practice whose work confronts pressing contemporary issues. Conceived as a collective of architects, designers, and thinkers, the studio acts as a lab for testing ideas on varying scales: from cities to environments to individual buildings' unique material properties. The firm's provocative and alluring architecture is exemplified by such recent projects as the Aqua Tower (the 2009 Emporis Skyscraper of the Year), Columbia College Chicago's Media Production Center (a cutting-edge film production and teaching facility), and the Nature Boardwalk at Lincoln Park Zoo (an educational pavilion and landscape that is quickly becoming a new Chicago landmark).
"The work of Studio Gang has received national and international recognition and has been published and exhibited widely, most notably at the International Venice Biennale, the Museum of Modern Art (MoMA), the Smithsonian Institution's National Building Museum, and the Art Institute of Chicago.
Reveal
, Jeanne Gang's first volume on the firm's work and working process, was released from Princeton Architectural Press in 2011." (
source
)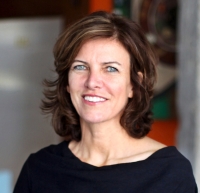 "Visionary architect and MacArthur Fellow Jeanne Gang is the founder and principal of Studio Gang Architects, a Chicago-based collective of architects, designers, and thinkers. Driven by curiosity, intelligence, and radical creativity, Jeanne has produced some of today's most innovative and award-winning architecture.
"Jeanne seeks to answer questions that lie locally (site, culture, people) and resound globally (density, climate, sustainability) through her architecture. Her designs are rooted in both architectural form and idea-driven content to make a compelling whole, and she often arrives at design solutions through investigations and collaborations across disciplines.
"A distinguished graduate of the Harvard University Graduate School of Design, she has taught at Harvard, Yale, Princeton, and IIT, where her studios have focused on cities, ecologies, materials, and technologies." (source)