Denise Scott Brown Denied Retroactive Pritzker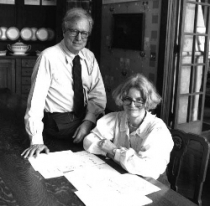 Back in April
we reported on Denise Scott Brown's comment
that she should receive a "retroactive Pritzker," referring to the 1991 prize given to her partner Robert Venturi. Since then considerable momentum—much of it coming from
a petition created by Harvard GSD's Women in Design
—pressured the Pritzkers to respond to what became a widespread call for her recognition. Finally, an official reply arrived on June 14 in the form of "a Letter from Lord Peter Palumbo, Chair of the 2013 Jury of The Pritzker Architecture Prize on Behalf of the Jury." In short, the response was "No."
In the letter to Women in Design's Arielle Assouline-Lichten and Caroline James, Palumbo says, "Insofar as you have in mind a retroactive award of the prize to Ms. Scott Brown, the present jury cannot do so. ... A later jury cannot re-open, or second guess the work of an earlier jury, and none has ever done so." Further, he points out that "Ms. Scott Brown remains eligible for the Pritzker Award. ... It will be up to present and future juries to determine who among the many architects practicing throughout the world receives future awards."
The negation of what's being seen as a necessary correction on the basis of a technicality
(the Pritzker family is leaving the decision up to the current jury, who really doesn't have much of a choice)
is tempered slightly by later comments in the letter about "calling directly to our attention a more general problem, namely that of assuring women a fair and equal place within the profession. ... We believe that one particular role that the Pritzker Jury must fulfill, in this respect, is that of keeping in mind the fact that certain recommendations or discussions relating to architectural creation are often a reflection of particular times or places, which may reflect cultural biases that underplay a woman's role in the creative process."
The jury's decision is prompting people to reconsider the value and validity of the Pritzker Architecture Prize, long considered the "Nobel Prize of Architecture." The decision comes shortly before the American Institute of Architects decided—at its Convention last week—to open up its AIA Gold Medal to collaborations, not just single architects. The call for Denise Scott Brown's retroactive award is indicative of a larger shift in the profession, as women make up an increasingly larger percentage of architects and architecture students. The Priztker letter certainly won't be the final words on the issue.