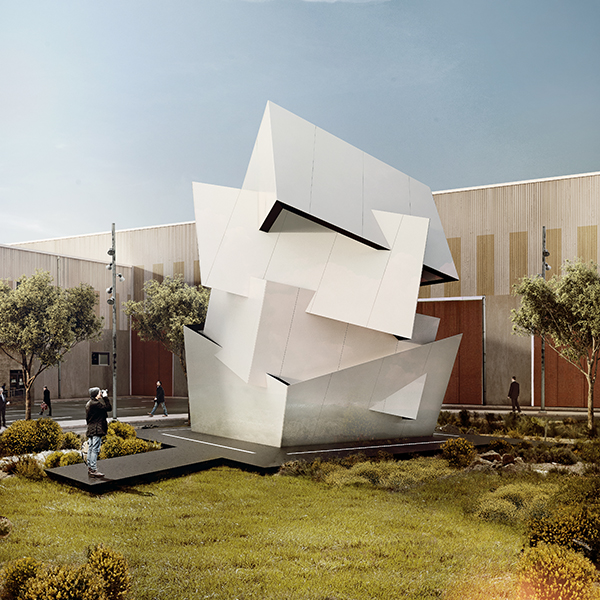 To mark the release of its Dekton "ultra-compact surface," Cosentino is holding an exhibition (until October 31) at the Center for Architecture in New York City. The show highlights Daniel Libeskind's "Beyond the Wall" sculpture being realized at Cosentino's global headquarters in Spain, as well as conceptual projects by six young architects and designers based in New York. Cosentino boasts of Dekton's high strength, low maintenance, long life, large sizes, and thin profiles, targeting the material at architectural applications where continuity between exterior and interior realms is desired.
Libeskind exploits Dekton's large size (up to 144cm x 320cm / 56" x 126") and thin profiles (0.8cm to 3cm / 1/4" to 1-1/4") to create a 9-meter-high (30-feet) steel sculpture faced in the material. "Beyond the Wall" is instantly recognizable as a Libeskind design, featuring angular walls that pierce each other to create a disconcerting equilibrium.
The six emerging architecture and design firms—Architecture in Formation, Desai/Chai Architecture,
Easton + Combs
, Manifold Architecture Studio,
Moorhead & Moorhead
, and
SOFTlab
—fashioned conceptual models that similarly take advantage of Dekton's strengths. While each design is formally distinct—displaying each firm's own ideas on space, construction, and materials—there is a thread that wends its way through the six: namely, the breaking down of distinctions between inside and outside. This characteristic is tied to Dekton's performance characteristics: UV resistance, impact resistance, and thermal shock resistance.
But what is Dekton exactly? Given Cosentino's years of research and development and millions of Euros spent on building a production facility exclusively for the product, the secrets are not revealed easily. What Cosentino tells us is that it "is a sophisticated blend of the raw materials used to produce the very latest in glass and porcelain as well as the highest quality quartz surfaces. Dekton emulates what nature takes millennia to produce in just a few hours, through an exclusive technological process." In other words, Dekton is a hybrid material that combines the best attributes of various materials. Dekton recalls Cosentino's origins in quarrying marble (since 1940) yet takes what the company has traditionally done in new directions, aided by the ideas of Libeskind and the six firms in New York City.