Profiles of Selected Architects
Guided Tours Schedule 15. - 20.4.2012
|
The Guided Tours will be held in english
M. Hank Haeusler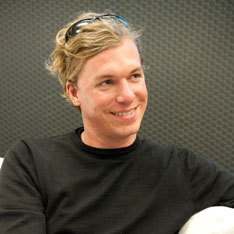 Guided Tour by M. Hank Haeusler
University of New South Wales
April 17, Tuesday, 10-12-am
Tour is fully booked
The Message in the Façade
Dr. M. Hank Haeusler from the University of New South Wales in Australia will demonstrate in the guided tours organized by World-Architects.com that façades can be more than beautiful building envelopes nowadays. His tour begins with a journey into the history of the media façade in which participants will encounter referential examples. Afterwards, selected manufacturers who have the right product responses concerning the topic of the media façade will be visited.
Dr. M. Hank Haeusler
is a researcher, educator, entrepreneur and designer in media architecture, digital technology, interaction design and ubiquitous computing and author of four books; several book chapters and conference papers. He has taught and lectured in Europe, Asia, North America and Australia at several universities and conferences. Haeusler is employed as a Senior Lecturer at the University of New South Wales, previously he held for three years a Chancellor's Postdoctoral Research Fellowship at the University of Technology, Sydney. He is associate of the Media Architecture Institute, Vienna and founder of City Lights Architecture Store, a research-based consultancy transferring research results into practice.