Profiles of Selected Architects
Guided Tours Schedule 15. - 20.4.2012
|
The Guided Tours will be held in english
Wilfried Kramb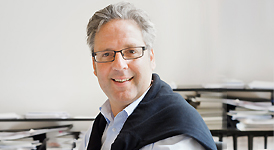 Guided Tours by Wilfried Kramb + Giulio Castegini
a•g Licht, Bonn
April 19, Thursday, 10-12-am
Tour is fully booked
April 19, Thursday, 2-4-pm
Tour is fully booked
Green Technologies for High-Rises
On Thursday, April 19, the central theme of the guided tours organized by World-Architects.com will be the renovation of the Deutsche Bank headquarters in Frankfurt/Main in the year 2010. Together with Giulio Castegini, who was at that time the project manager of the architect Mario Bellini, Wilfried Kramb will first show rare impressions of the Greentowers and outline the successful renovation which was awarded the Platinum LEED Certificate. The subsequent tour of the fair will lead you to manufacturers who were involved in the renovation of the high-rise complex.
Within the frame of an exclusive reception and a guided tour, participants will get the chance to experience the Greentowers personally in the evening. The number of participants is limited - please register for this item on the agenda independently of the guided tours.
April 19, Thursday, 8-10 pm

Apply
Wilfried Kramb
; born 25th of december 1961 in Wuppertal; Dipl.Ing. Interior Architecture FH Wiesbaden; 1987-1991 Interior Architect Sydney-Australia; 1991-1992 Head of Department of Lighting Application in DIAL `German Institute for applied lighting; 1992 - 1993 Freelance Interior Design and Teaching at FH Wiesbaden for Lighting Design; 1994-1996 Project management for `Lichtdesign` in Cologne; March 1996 Foundation of a·g Licht with Klaus Adolph.