Profiles of Selected Architects
Guided Tours Schedule 15. - 20.4.2012
|
The Guided Tours will be held in english
Jan Dinnebier and Jan Blieske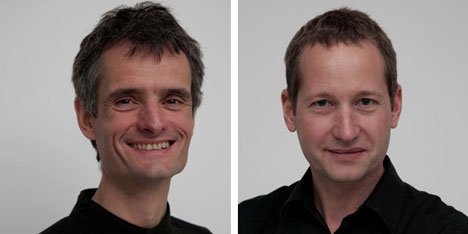 Guided Tour by Jan Dinnebier and Jan Blieske |
studio dinnebier, Berlin
April 17, Tuesday, 2-4-am "Light and Architecture"
Tour is fully booked
Light and Architecture
"In order to be able to plan good lighting, one has to understand the respective space." This will be the theme of the guided tours organized by World-Architects.com on Tuesday, April 17th. Jan Dinnebier and Jan Blieske will first put you in the mood for the topic "Light and Space" with a short presentation, and will show some of their own cooperations with internationally renowned architects. Their subsequent tour of the fair will then lead you to selected new technologies and lighting tools which are changing and enriching the work of the lighting planner once more.
Jan Dinnebier
, DWB, born 1960, founded studio dinnebier in 1998 after working as architect at the studio of Daniel Libeskind and at his fathers lighting design office. Since 2008 dinnebier blieske gbr. Member of Deutscher Werkbund Berlin.
Jan Blieske
, AK Berlin, born 1967, joined studio dinnebier in 2004 having worked as architect on cultural heritage projects for more than 10 years. Since 2007 he is partner of studio dinnebier. Since 2008 dinnebier blieske gbr. Member of Chamber of Architects Berlin.
The main focus of Studio Dinnebier is the conceptional relationship between light and space from an architectural perspective. Besides lighting design, the studio also specialises in lighting product design. Studio Dinnebier cooperates with the most ambitious scenographers and architects, such as Daniel Libeskind, Foster+Partners, Tabanlioglu Architects and Sunder-Plassmann Architekten.