Jasba-LOOP at King's Cross Station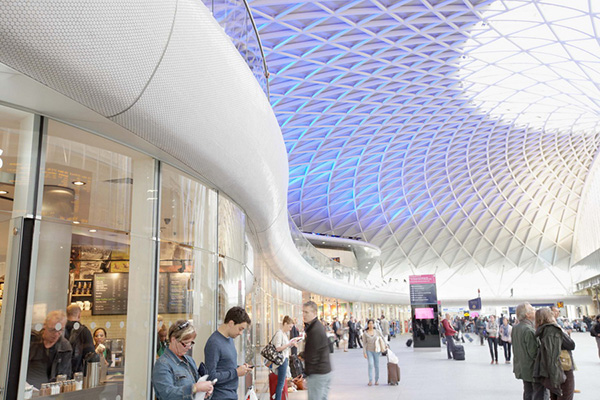 The most striking aspect of the renovated King's Cross Station in London, designed by John McAslan + Partners, is the roof structure, whose woven form covers the large "piazza" space and touches down next to the old station's brick wall. All other parts of the design are subservient to the painted white steel members bathed in sunlight, but they must work together to reinforce the sense of movement and fluidity that goes hand in hand with train travel. One such area occurs above the shops that line the station's ticket hall; the curling line of the soffit between the glass walls below and glass guardrails above is covered in round mosaic tiles from Jasba.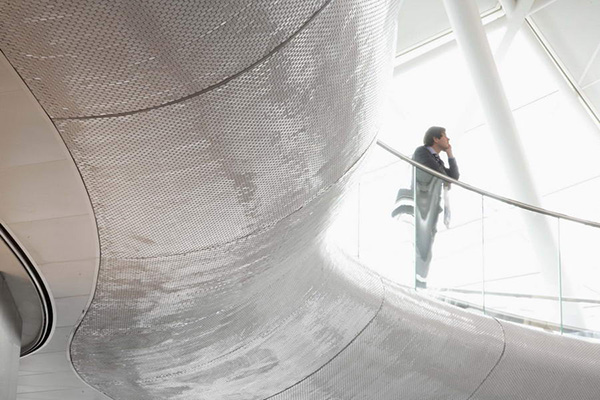 The section of this undulating line changes at it traverses the 150-meter-wide (500-feet) space. Millions of Jasba-LOOP mosaics—only 2cm (3/4") in diameter—cover these surfaces, accommodating the complex curves. The shimmering white tiles fit well with the white roof structure and the flooring, but Jasba-LOOP, as can be seen below, comes in many colors—15, to be precise.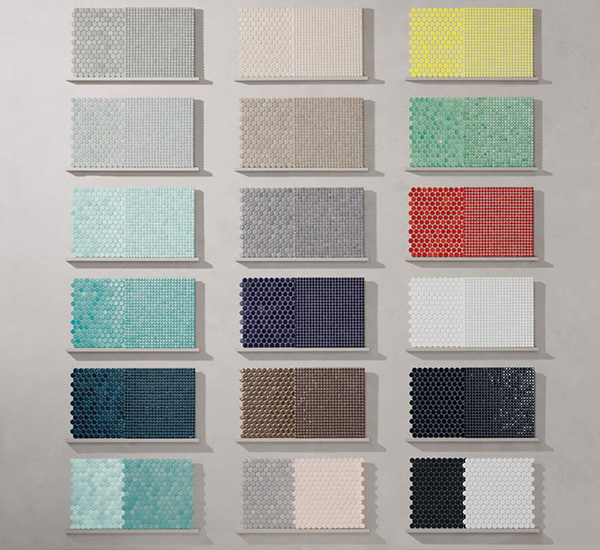 Jasba-LOOP is a product that further benefits from the optional HT coating, where "lime scale, dirt and fat are rinsed off and are child's play to remove." Jasba also describes HT as light-activating ("the so-called photocatalysis allows active oxygen to be produced which destroys bacteria and hinders the formation of new germs"), so spaces like King's Cross that benefit from the tile's malleability and shimmer can stay that way for a long time.