Profiles of Selected Architects
Guided Tours Schedule 15. - 20.4.2012
| The Guided Tours will be held in english
Gerd Pfarré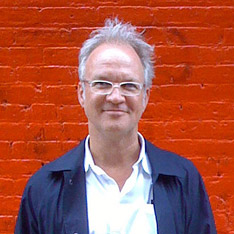 Guided Tour by Gerd Pfarré
pfarré lighting design, Munich
April 15, Sunday, 2-4-pm

Tour is fully booked
Intuitive journey "Into the Light"
On the first day of the fair – on Sunday, April 15 –, lighting enthusiasts are given the opportunity to go on an expedition through the fair jungle with the renowned lighting designer within the context of the guided tours organized by World-Architects. His lighting expedition will lead you to exciting manufacturers and innovative products which he will approach in a consciously unbiased way.
Gerd Pfarré
, IALD DWB, is an award winning lighting designer and based in Munich, Germany. In 1998 he founded pfarré lighting design, an independent design practice. His work has been featured in more than 70 publications around the world.
Gerd's portfolio encompasses a variety of categories in architectural, land- and cityscape projects. With a team of seven designers, architects and engineers, the practice is working globally and focuses, with a holistic approach, on individual responses to the particular project and environment. Apart from a perceptive-orientated lighting design, the team offers customized solutions, and designing light objects in the specific context of the architecure and the task concerned.
With a background in carpentry, cabinet-making and sculpture, he created his first designs for lights and furniture in the early eighties. From 1982-85 he joined the team of Ingo Maurer, being involved in product- and exhibition design. He belonged to the design team of the first low-voltage wire system, the YaYaHo. After working as a free lance designer in Milan and Berlin, he joined Ingo Maurer again from 1989-1998, engaged as designer and project director for a wide range of prestigious national and international projects.
Gerd is a professional member of the International Association of Lighting Designers, IALD since 1998, and belonged to the IALD board of directors from 2002-2005. In 2002, he initiated "LightNight -The Celebration of Light", a networking event in Frankfurt and New York City.
Gerd is a member of the Deutscher Werkbund, and a frequent lecturer at the Technical University Munich. He delivered lectures in Europe, USA, South- and Central America, Canada, Saudi Arabia, and the UAE. Notable projects are: Palace of International Forums, Tashkent; Manufactum Warenhaus, Munich; Canteen DER SPIEGEL, Hamburg; Small Olympic Hall, Munich; Old /NewHarbor, Bremerhaven; Sheraton Hotels Moscow and Sopot, Poland; Parco Dora Spina, Turin.
pfarré lighting design is, among others, recipient of the German Design Award in Silver, the IALD Lighting Design Award of Excellence, the Perspective Award, three IALD Lighting Design Awards of Merit, two Global Excellence Awards, nine IES/IIDA International Illumination Awards, the IIDA Energy and Environment Award of Excellence, two DDC Awards "Gute Gestaltung" in silver, the "Store of the Year" Award, and the Award "Communication in Space" of the Art Directors Club Germany.