BIG v. OMA in Miami Beach
The two development teams competing for the Miami Beach Convention Center redevelopment—Portman CAC and South Beach ACE—are better known for their lead architects, respectively the Bjarke Ingels Group and Office for Metropolitan Architecture. These two international powerhouses are going head to head for the right to redesign the 52-acre site. Both have released videos that explain their proposals and attempt to sway public opinion.
Miami Beach Square
is the proposal from
BIG
, West 8, Fentress, JPA, and Portman CMC; the name refers to a public outdoor space that would be created at the southwest corner of the convention center. This two-minute video is like an animated version of BIG's distinctive diagrams that show how the architectural forms evolve and relate to each other. These forms are then layered over with polished renderings to capture the sensations of the various buildings and public spaces.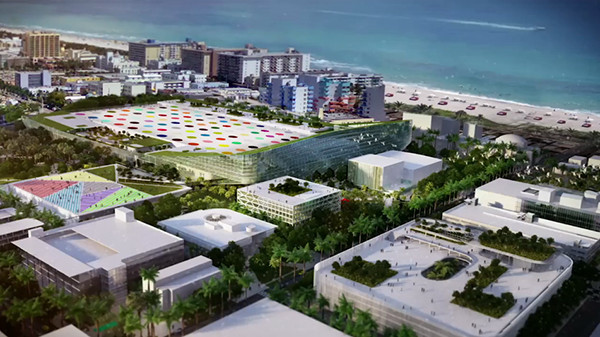 South Beach ACE
is the proposal of
OMA
, Tishman, UIA, MVVA, Raymond Jungles, and TVS; ACE stands for
Arts, Culture, Entertainment District. The team's 9-minute video takes a different approach, letting the developer, architect, and landscape architect explain their proposal and how it relates to Miami Beach. To get to the meat of the presentation, skip ahead to the 3:32 mark and see how OMA and the rest of the team envision the convention center's transformation.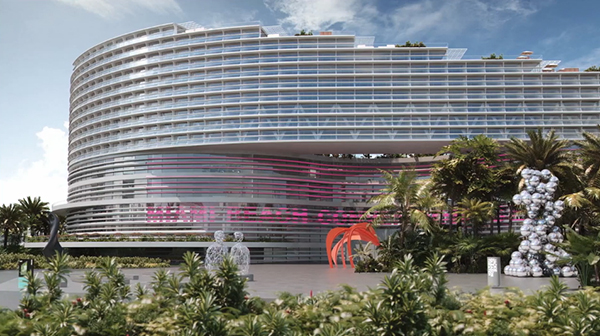 ---
The two proposals are on display at Miami Beach's City Hall until June 21, after which the city will select a winner. Stay tuned for that news.