eMagazine #36/14
2. September 2014
Found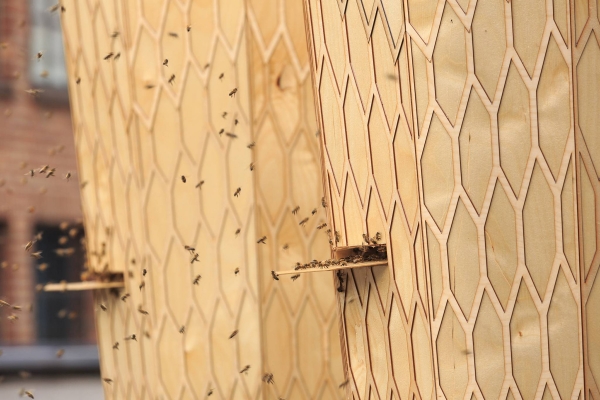 Photo: Courtesy of Snøhetta
Vulkan Beehive - Norway's Snøhetta has designed a pair of beehives installed on a rooftop in Oslo's Vulkan area, in an effort to educate visitors and bring more bees to the city. As the decline in the population of honey bees – or colony collapse disorder (CCD) – continues, posing threats to agricultural production in particular, people and organizations in cities are finding ways to create habitats for the pollinating insects. Naturally beehives are the inspiration for Snøhetta's Vulkan Beehive, with its hexagonal volumes covered in a honeycomb pattern finished in a light colored wood. Located on the roof of Dansens Hus (Dance House), the two beehives are stretched tall to accommodate the beekeepers. In form and finish, the Vulkan Beehives strike a balance between the needs of the bees and the people who can't get enough of their honey from the neighboring Mathallen market.
More
---
Headlines
Taipei Performing Arts Center Tops Out
The OMA-designed Taipei Performing Arts Center (TPAC) topped out on August 27. Consisting of three theatres plugged into a central cube, TPAC encourages experimental theatre production, while a public loop invites wider engagement in the performing arts.
More
Filler Responds to Hadid Lawsuit
New York Review of Books architecture critic Martin Filler has issued a letter of regret just days after architect Zaha Hadid filed a lawsuit with the New York State Supreme Court in Manhattan.
More
Alvar Aalto Foundation Collaborates with Google
Last week the Alvar Aalto Foundation announced a collaboration with the search-engine company Google, so the public can virtually visit Aalto buildings and learn more about the Finnish architect's architecture and designs.
More
---
---
Agenda
3 September, Center for Architecture, New York
Oculus Book Talk: Szenasy, Design Advocate, Book Talk
More
4 September, Kyoto
Japan Architecture, Art & Culture Tour
More
4 September, Architektur Galerie Berlin, Berlin
POOL, Exhibition
More

More Lectures, Exhibitions, Events
---
Insight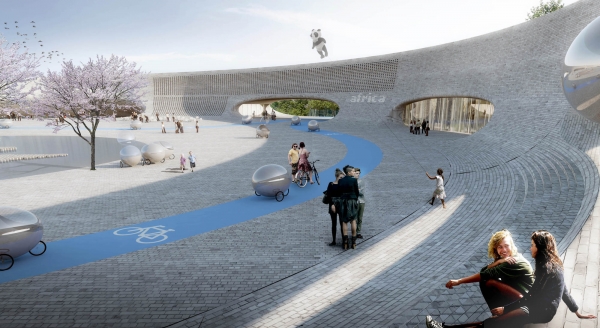 Photo: BIG - Bjarke Ingels Group
Zoos in the 21st Century - Inspired by the recent unveiling of Bjarke Ingels Group's Zootopia proposal for Givskud Zoo in Denmark, we've assembled some recent projects from World-Architects member firms to get an idea of the state of zoo design in the 21st century.
More
---
Jobs
IT-Verantwortlicher
Atelier Peter Zumthor & Partner, Haldenstein
More
Intermediate Architect
Shigeru Ban Architects, New York
More
Landscape Architects / Urban Designers / Architects
Turenscape, Beijing
More
Revit/BIM Manager
Handel Architects LLP, New York
More

More Jobs
---
| | |
| --- | --- |
| Photo: Hiroshi Ueda | House with a large hipped roof- This home for a family of four designed by Naoi Architecture & Design Office sits in a farming district turned suburban subdivision in Shiga Prefecture. In order to enable a lifestyle in harmony with nature for the outdoors-loving residents, the architects kept the surrounding landscape in mind while designing the ranch-style home. |
---
---
For any kind of feedback, please contact Editor-in-Chief John Hill. If you wish to cancel our eMagazine, please click the following link: cancel.