eMagazine #43/14
21. October 2014
Building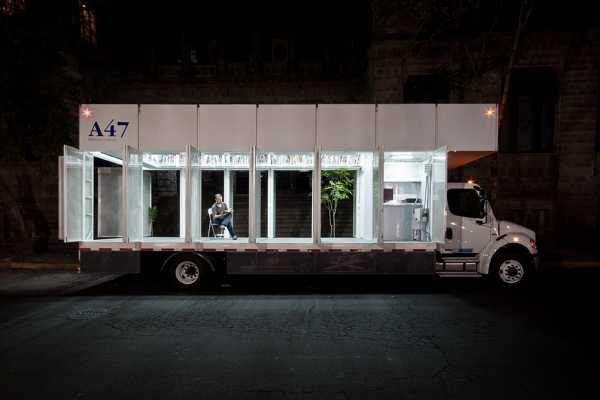 Photo: Luis Gallardo
Alumnos47 Mobile Library - This library strives to be more than just a library on wheels. Since traditional arrangements of bookshelves can eliminate spatial flexibility and create visual barriers, the books were placed at a high level. The space created is dynamic, transparent and in constant dialogue with the urban context; the open platform enables different activities to take place in various configurations for book launches, readings or workshops.
More
---
Headlines
Everyman Theatre Wins Stirling Prize
In a ceremony at the Royal Institute of British Architects this evening, Liverpool's Everyman Theatre, designed by Haworth Tompkins, was named the recipient of the 2014 Stirling Prize.
More
OMA + OLIN to Design Washington, D.C. Bridge
The 11th Street Bridge Park has announced the selection of OMA - Office for Metropolitan Architecture + OLIN as the design team for Washington, D.C.'s first elevated park over the Anacostia River.
More
Holcim Awards 2014 Africa and Middle East
At a recent ceremony in Beirut, the Holcim Foundation announced the winning projects of the Holcim Awards 2014 for Africa and the Middle East, which "illustrate how sustainable construction continues to evolve."
More
Regional Train Station and a New Quarter in Vinge
Henning Larsen Architects has, in collaboration with an international team consisting of Tredje Natur, MOE and Railway Procurement Agency, won Frederikssund's competition to design a regional train station and new quarter in the future town of Vinge.
More
---
---
Agenda
22 October, IIT, Hermann Hall, Chicago
MCHAP Dialogue & Award Celebration, Lecture
More
25 October, Raiding Foundation, Austria
"Drei Wanderer" (Three Travelers) by Hiroshi Hara, Opening Reception
More
26 October, Baisoin Temple, Tokyo
Kengo Kuma Lecture: The Power of the Temple
More
27 October, Tulane University School of Architecture, New Orleans
Tom Kundig: Landscape, Community and Craft, Lecture
More
Until 23 December, Tokyo Opera City Cultural Foundation, Tokyo
Zaha Hadid Exhibit, Exhibition
More

More Lectures, Exhibitions, Events
---
Product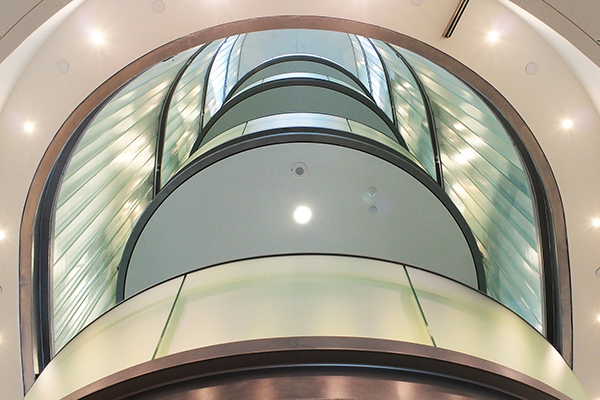 Photo: Courtesy of Bendheim
Bendheim Glass Inside KPF's New Science Campus - Two side-by-side buildings – the CUNY Advanced Science & Research Center and the City College Center for Discovery & Innovation – recently opened on City College's Harlem campus. Bendheim's channel and dichroic glass defines much of the interiors.
More
---
Jobs
LIGHTING DESIGN DIRECTOR
Alchemy Design Resources Ltd., London
More
Intermediate / senior architect
West Chin Architect, New York
More
Junior Business Development Officer
Office for Metropolitan Architecture, Hong Kong
More
Faculty position in Construction and Architecture
Ecole Polytechnique Fédérale de Lausanne (EPFL), Lausanne
More
UN(E) ARCHITECTE
Christian Dupraz Architectes, Geneva / Les Acacias
More

More Jobs
---
| | |
| --- | --- |
| Photo: Screenshot | Briefly - What is the role of a brief? What impact does it have on the final outcome of a design, be it a building, a piece of furniture, or an ad campaign? Bassett & Partners asked these questions and more of Frank Gehry and five other prominent designers. |
---
---
For any kind of feedback, please contact Editor-in-Chief John Hill. If you wish to cancel our eMagazine, please click the following link: cancel.