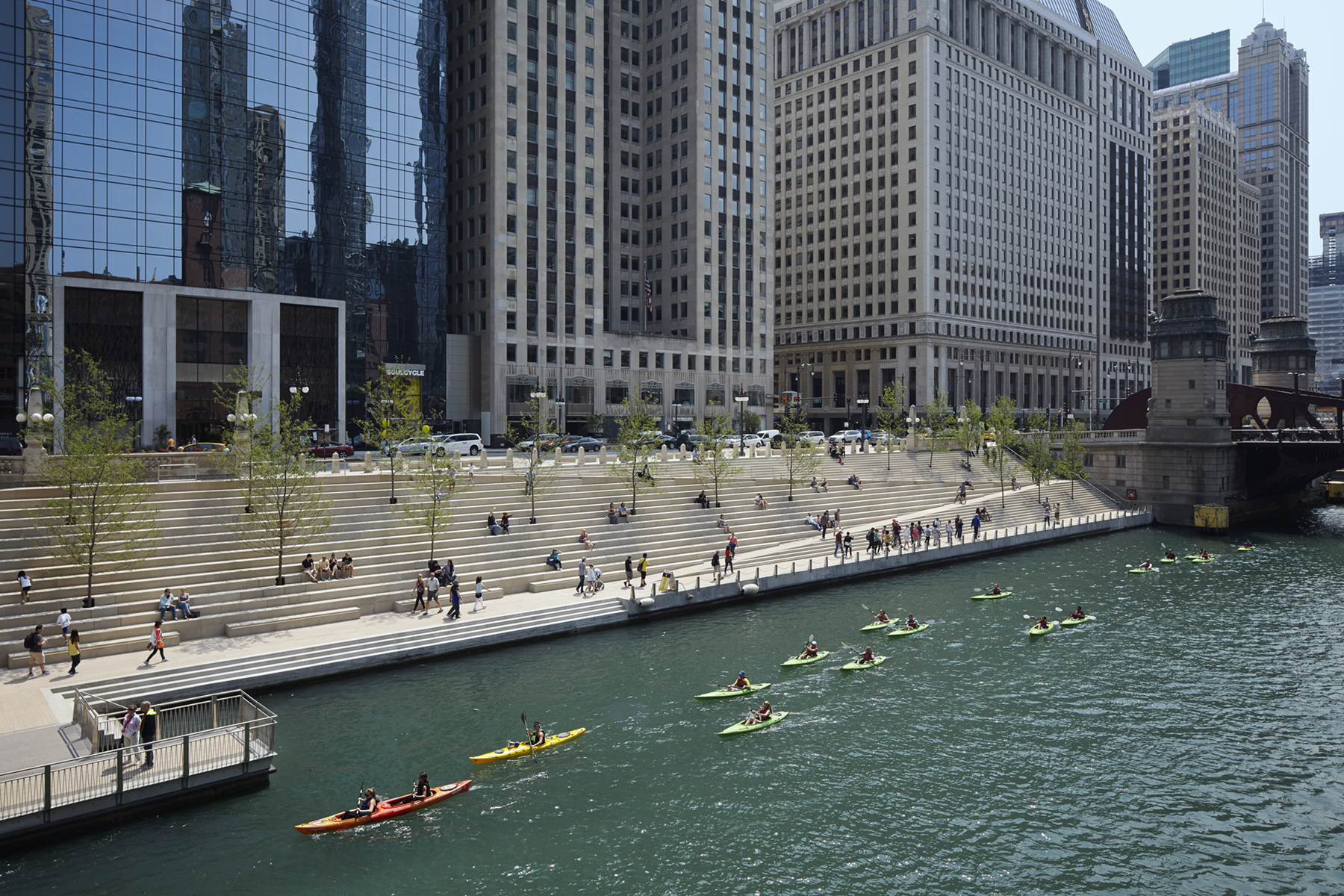 Following the success of the multi-phase Chicago Riverwalk designed by Ross Barney Architects, Mayor Rahm Emanuel has announced the Chicago Urban River Edges Ideas Lab, which "will engage architectural firms to explore ideas for the development of Chicago's public river edges."
Monday's announcement came as the city hosted 16 mayors from around the world for the Urban Waterways Forum, "designed to foster an international conversation about the future of urban waterways." The Midwestern venue makes sense, given the popularity of the Chicago Riverwalk, whose third and final phase was completed last year.

The increased water and foot traffic along the river is evident in the actions of none other than Donald Trump, who controversially spelled out his name in 20-foot-tall letters at the base of his 92-story Trump International Hotel & Tower on the north edge of the river.

But the Chicago Urban River Edges Ideas Lab – a collaboration funded by The Richard H. Driehaus Foundation and Comcast – looks beyond the Loop and the main branch of the Chicago River. Per the announcement, "The Lab will engage six to ten leading architectural firms to develop renderings and design concepts for several typical river edge conditions found throughout the river system."

The participating firms include architects David Adjaye, Perkins & Will, Ross Barney Architects, SOM, and Studio Gang; and landscape architects James Corner Field Operations, Site Design, and SWA.

The design concepts are due in June, will be exhibited in the city for public review, and will then be included in the Chicago Architecture Biennial, which opens to the public on 16 September 2017.

The goal of the Lab is to provide the city's Department of Planning and Development (DPD) "with invaluable feedback as they update the City's riverfront design guidelines, which will be released in 2018."
---
Chicago
studio gang architects
James Corner Field Operations
Ross Barney Architects